How shooting, bad luck and Corona ruined Kosewe food empire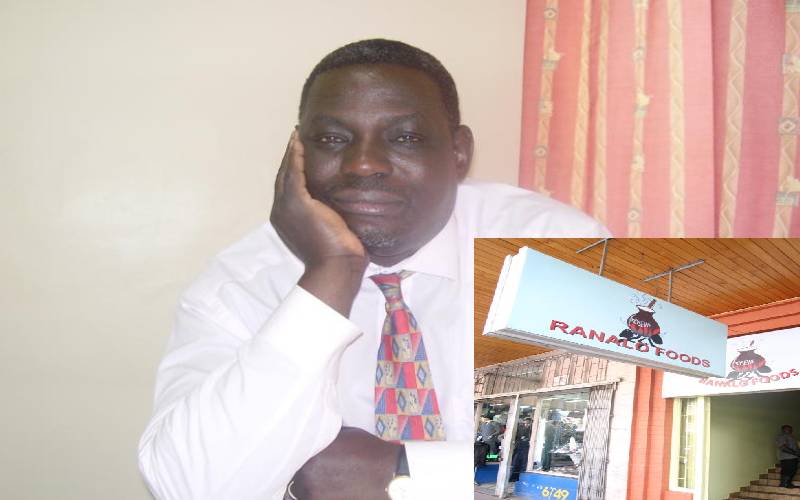 A billion-shilling food empire which started in the Eastlands of Nairobi, from selling mshikaki and njugu karanga, could go under the hammer of auctioneers.
When William Guda Osewe began hawking mshikaki and njugu karanga most weekends in Kaloneni estate in the 1970s, few imagined he would end up owning a multi-million-shilling food and hospitality empire: the famous K'Osewe's, an eatery he first set up under a tree in Kaloleni.
The eatery thrived such that he moved premises to Kenya Railways in Nairobi and then Cameo Cinema along Kenyatta Avenue and on to its current location along Kimathi Street.
Trading as Ranalo Foods, K'Osewe's grew to comprise four multimillion restaurants, a block of flats in South C and the Sh2 billion Blue Waters Hotel in Kisumu-where his children Joseph, Staicy and Edward are shareholders alongside their mother, Stella Mutheu.
But now, all Osewe built over six decades of blood and sweat is sagging under the weight of bank loans and with it, an imminent rendezvous with auctioneers over interests from an outstanding Sh350 million advanced to him by GT Bank to expand his empire six years ago.
The collateral was his flat in South C and the Blue Waters Hotel, which is now facing the hammer.
His sad state of affairs could be traced to a series of misfortunes of which coronavirus pandemic and its devastating impact on food and hotel business on the back of bank loans, appear to have been the last nail.
The chain of misadventures began in 2016 when he survived a shooting. That saw him stepping aside from the active running of the restaurants.
Then the coronavirus pandemic saw airlines grinding to a halt.
Tourism numbers went down. The lockdowns, curfews and other Covid-19 measures only made matters worse as eateries were shut down.
Hotel bookings plummeted. Repaying loans became an uphill task and the impatient banks came calling.
Osewe managed against all odds to move from the dusty cotton soils of Eastlands to live in leafy Karen estate. But now all he could be holding on to is his Karen pad, his home in the village and assorted parcels of land-if GT Bank auctions his properties.
How life has changed in under six years: By 2014, coronavirus pandemic was not even a rumour. Osewe borrowed Sh350 million to expand his empire. He was erecting a four star hotel in Kisumu and entered into a franchise deal with major hotel brand in the world. Things were good.
But two years later, he was shot and wounded by his former driver turned tour operator, Tom Mboya Oywa —then a well-to do tour guide operating around Hilton Hotel in Nairobi.
On the fateful day, Osewe also a licensed gun holder, had not carried his firearm. Oywa and Osewe had met to iron out personal issues besides some land deals gone sour. But their meeting degenerated into a shooting off Thika Road. Osewe underwent a series of surgeries to remove bullets lodged in his abdomen.
Two years later, Osewe had recovered and celebrated with the opening of K'Osewe Ranalo Foods in Upperhill, Nairobi on January 12, 2018.
Things were looking up again and seven months later, Osewe opened Ronalo Foods next to Railways Institute in his Kisumu home town.
But alas! Kenya Railways reclaimed the land and on August 16, 2019, bulldozers tore down his multi-million shilling investment. Also brought down were his neighbours former Gem MP Jakoyo Midiwo's up market TLC Club and Kisumu senator Fred Outa's Roan Club.
The setback was temporary. Osewe sought a new location for what became the Sh2 billion Blue Waters Hotel, Kisumu.
Then coronavirus came calling in March 2020 and wreaked havoc on among others, the hospitality industry.
On July 30, Ranalo Foods Upper Hill branch faced Bensure Auctioneers who sold file cabinets, food warmers, cutlery, microwaves, gas cookers, freezers, furniture and hundreds of other items closing it down over unpaid rent and money owed to suppliers.
The Blue Waters was also placed under the auctioneer's hammer but Osewe sought court orders barring GT Bank from selling the hotel, arguing they have been servicing the Sh350 million which had come down to Sh328 million.
After the judge lifted the order, the Osewes filed an application in court intending to appeal any sale, arguing their property was valued at four times the loan. It was also on a prime beachfront location and would be difficult to replace if auctioned.
The Osewes told the court that auctioning Blue Waters would spell doom for their franchising deal with America's Marriott International and Dubai's Aleph hotel brands. The deal with Marriot could have seen Blue Waters join its Protea Hotels by Marriott by 2022.
But GT Bank argued that it was not party to the deal with Marriott and Aleph when the loan was taken and that instituting court orders was a time-buying tactic to delay the auction. This October, High Court Judge Thripsisa Cherere allowed GT Bank to sell Blue Waters Hotel. It is the second auction of Osewe's property that the family is dealing with in four months. Shooting, bad luck and a pandemic has dealt William Osewe a bad card.