Babes with blades: Cases of women stabbing 'cheating' lovers on sharp rise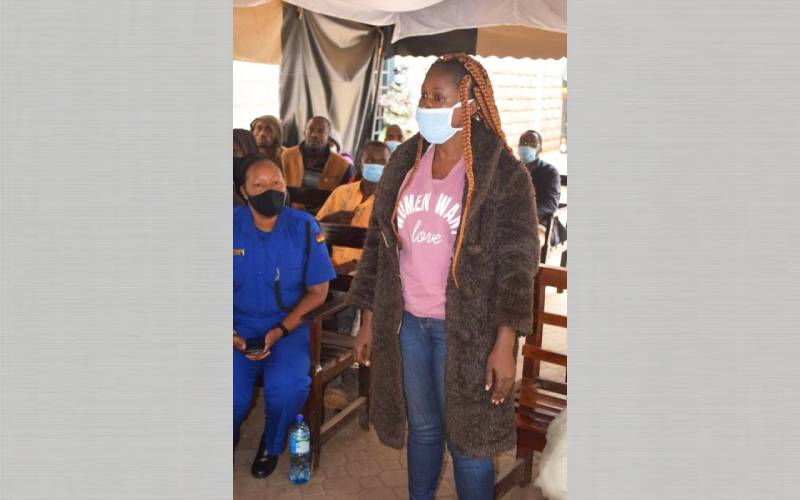 A 24-year-old student accused of stabbing and injuring her boyfriend after an argument over a text message in Umoja, was arrested while rushing the victim to hospital.
Linda Okumu, a Moi University student who is now facing attempted murder charges, is said to have committed the offence against David Ochieng using a kitchen knife on the night of November 1.
The incident, according to the witnesses, happened within Umoja Inner Core estate, at the house of the complainant after she stumbled upon a text message from another woman asking Ochieng for financial assistance.
According to police, this sparked an argument between the two, ending with the accused stabbing the 33-year-old lawyer before rushing him to Mama Lucy Kibaki Hospital with the help of Good Samaritans.
An officer based at the hospital interrogated Linda where she reportedly owned up to the offence, leading to her arrest and detention at Buruburu Police Station.
At the station, Okumu, claimed the incident occurred after the two had a quarrel, which escalated to a fight, but she claimed she could not remember the weapon she used during the scuffle.
Police state they later recovered a bloodstained kitchen knife from the house where the two had been staying before the incident.
Ochieng was referred to Kenyatta National Hospital (KNH) for treatment of stab wounds to his collar bone, abdomen and back.
Okumu was arraigned in court but she denied the charges. She was released on a Sh300,000 bond pending hearing on April 13 next year.
Knife attack cases
There has been an increase in the number of domestic violence cases involving knife attacks. Lately, Umoja estate in Nairobi has become notorious for such cases.
On May 11, a 29-year-old woman was arrested after allegedly stabbing to death her boyfriend, who was an aeronautics engineer at the Jomo Kenyatta International Airport.
The accused, Vigie Shighi, allegedly stabbed Edward Okello after an argument. She claimed that the man had assaulted her at the time of the incident.
Okello was reportedly rushed to the Mama Lucy hospital bleeding profusely where he succumbed to his injuries while receiving treatment.
Shighi denied killing the boyfriend or using the knife.
In April, Mercy Lechi was accused of hitting her boyfriend on the forehead with a metallic rod after she reportedly came across a text message from another woman thanking her boyfriend for a good time.
According to police, the boyfriend, Fred Muigai, had been away for two days. On his return, Lechi grabbed his phone and stumbled upon the message.
The police stated that Lechi picked the rod and hit Muigai on the forehead before raising an alarm on realising that Muigai was seriously injured after he fainted from the blow. The couple decided to solve the matter outside court and part ways.
In another incident that also took place in Umoja in March 2018, Monica Wangui, who was on the run for allegedly fatally stabbing her husband Ben Kinuga, was arrested in Kiambu.
Police indicated that Wangui stabbed the deceased following a domestic quarrel and then fled, leaving his body on the sofa with a kitchen knife in his chest.
Temporary insanity
Killing someone or harming them instantly because of marriage or relationship issues is as a result of temporary insanity, says city counselling psychologist, James Mwai.
Mwai explains that when emotions get out of hand people who are hot-tempered may commit acts without intentionally planning to do so.
"Such people are not in control of their emotions and most of the time low in emotional intelligence; but there are several remedies," says the psychologist.
Mwai argues that some of the red flags to look out for in such people include acting too fast on some issues or kicking utensils in the house.
"One of the easiest remedies is to take them through intense counselling on how to control their emotions," advised Mwai.