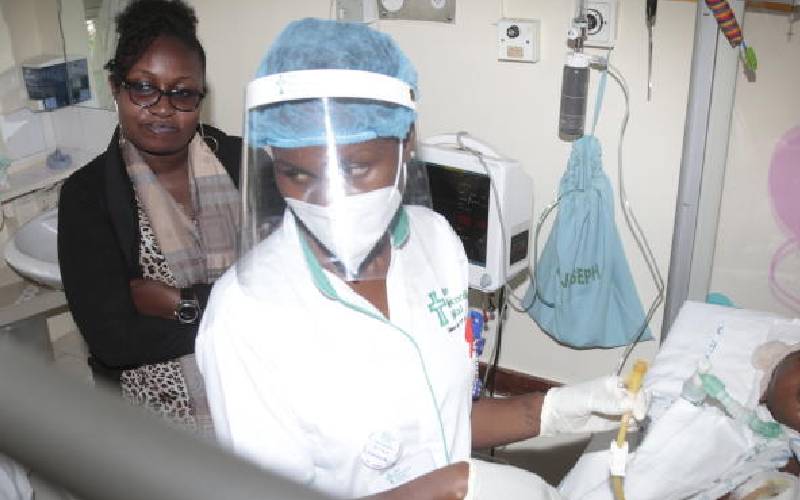 Inside a private ward, Jordel, a boy aged three years and seven months, lies face-up on an elevated cot. On his right, a stuffed yellow toy keeps him company while a vital signs monitor on the left side of the bed blinks and displays graphs and figures.
The boy's primary care nurse wheels a trolley into the room. She checks his heart rate and temperature, attaches a suctioning syringe to a tracheostomy tube on Jordel's neck and pumps out secretions blocking his airway.
While the sight of breathing and feeding tubes sticking out of Jordel's small body is heartbreaking, his mother, Unny Mutune Nyaata, has seen worse in the nearly three years and five months that her baby has been fighting for his life.
"Jordel was born on March 29, 2017. He was a calm baby but didn't sleep much. I was overwhelmed with emotion to be blessed with a boy. I was looking forward to seeing him grow, experience milestones and create memories. I hoped our future would only offer the best," says Nyaata.
And for the first ten weeks together as mother and son, life was perfect. But one fateful June evening, the course of their lives was forever altered.
Read More
Short-lived happiness
"Our happiness was, unfortunately, short-lived. Just after Jordel's 10-week immunisation, we had an accident. It was a normal weekend and we drove to Utawala to check out some property. We spent most of the day there."
As the family returned home at around 7.30pm, their car rammed into a stationary lorry near the Kenyatta University Hospital.
"It happened suddenly. The lorry was by the road, no signs, no indicators, nothing. Before we knew it, we were inside the truck," she recalls.
Like any mother, Nyaata, who was seated in the front passenger seat holding Jordel, says her first instinct was to protect her son by shielding him from the violent crash.
The baby remained silent after the accident and Nyaata immediately assumed he had died. But well-wishers who rushed to their rescue assured her that he was fine, or so they thought. After all, he did not have any external injuries.
Nyaata breaks her pained narration to warn other parents on the dangers of holding their children in the front seat of a car.
"For so long I have blamed myself for what happened. The ifs are there; what if I was in the back seat? What if my son was in a car seat? Maybe the injuries wouldn't have been that bad. But it happened and I can't rewind."
After the accident, they were rushed to Jacaranda Hospital for first aid, and later transferred to Mater.
"I didn't have Jordel in my arms when I came here but I was told he was fine. He was in the ICU and I was in the HDU. I was able to see him after a week and doctors explained that he had sustained brain and spinal injuries that required surgery," says Nyaata, who escaped with facial injuries and muscle pains.
Mater Chief Nursing Officer Teresa Omoding told The Standard that Jordel was admitted to the ICU when doctors realised he needed to be put on a ventilator owing to injuries to the part of his brain that controls breathing.
The baby underwent spinal surgery and two minor procedures under the guidance of a neurosurgeon. He received ventilatory support using an endotracheal tube that over time has been replaced with a tracheostomy tube, which is ideal for patients who require long-term ventilation support.
In the time that he has been hospitalised, Jordel's bill has shot up to an astronomical Sh66 million.
"The main reason he stayed in the ICU for so long was that he needed ventilatory support 24 hours a day, and the cost implication is very high. He also required other forms of care because of the nature of his injuries. He needed to be fed, turned, cleaned and everything else," said Omoding.
Physiotherapy
After one year in ICU, Omoding said, the hospital tried for several months to remove Jordel from the ventilator but he could not breathe without assistance for long periods. It took time but he was eventually put on supplementary oxygen.
He was also moved from ICU to the high dependency unit, before being moved to the ward in June this year. It is here that he has been receiving occupation therapy as well as physiotherapy that will hopefully help him to move on his own.
"He has come out of the acute phase and is now in the rehabilitative phase. We are now trying to establish bonding with his mother. We want him to hear her voice and experience her, even as we teach his mother how to care for him at home," said Omoding.
She is quick to add that although Mater is preparing for the baby's discharge, they do not have a tentative release date yet. "A discharge is ideal because continued stay in hospital exposes Jordel to hospital-acquired infections."
His mother, however, has started preparing a convenient home set-up with the hospital's help. Jordel will require a vital signs monitor and suction machine, as well as daily occupational therapy. He will also need a source of oxygen and an oxygen monitor.
"The experience has changed me and how I view life. Things out there don't matter that much to me anymore. The only thing I look forward to now is when I will have my son home to hear him cry and talk, and thoughts about whether I will see him walk," said Nyaata.
The journey, she noted, has been gruelling and lonely with only a small circle of family and friends to give support.
"When it started, there were lots of friends and relatives visiting. But everyone has their own life and things to attend to. As time goes by, you realise you are the only one on the corridors, the only one who shows up to visit the baby. Then reality hits and you realise it's just you and the baby."
The huge hospital bill has also been weighing on Nyaata's mind. In the beginning, she was able to keep up with the payments but it eventually spiralled out of control. To make matters worse, she had to quit her job to take care of Jordel.
"The hospital has done so much. I understand ICU is expensive, but I am grateful that they continued giving us care and assistance despite the mounting bill," she said.
Omoding has assured Nyaata that the hospital will not detain Jordel when he is ready for discharge, saying they will enter into an agreement on payment.
"The hospital bill has never been an issue. We have never delayed care to Jordel because of money. We are a Christ-centred facility and our mission is to provide care to the sick and follow the ministry of Christ. So, funds have never been an impediment."
Nyaata's prayer now is that well-wishers will join her in believing that a miracle is possible and help her repay her debt to Mater.
How you can help: To contribute towards Baby Jordel's Sh66 million hospital bill, send the donation to Paybill No. 7476869 Account Name: Baby Jordel