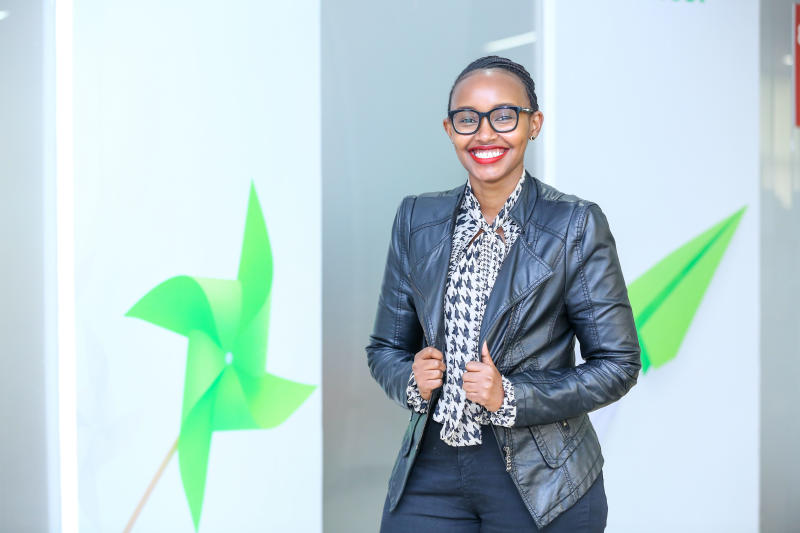 While it is improving, the reality is that even now, in 2020, fewer women than men choose careers in science, technology, engineering, and mathematics. Naisenya Mungai is one of the few who dared.
Naisenya is a Network Optimisation and Automation Engineer. It sounds impressive, but I'm not sure I really know what it means. In the simplest terms, she is a network doctor, she tells me.
"The network optimisation role is like being a doctor but for the network. When a person gets sick, they visit the doctor who then listens to them, carries out several tests be it stool or blood test, then based on the test results, recommends a treatment. Sometimes the doctor issues vaccines as a preventative measure from future illness.
"A network optimisation engineer does the same, but for the network. We survey and plan coverage sites where we have zero network coverage. We also plan capacity sites to mitigate congestion issues in our network as a result of over-utilisation of network resources," she says.
Read More
There is, understandably, a customer obsession with Internet and connections that work perfectly 100 per cent of the time. Just a little downtime and social media is flooded with people demanding for answers.
So when it is all seamless, you have network optimisation engineers like Naisenya to thank.
And for her, the tech world is her oyster. She has planned, designed and surveyed more than 350 sites, which are what Kenyans call boosters. That is just one of her list of achievements at Safaricom, in a field that still has very few women.
Difficult childhood
Not bad, for a girl who went to boarding school because it was the only place she could get three square meals a day. As the last born of 11 children growing up in Suguta MarMar, Samburu County, her parents' little income was stretched incredibly thin.
Her mother had to stand up for them when she and her sister reached the age where they were supposed to be circumcised. It was a brave stand, but she is used to her mother's bravery, which is the reason she is her greatest influence.
"When my sister and I reached the age of circumcision she said no. If she believes in something, you can't stop her. In the community that I come from, for the longest time, women were not allowed to speak in the presence of men, but I have seen my mum fight for what she believed in. She would stand before men and fight for the rights of her community, which is Ndorobo, because they are not necessarily considered to belong to the Samburu community," she says.
Her life is now a far cry from that. "I am 31 but because of Covid, 2020 doesn't count!" she says laughing.
Naisenya is delightful to speak to and for one with such an impressive resume, does not take herself too seriously.
"I love to make people laugh so I am a very silly person," she says, and true to her word, we have a grand time during the interview because she keeps dropping humorous statements.
Which is amazing because it is the opposite of what she was growing up.
There is no trace of it now, but she says that growing up, she had a debilitating stammer. It was so bad that despite now being so obviously an extrovert, she was convinced that she was an introvert.
"In school, people laughed at me. So for the longest time I thought I was an introvert. I have since realised that I am an extrovert, but because of stammering I decided to keep to myself because I had been laughed at all my life," she says.
Pushed into engineering by a stammer
It is the reason she is an engineer and not a doctor.
"As good as I was at sciences, and all my teachers thought I would do medicine, I decided that I couldn't be a doctor who would have to ask patients what ailed them while stammering. I decided that since I loved physics, being an engineer would make sense because I would only be interacting with machines. My newfound love is now programming and I love it!" she says.
Engineering and programming would be enough for most people, but not for Naisenya? She is an avid experimenter. For instance, she taught herself Spanish last year just so that she could watch the show Money Heist without subtitles. It just isn't the same with the audio translation, she says.
She was also once a fashion blogger and still is a fashion designer.
"My blog, Le Maloi's Runway was by then a big deal and I was once featured as one of the top 10 fashion bloggers to watch out for," she says. The others on that list were social media bigwigs like Sharon Mundia, Joy Kendi and Lucia Musau.
Her biggest passion, though, is empowering young ladies by sharing her life story. It is how she gives back. She does mentorship across the country, especially championing for her home, Samburu County.
"I want my life to be an example that you can make it even when the odds were stacked against you. Despite them, I still followed my heart. I don't have money to give people but I live my life as an example of no matter where you are, no matter where you come from, if your passion and vision are aligned you will be unstoppable," she says.
Apart from living her life as a role model, what kinds of things does she tell them? "Your ability to learn and unlearn without catching feelings is the most important thing I have learned. Perseverance too. Because when times are hard, that is when you should perform at your best. When you don't feel like it and feel like the whole world is against you, that is the moment you really need to show up for yourself. Always show up for yourself because the world does not owe you anything," she says.
Any man would be lucky to have her, but for now, they can only hope. "I am in a relationship with myself! I have been waiting to say that," she says, laughing. "I am on a self-love journey. So I am getting to know myself better."