Kentice Tikolo: Tough boss lady riding soccer storm
THE STANDARD INSIDER
By Beryl Ringos | Nov 1st 2020 | 3 min read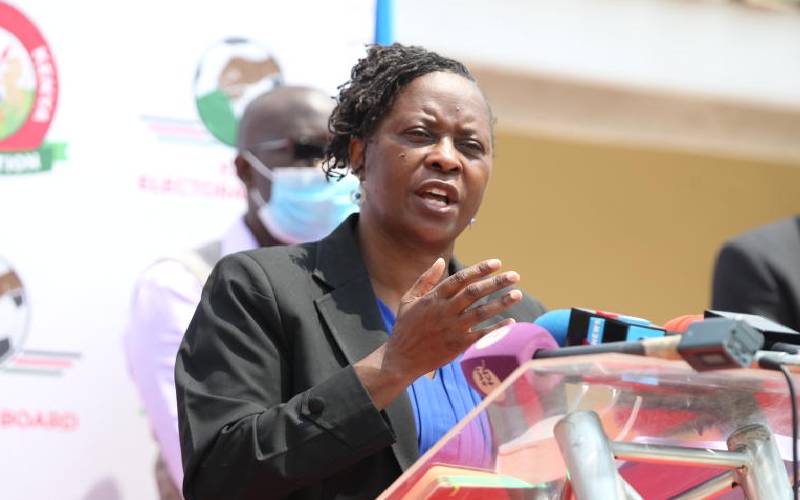 How was it like growing up?
I grew up in the village. I am the firstborn in a family of eight. My parents were very strict teachers who went out of their way to ensure we got a good education. But most importantly, they taught us to be generous, honest and to value everyone.
How did school shape your perception of sports?
I schooled at Loreto in Limuru, where I took to sports like a duck to water. I was a natural in hockey, volleyball and lawn tennis. As an athlete, I was a sprinter and long jumper. At Alliance Girls, where I did my A-levels, I played both hockey and basketball. I can proudly declare that I may have been one of the best centre-forwards during my time. Sports made me develop a good work ethic.
Are you related to the famous cricket giants, the Tikolos?
Yes, by law! My husband is Tom Tikolo, the first African captain of the Kenyan cricket team.
What inspired you to chair the FKF electoral board?
Having been the chairperson of Wazito Football Club, I experienced the challenges clubs go through. I was so traumatised watching my team disintegrate at the KPL, due to lack of funds. We had built the team painstakingly into a professional outfit and believed that getting the team to the premier league would provide a financial reprieve. But we were so wrong. There was no money! The sponsorship was a huge joke! It was crushing.
So, when I was asked to help with the elections, I naturally accepted. I felt it was important to use the management experience I have gained over the years to contribute to the game at a strategic level.
What do you make of this year's FKF elections?
There's a general shock that there was no drama. It's a first. I was warned of the possibility of violence during the election, but there was none. We did extremely well, beyond expectations.
What have you learned as a sports manager?
We have a lot of talent. The myth that sports and brains are mutually exclusive has been debunked. We need the very best in management to venture into sports in order to bring out the very best in the industry.
Are sportswomen treated fairly in comparison to men?
Far too few women are involved in sports. And when we are, we are not provided with the visibility that we should. A good example is the just-concluded London Marathon. While Brigitte won the ladies' event, focus was on Eliud Kipchoge's loss! How now? At the very least, they should have received equal attention. Did we use Brigitte to brand Kenyan tea? No. We need to deliberately prop women in sports. I'd like to see more stories of our sports heroines: Harambee Starlets, Tegla Lorupe, Valerie Onyango, Catherine Ndereva and so on.
What should be done?
There is need to deliberately brand and showcase women in our sports. The two-thirds gender rule should also apply in sports. For example, I would have loved to see some affirmative action at the FKF election level with regard to women's teams.
Women will bring the 'other view' in management that is currently lacking. Having more women in sports management will promote sound decision making, problem solving and strategic planning, due to the diverse and multiple perspectives that they would bring on board.
In your career path, which position did you enjoy the most?
Public Relations Manager at the Kenya Sugar Authority. That was where I learned the possibilities that this profession holds for me. My stint at Beyond Zero was also quite rewarding. Conceptualising and implementing the initial campaign and First Lady's Half Marathon will always be a high for me.
What is the most expensive thing you possess and how much does it cost?
My MSc in Public Relations from the University of Stirling in Scotland. I couldn't afford it, yet I so badly needed it. The public paid for it through a fundraising and I had to be away from family.