Cougars: Robbing the cradle or true love?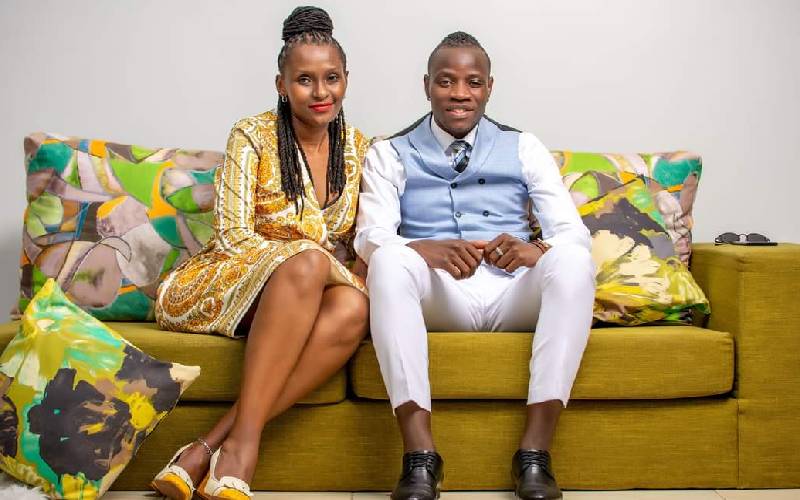 When gospel singer Guardian Angel (Audiphaxad Peter) and his lover Esther Musila declared their love on social media, it attracted both support and condemnation in equal measure.
Speaking for the first time in an interview on comedian Jalang'o's online channel, Bonga na Jalas, they told off "haters" opposed to their union to let love win.
Their relationship caused a stir due to the age difference: Musila is 50 while Angel is 30. But these two have not beaten the 42-year age difference record set by woman rights activist and politician Wambui Otieno, 67 when she married 25-year-old mason Peter Mbugua in 2003. Mbugua's mother was so shocked she collapsed and died.
The issue appears to be a huge age difference falling on the woman as slight age gaps have not caused similar interest. Televisions investigative reporter John Allan-Namu is three years younger than his wife, Sheena Makena, while comedian George Kagwe is four years younger than Karimi, the wife.
When an older woman has an affair with a younger man, she is called a cougar. But there is no such description for men.
Musila said she was proud of her age and knows what she wants in life, adding that she is very happy at the moment although "I had restrained myself from ever having an interview, but I think it is good for me to also fight for myself because some people are judging me or talking about me, yet they don't know my life."
She said the hurtful comments on social media were affecting her three children whose ages range between 22 and 29.
"I want to make this clear. I am 50 years old have been through life and know what I want with the remainder of the life God has given me," she explained, adding that her mother died at 72 and if she has to live to the same age, she had roughly 20 years and wanted to live her best life starting now.
"I do what Esther wants and I will make Esther happy. My kids are grown, the lastborn is 22 years old, they are running their lives, but I am still their mother. But as Esther, I have a life which I want to live," she stated.
What critics couldn't dispute was how youthful she looked at 50, which she attributes to exercise, self-love and genetics. Musila said 2020 was special to her because she turned 50 in May and had planned a milestone celebration, but changed her plans due to the coronavirus pandemic.
On her relationship with Guardian, she said she was deeply moved by the musician's song, Rada and reached out to radio presenter Maina Kageni, asking about the song and the artiste.
"That same week, I requested Maina if I could meet Guardian Angel since his song had touched and spoke to me as a person… so that is where the journey started. It was not anything planned," she said.
Guardian also asked Kenyans to stop judging him before hearing his side of the story.
"You cannot trade money for happiness and I cannot go and throw myself in a ditch because there is money in that ditch. I am of sound mind and that's why I decided to stick by this decision," he said, adding that as a couple, they were very happy with each other as they were doing the right thing.
"As per the scriptures, this is the woman I was meant to marry," he said.
Their love affair sparked an endless debate on what age difference in a relationship meant, especially if the woman was the one bending more years than the dude.
Sociologist Sammy Njayakio said Musila and Guardian's relationship attracted public interest because Kenya is a patriarchal society.
"Men are expected to marry women, and that puts them in control of the relationship. This is why men should be older than the women in romantic relationships," Njayakio explained adding that in a situation where the woman is older then there is a power change that disadvantages the man.
"This relationship dynamic puts the woman in charge and the man without control over the relationship, because the older the woman is, the more likely she will be in power," he noted.
He said many women who find themselves in a relationship with a younger man are assertive and want to take control of the societal pressure they have lived under.
"Such relationships are often a woman's attempt to live out a missed opportunity where they are in charge and in control, taking charge of their relationships," Njayakio observed.
Relationships are about mutual gain, the man must be gaining something out of the union and often this is financial and emotional stability from a mature partner.
"The main reason for dating a woman who is decades older is companionship, because as a young man, the need to start a family with her is unlikely," he added.
About a generation ago, marrying an older woman with grown children was unheard of.
Kikuyu elder Njogu Maina explains that back then, people's lives were dictated by cultural norms, and hence, romantic relationships across the age divide are a failure of cultural values and support systems provided by age-sets.
"An age set is a group of people who can offer each other counsel and enforce discipline on each other. But nowadays, young men do not have an age set and have become very individualistic," he warned, adding that when young men have no counsel from their elders or fellow agemates, they end up dating older women.
Maina also points out that changing social mores are such that the wider community now plays little role in the life of an individual unlike in the past.