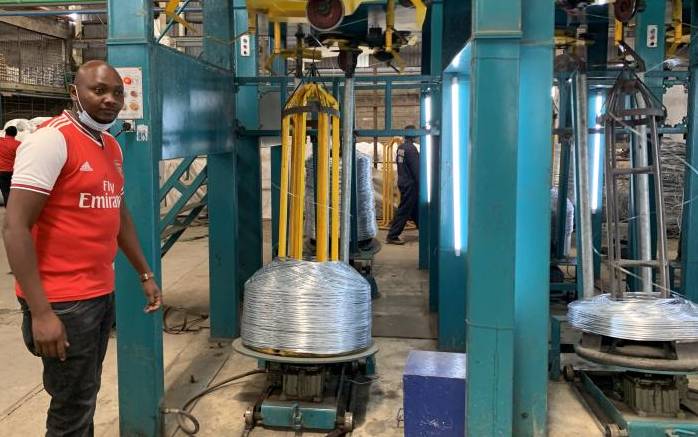 Fencing products are set to get cheaper and readily available as Kenya's capacity to produce galvanised wire expands.
For decades, Kenya has been importing the bulk of its galvanised wire, which is the raw material used to make chain links, barbed wire and mesh, among others.
To shore up Kenya's capacity and support local manufacturing, the Government has since placed a 25 per cent import duty on the galvanised wire.
Most of the imports mostly come from China and India. Galvanised wire is bright, shiny and corrosion-resistant, key for a strong and lasting fence.
The availability of the raw material locally has further enabled entrepreneurs to import or assemble machines used for making fencing products such as chain links.
Read More
Competition for the Kenyan and regional market is also heating up as investors respond to rising demand.
Ibrahim Kanyingi, a manager at the Thika-based Blue Nile Group, notes that Kenya being an agricultural economy and having a booming construction industry, access to fencing products had been unnecessarily expensive.
This is because the galvanised wire was imported in bulk of at least between 200– 300 tonnes, locking out many players.
But now, access to the raw materials is easier, with locals buying galvanised wire at about Sh130 per kilo, depending on the gauge.
"Being a farming country, chain link is required everywhere and now with easily available raw materials, people have begun to see how it's easy to make them," said Mr Kanyingi.
He said most of those dealing in chain links, including hardware stores, make between 10 and 30 rolls per day.
"The main idea is to raise the capacity in Kenya and create self-employment where one doesn't need to set up a big factory," he added.
Local manufacturing will also help minimise the loss of foreign exchange earnings, he said. Blue Nile Group, best known for its Kifaru brand steel products, in 2006 split from to form a manufacturing outfit comprising the Blue Nile Wire Products Ltd and the Blue Nile Rolling Mills Ltd. They produce wire and steel products respectively.
Blue Nile is currently the biggest producer of hot-dipped galvanised wire, averaging at least 2,500 tonnes per month at its new plant commissioned in June on its 10-acre Thika property as it responds to market demand.
The World Bank-affiliated International Finance Corporation (IFC) committed to partly lend $8 million (Sh864) for the project.
Blue Nile, which exports to the East African region, including Rwanda, Burundi and South Sudan, is also part of the Nairobi Securities Exchange (NSE) Ibuka programme. It is planning a public initial offering.
Local steel companies are diversifying into the larger construction industry to areas such as cement manufacturing amid rising competition.
Blue Nile, with four factories in Thika, also produces other construction materials such as BRC wire mesh, a steel reinforcement material in concrete, nails, TMT bars and binding wire. Other producers of galvanised wires include Wire Products known for its Shamba brand and KD Wire known for its Ng'ombe brand.