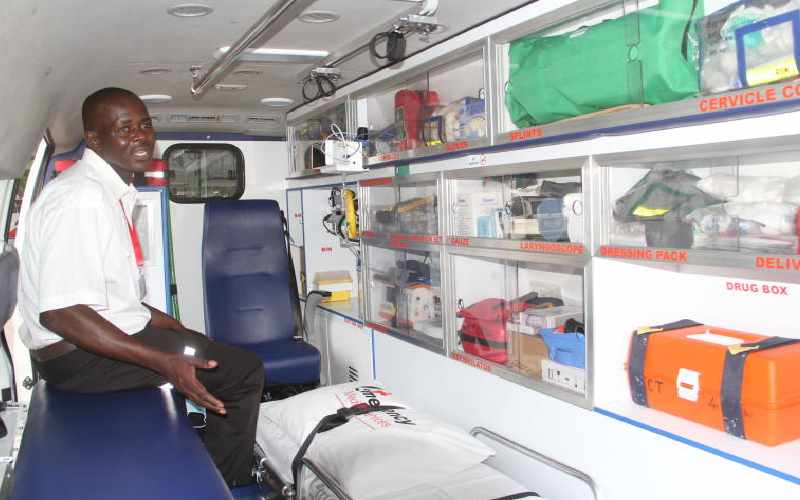 "There are no words to describe the feeling that washes over you when you are trying to save people from rubbles, and behind you, you can hear gunshots."
That is how Benjamin Wanyande describes what he felt when he was on a rescue mission at the Garissa University five years ago when the college was under terrorist attack.
As an ambulance operator, when he wakes up every day for work, he is never sure of how his day will unfold.
"Some days are slow, and we are grateful for when there are no incidents. Then there are days when disaster strikes and we see people in bad condition. It can be traumatising, but someone has to do it. I chose this job, so I give it my all," he says.
Read More
For more than a decade, the 42-year-old has been the man behind the wheels at Emergency Plus Medical Services (E-Plus that is owned by the Kenya Red Cross Society.)
When gunmen go rogue and start shooting like they did at Westgate Mall, Wanyande is always among the first people to arrive to evacuate the injured. When a building collapses and there are people trapped inside, as it happened in Mlolongo, he is sure he will get a call.
"You see blood. You hear the cries of people needing you to help them. You deal with frantic relatives in their worst moments of vulnerability. As you drive that ambulance, you remember there is someone fighting for life inside it," he says.
As the country marks Mashujaa Day today, Wanyande embodies the life of humanitarians who rarely get acknowledged for the work they do.
The ambulance drivers, nurses who sit with them in the vehicle as they snake through traffic jams and make that race against time to ensure the patient reaches hospital in time; the medics who receive them, and the cleaners who later rush to the ambulance to scrub the blood and body fluids.
"The people we work with are always in pain. Some are unconscious; unaware of their surroundings. It is not a job you do waiting for someone to thank you," he says.
He remembers the many trips he made from Dusit to the Kenyatta National Hospital following a terror attack last year. He recalls when he first got the dispatch call in the afternoon, to later in the night when most people had left. He says the goal is always to get the patient safely to the hospital, in the shortest time possible. "The ambulance I drive is like an intensive care unit. Women have birthed babies here. People have been resuscitated when their hearts stopped beating right in this vehicle. We rescue lives and lose lives here," he says.
He also remembers the patients who have died talking to him. Like the man they had saved from an accident who amid) gasps gave them the last farewell to deliver to his wife before breathing his last.
"Deaths in ambulances are sad. A reminder of how you almost got them to hospitals. A journey interrupted. You carry it with you," he says.
He smiles at the thought of being regarded as a shujaa – a hero who goes beyond the call of duty to deliver. His supervisor Hassan Abu says Wanyande is often assigned to disaster areas because of his ability to coordinate and remain calm under pressure.
"He has seen the worst, yet he is always composed. He does not panic. And that is what makes a good respondent during an emergency," says Abu. The father of three says even though he rarely gets praise, save for the random phone calls from those whose lives were saved to the Kenya Red Cross Society ambulances, he is content.
"My biggest cheerleaders are my children. They know I help in saving lives. Even when they have a cut on their finger, they run to me because I operate an ambulance. To them, maybe I am a shujaa," he says and lets out a loud laugh.
He then inspects his ambulance in preparation for a journey to Rwanda that his team is about to embark on.
"Sometimes, showing up when someone desperately needs your help is the best you can do to restore their hope in humanity," he says.