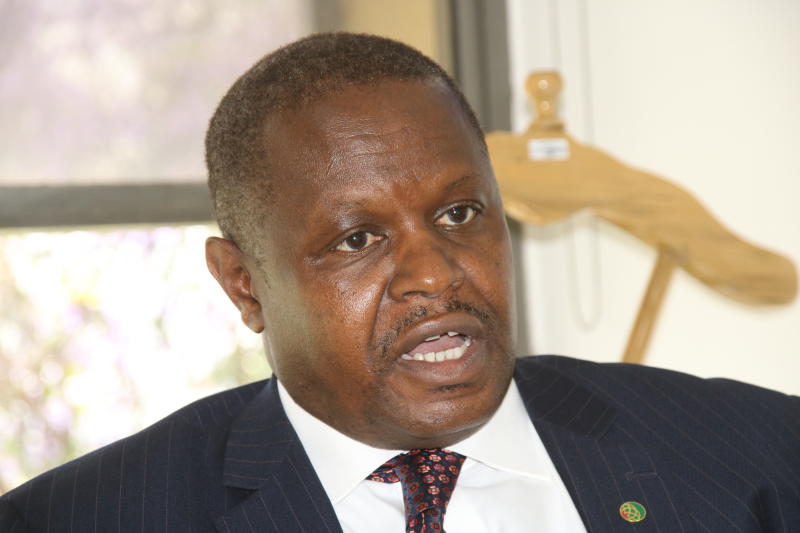 At the intersection of Bunyala Road and Lower Hill Road, on the second floor of an Upperhill building, Peter Makau (pictured) sits on a leather upholstered chair.
From here, overlooking the manicured lawns of the Nairobi Railways Club, he steers Dubai Islamic Bank Kenya Ltd.
"This is a typical CEO's office," he admits, after I insist on the location's ideal ambience. It gives such a scenic view of the city beyond, the road bedeviled by endless traffic.
After being incorporated in the country in 2014, Dubai Islamic Bank of Kenya Ltd took three years to obtain a licence as a fully-fledged commercial bank. It retained workers all the way into its 2017 licensing, when the wholly owned subsidiary of Dubai Islamic Banking went into full operation.
"The Bank is exclusively Shariah compliant - 100 per cent Islamic banking," says the CEO, who previously worked with United Bank for Africa Ltd.
Islamic banking, he notes is not a preserve for Muslims. It is open to every customer. "No matter the religion, race, tribe, background," says the 56-year old father of two, who's banking experience spans over 30 years, "the bank is for all."
The bank's financing does not attract interest charged on loans by banks since their financing is provided against goods and services.
Money is just an inevitable means of exchange. The bank makes profit from the asset. "They will pay us within the agreed timelines," Makau says. The agreement is dubbed murabaha.
They also have Ijara, a long term financing for property ownership, where the customer will pay rent and will finally acquire the property when the payments are fully.
Islamic banking does not allow banking of proceeds of gambling or speculation. "We also strive to avoid unfair contracts and are never taking advantage of our customers," says the Chief Executive.
To Makau, there is a misconception that people cannot make wealth in Islamic banking. He insists the benefits are assured, and clients sure to generate wealth.
The lender has five branches in Kenya, three in Nairobi and two in Mombasa. The Mombasa outlet was meant to tap into the potential of Kenya's second largest urban dwelling.
More branches would have already come up had Covid-19 not struck. But even then, with three exclusive Shariah banks in the country, the market share remains under one per cent.
"The Muslim population in Kenya is about ten per cent. We have a potential customer base that is yet to be tapped into. We should have market share commensurate with our target audience in Kenya," says the CEO.
The low numbers arise from awareness flaws and inadequate "alternative investment opportunities".
"We are disadvantaged against other banks because we cannot invest in treasury bills. If we had Sukuk (securities issued at a discount, redeemed at their face value at maturity and have maturities of not more than one year, thus, basically, a form of treasury bills suited to Islamic banking) we would do well in competing with conventional banks."
The awareness should involve letting out the message that Islamic banking is pretty much like conventional banking, but "with an additional package of ethics".
When Chase Bank collapsed, top managers were arraigned in court for misappropriation of money and misuse of provisions in Islamic banking to obtain profits irregularly.
But Makau says a well-structured bank should not struggle with irregularities or insider dealings that have had a big hand in collapse of many banks.
"We have clear processes and procedures. We have a Shariah supervisory board that provides oversight services to ensure some of these malpractices are snuffed out at the outset. The staff is well trained and they know, and follow, the rules. They have to know the rules to follow them, right?"
The diversification - with more Islamic banking players in the country could boost the sector. Over four decades ago, Dubai Islamic Bank became the first lender to go global on Islamic banking, says Makau. It should thus not be difficult to take proper root in the country.
Islamic banking resembles conventional banking save for the laws "meant to preserve ethics and the well-being of society". "Most people tend to think that we are a "lesser" banking system. But services in the Islamic banking are the same as those in conventional banking, with extra attention on ethics."
True to it, Makau has worked for Standard Chartered, Citibank, Ecobank, Equity Bank, UBA among other lenders. "From microfinance, to corporate, to regional banking, to Islamic banking, I have been there," says the father of two who loves taking a walk during his free time.
The lender borrows a lot from the technical expertise of Dubai Islamic Bank in the United Arab Emirates. This has helped the subsidiary cement its place in Islamic banking in the country.
So, how did the working in Tanzania help his course? "I met multicultural customers and cross-border exposure. These are very important." He admits to be happily back home but his joy would be seeing Islamic banking take root in the country.