Alfred Imonje coached Somalia, fed players ugali to be 'omundu strong'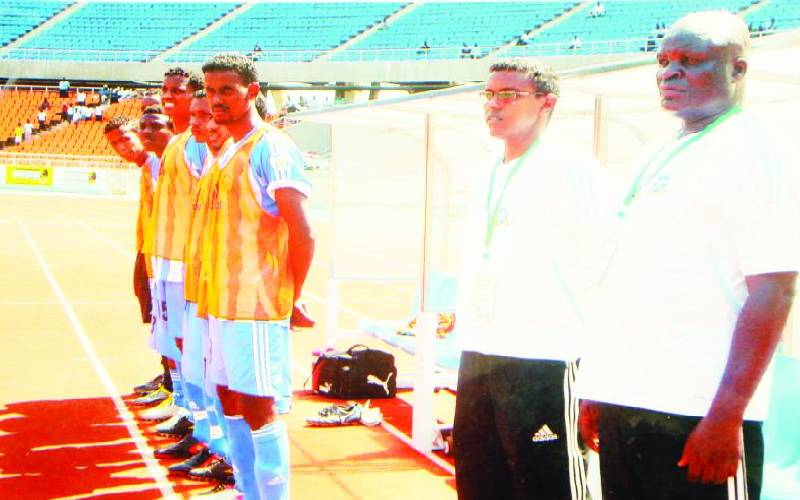 "Here was an opportunity for me to prove myself as a coach on the international stage," says Alfred Imonje, who needed a few months to strike a rapport with the 'Ocean Stars.'
Fortunately, the team was under the full sponsorship of FIFA, meaning there was no interference whatsoever in its management or drama with salary payments.
"Funds were not a problem. In fact, besides an attractive salary, I was assigned a translator, driver and security at my residence. I even had a cook," says the man who claims he lived in the same estate as Rwanda President Paul Kagame.
"Kagame used to live in House No 17 while I occupied House No. 15 in Eastleigh. That was before he was elected President of Rwanda," he claims.
To make an impact with Somalia, Imonje had to scout for new talent and reorganise the team.
"I re-arranged my squad and brought on board youngsters and hit the ground running," he adds.
This included bringing on board former Kenya One, Washington Muhanji as the goalkeepers' trainer. Muhanji, Imonje's village mate, did a wonderful job for the three years they were in charge of the Somali squad.
Take a quick survey and help us improve our website!
Take a survey
The volatile situation in Somalia meant Imonje had to find a suitable training ground away from Mogadishu.
"We set up one training camp in Djibouti and another in Addis Ababa. We would usually go for training between 5.30am to 8am because Djibouti is relatively hot compared to Kenya," he says.
Imonje also planned to change the nutrition and diet of his players in order to give them energy and strength to play for 90 minutes.
"I made arrangements with Kenyan High Commission in Djibouti and Ethiopia to import maize flour to our camp. Since the players did not know to prepare ugali, I made it myself," he says.
Imonje guided the Ocean Stars to the African Nations Championship qualifications in Uganda. Somalia beat Uganda in their second match and a series of friendless organised by Imonje laid the ground that prepared them well for the championship.
Travelling by air became a norm for the Kenyan tactician. He would fly from one destination to another to honour friendly matches. When his contract came to an end in 2014, Imonje returned home and signed a deal with Muhoroni Youth, where he served for a short stint.
Recently, he was among the hundreds of spectators who watched a match between village teams at Bushitsiula grounds, Ikolomani sub-county in Kakamega.
Imonje's coaching journey began after hanging his boots in 1986, following a successful career on the pitch in the '80s and '90s as a player.
"I coached an exciting young club at Nzoia Sugar and was always thrilled at how made life hard for our opponents at Kanduyi Stadium. It was our small fortress," he says.
"Managing to get a point at Kanduyi Stadium in Bungoma was no mean feat for visiting teams. Big clubs like AFC Leopards and Gor Mahia had to pull all stops to get at least a draw," he recalls.
As a coach, Imonje guided Kenya Prisons to the Super League between 1989 and 1991, before returning to Motcom as an assistant coach under the late Makokha between 1991 and 1997.
"I moved to Nzoia Sugar and recruited 15 under-20-year players, including former Harambee Stars sensational Ken Simiyu and Peter Mark Yoko," he reveals.
Coast Stars offered Imonje a lucrative two-year deal in 1999 after the Mombasa-based club suffered a humiliating defeat at Kanduyi grounds.
But the match between his Rivatex side and Mathare United FC in the '90s remains the most memorable to him.
"Jonathan Niva's side was returning to the country after a series of friendlies abroad. He requested a friendly and after we beat them 2-0, Niva rewarded my team with 20 new balls," recalls Imonje.
At one moment, Imonje took charge at then struggling Sony Sugar side to help them retain their slot in the top-flight league.
Other teams he has coached include AFC Leopards and Kakamega Homeboy. He counts himself among the "few coaches who can walk into Gor Mahia or AFC Leopards camps and be received warmly."
Imonje believes that Western Kenya and Nyanza are still fertile grounds for football talent. He is confident of making a comeback as a coach with a local club soon.