Young innovators on a mission to fight crime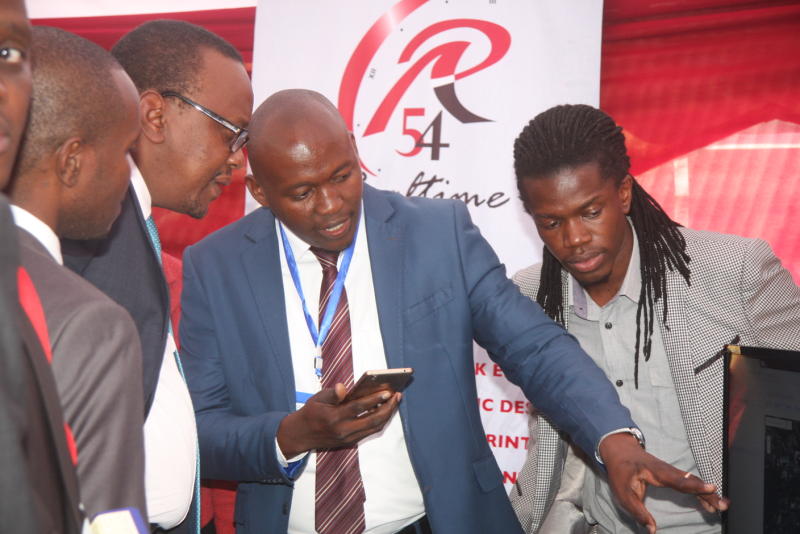 A mugging experience that Eric Murithi went through sowed the idea of an enterprise. When thieves accosted him and a friend one evening on their way home in Lower Kabete, the usual screams were not loud enough to elicit any response, they found themselves without a means to call for help. You must also have heard stories of friends or family who have encountered thugs.
A simple spot check would establish the obvious; that few people have subscriptions to emergency services mostly because they cannot afford. Following the scary experience, Murithi, an electrical engineer, set on a journey that would see him and his colleagues turn the mobile phone into a panic button. He teamed up with Edna Kendi a software engineer and Vincent Awino, a geospatial engineer to develop Upesy through their outfit, Gravity Ltd.
They have since received a few accolades locally and internationally, with the latest being shortlisted alongside four finalists for the Newton Fund's Chair's Prize. Should they win, they will pocket nearly Sh70 million in cash. Upesy, a mobile phone application, enables users to raise an alarm, sending alerts to law enforcement, friends listed as emergency contacts and service providers such as ambulance services and security companies.
"I was with a friend and we were taken to some alley. Everything that we had was taken by the muggers. We could not raise an alarm. We had no way of asking for help from anywhere," Murithi said.
Panic button
He describes Upesy as a panic button in the hands of every mobile phone subscriber. If one has the app on their phone, they only need to press the power button four times. The phone then automatically sends alerts to friends and emergency service providers — ambulance and security firms.
He added that the app is playing a role in fighting violence and different forms of abuse targeting women.
This initiative is in line with UN's sustainable development goal of gender equality. For this reason, the company was earlier this year invited to participate in the Newton Prize, organised by the UK organisation Newton Fund, which recognises excellence in research and innovation.
They are competing for the lucrative prize money with five other projects, all of them world beaters and offering solutions to modern day challenges. One of these projects has been mooted by a fellow Kenyan who has developed a gel that can prevent pregnancy and HIV and Aids. There are also two competitors from South Africa and another one from Turkey.
"When I look at products that have won in the past, they have addressed issues such as health, sustainable cities but we have not had something geared towards gender equality and elimination of violence against women and girls. What we have is a unique product that addresses a unique challenge," he said.
The application was in two parts: a project first had to be certified as meeting a certain threshold. After this, the innovators can opt to go into either a country focused category in which, for instance, qualifying projects from Kenya are pitted against each other or go for the overall prize, referred to as the Chair's Prize. Murithi and his co-founders decided to go for the latter. The country prize has a cash prize of £200,000 (Sh27 million).
Access emergency services
"Our vision is to create a safer world by providing a platform that can enable people access emergency services as well as a coordinated response," said Awino, Upesy's co-founder. "We have turned the smartphone into a panic button. All you to do is to remember to press the power button four times, which you can do discretely and it will go to the right person."
The alert goes to friends included in the app as emergency contacts. During a pilot that the company carried out with the police, the alerts would also go to the police. If one is a paid up subscriber, the alert also goes to private companies such as security and ambulance services.
The firm is in partnership with security firms, G4S, Secure and 911 Group. It is also in partnership with AAR and St John Ambulance for ambulance response services. The services are available on smartphones but Awino said Upesy is developing a USSD function.
Using Upesy, the public was able to report incidents including emergencies as well as upload photos and videos. Police officers at the Integrated Command, Control and Communication (IC3) could be able to assign such tasks to officers on the ground.
"The person manning the IC3 is able to see this on a dashboard in real time. They are also able to see who is on the ground and who would be best suited to respond," Awino said.
Targeting a nationwide rollout
The firm said it is targeting a nationwide rollout by end of this year, and expand to the region over the next two years. "In the coming years, we want to be the go to product in terms of safety, emergencies and security. We also want to enhance the product so that it employs Artificial Intelligence as well as big data analytics," Murithi said.
The company is among the few local innovation start-ups which have received some funding from the Kenya National Innovation Agency, a State agency housed by the National Commission for Science, Technology and Information (Nacosti).
The firm is aiming at raising the first major round of capital from other investors – in what is referred to as Series A Funding — over the next one year to finance its growth and expansion.
Murithi said Upesy has been talking mostly to local investors who are keen on it. "We have traction in the market now and believe we will get funding at favourable terms. Local investors have shown interest," he said.