My one year in Kenya's retail madhouse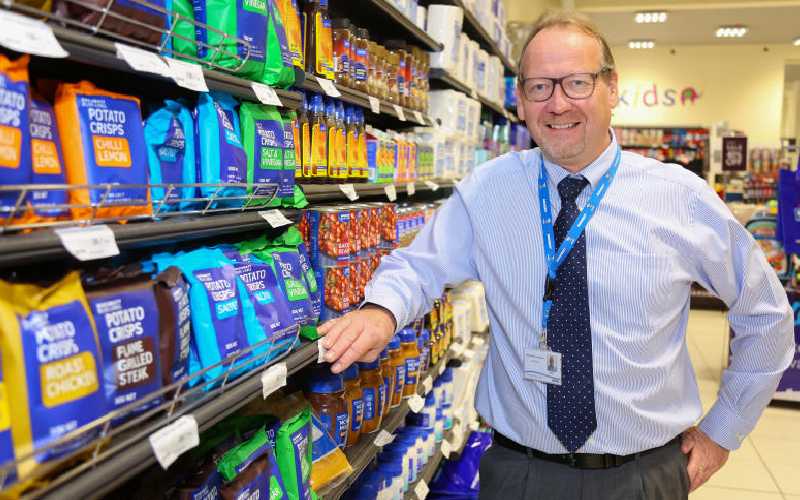 As a preacher of the turnaround gospel, Andrew Dixon fast rose to become one of the most visible figures in Kenya's retail sector.
The former executive of British retail giant Tesco was among the last sensational hires by Nakumatt and Uchumi in their twilight years.
But Mr Dixon's sermons didn't last, realising he had also been fed the wrong theology.
In each of the retailers, stubborn facts quickly eroded the dizzying optimism he had been dispensing a few months into the job.
This led to a barren tenure followed by a quick exit, leaving the two erstwhile retail giants to dramatically sink into oblivion.
In a tell-all interview with the Financial Standard from his base in the United Kingdom, he details the baffling mess he found in Nakumatt – which he says he was misled into joining – and why Uchumi failed despite the goodwill from the government to revive it.
The expatriate has over 30 years' experience in global retail and business advisory, working with global firms such as consumer goods giant Procter and Gamble, among others.
And despite his past bad experience, Dixon now says he is not yet done with Kenyan firms and is plotting a comeback.
He is now part of consultancy firm Savants that is helping businesses chart post-coronavirus recovery.
"My passion for retail and customers has never gone anywhere," he says.
Dixon's foray into the top ranks of Kenyan retail began in late 2016 when he was headhunted to "professionalise" the now dead Nakumatt.
What followed was a turbulent year inside the firm, ending with a desolate tweet: "To all my followers, this is to advise that I no longer work at Nakumatt," he posted in October 2017.
Before his appointment in January 2017, Nakumatt was bleeding cash and its aggressive debt-fuelled expansion had started to unravel.
Dixon says his duties included "professionalising" the family-owned retailer.
At the time, he was told the long-awaited Nakumatt Initial Public Offering (IPO) would happen soon, followed by the entrance of a strategic investor to recapitalise the business.
On these grounds, Dixon was sold to the turnaround narrative and joined the supermarket as the chief marketing officer.
"When I came in, Nakumatt was still dominant. It had the best store locations and business was good," Dixon recalls during a recent glitchy Zoom call.
Due to connection issues, this writer had to repeat the video call interview twice in one week.
The Atul Shah family-owned retailer had grown beyond their wildest dreams from a simple Nakuru store to East Africa's biggest supermarket chain, boasting over 60 branches spread across the region.
He remembers that Carrefour had just launched its first store at the Hub Karen, and had at the time predicted that its stay in Kenya would be "disastrous."
But with the benefit of hindsight, Dixon admits he was wrong.
Contrary to his prediction, Carrefour has thrived and now has 11 branches, even as others around it falter.
It is perhaps the only foreign supermarket that seems capable of cracking the Kenyan market, with Shoprite and Choppies failing miserably.
But was it blind optimism or misinformation that made him agree to work with Nakumatt? Dixon believes it was the latter.
He says two months in, he realised the retailer would soon go bust.
"I was misled and told investors were coming in. Later, I understood the numbers and realised the company was bust… it had too much debt, there was poor governance and bad key performance indicator (KPI) reporting," says Dixon. "It was in a really sorry state," he adds.
Also, he realised that the supermarket chain had "shady" businessmen in its shareholding structure.
Dixon adds that in the months he worked there, it was difficult to make any headway with the biggest obstacle being the Shah family.
He says Mr Shah only acknowledged that Nakumatt was a sinking ship when it was too late.
Dixon says they treated the giant retailer as a "one store" instead of a big corporation.
He says Shah only realised they were in hot soup after an audit done by KPMG.
The KPMG audit, which was commissioned by banks, is shrouded in secrecy and Dixon declined to talk about it.
He tried to encourage the family to trim down the scale of the business to release cash constraints but this, he says, was met with stern resistance.
"In a crisis, you'd expect everybody to be on board by accepting the situation and make plans to mitigate and return to profitability," said the former executive.
"The family treated the business as one store rather than a corporation; they didn't have the ability to run a business that size."
He further accuses the Shah of "arrogance and incompetence" and being controlling.
Looking back, Dixon says the talk of an investor coming on board only seemed real to the Shahs. "I knew it was never going to happen," he says.
By then, the business was deep in the red.
"They believed there was nothing wrong and by the time they accepted, it was already too late," said Dixon.
Insiders familiar with Nakumatt affairs during the time Dixon was at the retailer confirmed some of the obstacles he went through.
They say Shah only trusted a select few and was unwilling to let outsiders into the family business.
But with an ever-widening debt load and creditors on his neck, he had to agree to bring in outsiders to try and salvage the situation.
Fast forward, Nakumatt fell with a Sh38 billion debt load, with its final chapter closing early this year when it was liquidated.
"It could have been saved had Mr Shah taken advice," says Dixon.
He adds that Nakumatt grew too fast, which wasn't viable for long, with the branch network being heavily supported by flagship stores. Poor management was also a problem.
Dixon also says that due to its projected success, everybody wanted a piece of Nakumatt, but fled as soon as problems began.
"Everybody believed in the success of the business, and so everyone wanted a piece of the action, but when things went wrong everybody fled to the hills," he says.
Barely having recovered from the Nakumatt disappointment, Dixon was tapped by then Trade Principal Secretary Chris Kiptoo to spearhead Uchumi's recovery. He, however, did not last over six months, quitting in May 2018.
The government had put in $7 million (Sh700 million), and a strategic investor would be brought on board to recapitalise the business. He joined the retailer as the chief operating officer.
Unlike Nakumatt, Dixon believes Uchumi could have been turned around, saying that despite the political undertones and interests in the supermarket, there was "good faith" from all involved.
The supermarket was, however, heavy in debt and a strategic investor pulled out in the last minute.
And in just months, the Sh700 million government bailout ran out after a fancy restocking and relaunch.
"There was good faith and the brand was loved… There just wasn't the capital to do it," he says.
But why did he leave so soon? Dixon says the company was so broke that it couldn't pay salaries or rent and restock.
Uchumi this year survived a liquidation attempt after creditors owed more than Sh5 billion voted for the second time to have the retailer's debts restructured.
But Dixon believes it can't go back to its glory days. "It's dead," he says icily.
It's difficult to believe this is the same man who a few years ago preached the retailer's turnaround gospel.
"To all Uchumi loyal customers, we are coming back and very soon. Have faith," he had said at the time.
This followed the restocking of key branches.
Hands are tied
"For all cynics of Uchumi, let me reassure you that stocks will be returning to our stores by next week," he added then.
Uchumi Chief Executive Mohammed Mohammed notes that Dixon's impact on the firm might not have been felt owing to the few months he worked there and other events such as the failure to find a strategic investor.
"He was around for a few months and things didn't go as expected. It would be hard to speak on his ability," says Mr Mohammed.
He adds that expatriates working in local firms usually face hurdles beyond their control as their hands are tied most of the time. "They find limited resources and a totally different way of operating business, and with time are phased out in support of locals also qualified to do the job," he said.
But Dixon still believes there's money in the Kenyan retail sector. This is despite the country earning itself the tag of being a "retail graveyard" owing to the brutal nature of the business.
"There's a growing middle class and as the economy has been improving over the years," he says.
On Kenya's retail challenges, he notes that the country is flooded with malls, which doesn't reflect the economic situation of a majority of the population, with many of them shopping informally.
Dixon also says there are too many retailers "cannibalising" each other, while the sector is also plagued by poor margins and landlords' unrealistic expectation of rent as most of them don't seem to understand the retail business.
Dixon says after he left Uchumi, he remained in the country, but later returned to the UK, where he has remained owing to travel restrictions.
He says it is just a matter of time before he comes back once the travel restrictions owing to the coronavirus are lifted. His wife is still in Kenya and runs her own business.