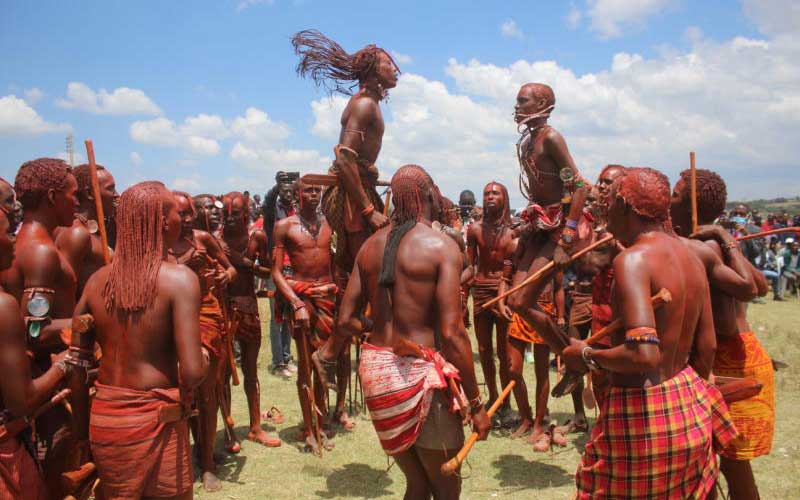 A rhythmic guttural chant from a group of Maasai warriors can be heard as one approaches Olchoro Oibor, a remote village on the slopes of Maparasha Hills in Kajiado County.
From a distance, the morans, in a circle, can be seen singing and dancing outside manyattas. They take turns to jump in the middle of the circle. Jumping is a key part of Maasai culture.
Each man jumps as high as they possibly can, as the rest sing. The pitch varies depending on how high one jumps. The morans are dressed in their traditional regalia of red shukas, their heads shaven clean and glistening with red ochre applied on them.
The excitement can be perceived from a distance as the youth perform song and dance during the colourful event locally known as Orngesher (a meat eating ceremony), celebrated after every 10 years.
Read More
It is during the event that morans are normally elevated to positions of senior elders. At least 3,000 men, between the ages of 25 and 45, will become senior elders this year. They have camped at the 49 manyattas with their families.
The two-month cultural event is being attended by thousands of people.
The morans receive traditional blessings to be respectable men in society. Among other things, they are expected to make sound decisions about their families and are also to resolve disputes that may arise within their communities.
They are trained on culture and traditions, their importance and how to preserve them.
Jackson Kuntai, one of those taking part in this year's event, said each participant contributed a bull and Sh5,000. He said other than the 3,000 bulls, by the end of the event about 2,000 goats and sheep will have been slaughtered to feed guests, who include non-residents.
A special black bull, which is only eaten by the newly-elevated Maasai elders, will be slaughtered at the culmination of the event. Elderly men feed the meat to them as they speak blessings. The key message is for them to be responsible men.
The event starts with construction of manyattas where those being initiated stay with their families for the duration of the ceremony.
"The number of manyattas must be an odd number, which signifies blessings. Nine is normally preferred," an organiser, Nathaniel Kumpas, said.
The mayattas are made of wooden poles and tree branches and plastered with a mix of mud, cow dung and ash.
The last event was held in 2010 and brought together Ilkisonko, Ilkaputiei, Isiria/Iloita, Ilpurko/Ilaipiak, Uasin Gishu, Ildamat, Ilkankere, Iloodokilani and Ilmatapato sub-clans.
This year's event that was, however, delayed by the outbreak of coronavirus has been receiving guests from across the country and from neighbouring Tanzania.
Among those who have so far attended are Baringo Senator Gideon Moi, ANC leader Musalia Mudavadi, Environment and Forestry CS Keriako Tobiko and Machakos Governor Alfred Mutua. Deputy President William Ruto is expected at the event today.
When he visited the morans, Tobiko urged local communities to protect its culture from foreign influence and called on counties within the region to finance cultural festivals.
"Kenya is known all over the world for the rich Maasai culture. However, if there will be no intervention by the county governments, our culture will fade away," said Tobiko.
He added: "That is why I am proposing that each county government within the Maasai community should allocate some funds within their budgets towards cultural activities. The county government should also craft laws that will protect our culture."
"Every time this festival is held, a lot of money, in donations, is brought here. I urge you to save that money, in a society, to help you meet family needs such as paying school fees."
Senator Moi urged residents to embrace education. "As you embrace your culture, and it is good to do so, please also remember to take your children to school. Education is the key to development," Moi said.
Mudavadi shared similar sentiments, urging Maasai youth to embrace formal education. He said while culture is good and should be embraced by all, the youth should shun retrogressive practices that have been seen as major setbacks to acquiring education.
"Female Genital Mutilation, early marriages and some aspects of moranism have been dragging this community behind and should be abandoned," Mudavadi advised.