From retail to oil: How France is charming its way into Kenya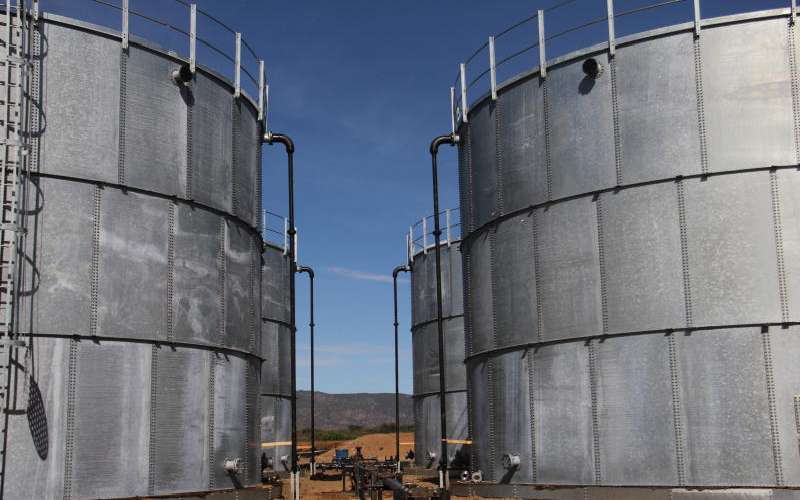 On March 28, 2018, a Boeing 787-9 Dreamliner from the Paris Charles de Gaulle Airport touched down at Nairobi's Jomo Kenyatta International Airport (JKIA).
It was Air France's first passenger flight to Nairobi after an 18-year hiatus.
The symbolism of the maiden flight for the French, who have been shopping for better deals outside Francophone countries, was monumental.
France's grip on Francophone economies in West Africa has been slackening and it has looked to fall back on Anglophone Africa.
This has been aggravated by, among other factors, the uneventful end of the CFA franc, a currency that was used by France's former colonies in Africa and guaranteed by the French treasury.
As the French have gradually shed the vestiges of la Françafrique – a murky arrangement that bound France's business and political interests with those of the people who ran its former colonies – they have set their sights on more lucrative English-speaking countries.
And Kenya has been top on the list of Anglophone countries French investors are keen on making inroads in. And they, have descended on Kenya in droves with their goodies.
They have brought their fragrances in the form of Mon Guerlain perfume; their fine wining and dining with Nectar Imperial champagne by Moët & Chandon; their fashion and beauty through Clinique, Lancôme, Sephora and MAC Cosmetics; as well as their cars Peugeot and Renault.
Hard liquor
But when it comes to phones, France's Sagem and Alcatel have faded from the local market as Kenyans fall for the charms of Chinese phones like Huawei, Tecno, Oppo, Xiaomi, Lenovo and Infinix.
However, the French are focusing their sights elsewhere.
Since 2010, when Moët Hennessy set up a trade representative office in Nairobi, the value of imported hard liquor, including brands such as Hennessy cognac, had as of 2018 increased around six times from $535,000 (Sh57.7 million) to $3.03 million (Sh327 million), according to data from the Kenya National Bureau of Statistics (KNBS).
While China is the factory of the world, it has not edged out France in manufacturing Hennessy cognac (as well as pesticides, which remain France's top export to Kenya).
Hennessy, a brandy, can only be grown and fermented in France, just like the bubbly wine known as champagne.
The value of wine imported from France, official data shows, more than doubled to $1.87 million (Sh200 million) in 2018 from $864,000 (Sh93.3 million) in 2010 as consumers developed a taste for the drink.
In Kenya, the French seem to have struck a chord with President Uhuru Kenyatta who has guided their entry into East Africa.
His family's Brookside, a dairy processing company, was among the first active participants in the resurgent French activities in Kenya.
In 2014, the Kenyatta family ceded part of its stake in Brookside to Danone, a French food group.
Three years later, Brookside relinquished its entire stake in a Tanzanian subsidiary to Danone.
Heightened activity might have started with Business France, a French national agency, opening its office in Nairobi to help French firms interested in investing in Kenya and neighbouring East African nations in 2013.
Six years later, the number of French companies in Kenya more than doubled from 35 to 110, according to data from the French treasury office in Nairobi.
In 2017, the Central Bank of Kenya licensed the French financial services provider Société Générale to open a representative office in the country.
This would allow it to offer financing services for both corporate and financial institutions, including export finance, project and infrastructure finance, debt capital markets, trade finance, global market solutions, mergers and acquisitions advisory, oil and gas, and mining. This was critical for the flurry of French commercial activities in the region.
Also in 2017, Kenya played host to the second edition of the Africa-France Summit, which drew many French businesses. This was the first time the event was held outside of France.
The French have mostly made forays into Kenya as industrialists. Examples include Lafarge-Holcim – which holds a 65 per cent stake at cement manufacturer Bamburi Cement – Total, Schneider-Electric and L'Oréal.
Total Kenya, a subsidiary of France's Total SE, was recently joined by yet another French downstream energy player Rubis Energie.
Rubis acquired KenolKobil at a cost of Sh35 billion before topping it up with the acquisition of Gulf Energy as the French multinational sought total control of Kenya's petroleum industry.
As of June 2019, Rubis controlled a fifth of Kenya's petroleum market, or 20.1 per cent, followed by Total with a 13.2 per cent stake.
Together, the two French companies control over a third of the country's downstream energy market.
Total strengthened its presence in 2017 by buying competing regional network Gulf African Petroleum Corporation (Gapco).
Piqued interest
Another sector that has piqued the interest of the West Europeans is the hospitality industry.
AccorHotels, the French multinational hotelier that owns Mövenpick Nairobi, Fairmont the Norfolk, and Ibis and Pullman, is set to increase its footprint in Kenya with the launch of a four-star premium boutique hotel in Gigiri.
The hotelier is reported to have partnered with Jit Group, one of the region's leading conglomerates, to launch MGallery, which was set to open early next year.
Mövenpick Hotels and Resorts made its debut in Kenya in April 2018 with the official opening of Mövenpick Hotel & Residences in Westlands, Nairobi.
The French have also been eyeing Kenya's retail sector, keen on exploiting the burgeoning middle class with formal shopping habits.
French private equity fund Amethis Finance acquired about a 30 per cent stake in local retail chain Naivas Ltd early this year, propping up the prospects of the supermarket.
Earlier in 2016, French hypermarket Carrefour, through the Dubai-based conglomerate Majid Al Futtaim, made its grand entry into Kenya.
In 2015, French-based manufacturer of electrical products Schneider-Electric gained a foothold in Kenya by acquiring local firm Power Technics for an undisclosed amount.
Two years earlier in April 2013, London-listed French cosmetic giant L'Oréal acquired the local manufacturers of Nice & Lovely brands with an eye on the country's low-end market for beauty products. L'Oréal East Africa set up shop in Kenya in 2011.
France-based multinational Cerba Healthcare became the majority shareholder of South Africa's Lancet Group of Laboratories, which also includes Lancet Kenya owned by Ahmed Kalebi.
Other French brands in Kenya include Bolloré, Alstom Grid, Sanofi, Veritas, Ceva Animal Health, Thales, Michelin, Sagem and Egis Group.
According to Justine de Guerre, the executive director of the French Chamber of Commerce Kenya, the country has overtaken South Africa as the prime location for French companies looking to make it big in Anglophone markets.
Were not for Covid-19, which disrupted the aviation industry, with countries restricting the movement of people into and out of their borders, Air France would have rolled out plans to increase flights on the Nairobi route from April 1.
"We will be increasing our flights on the Paris-Nairobi route to five flights a week and we are confident that we will continue this growth in the coming years," Air France General Manager for Eastern Africa Arthur Dieffenthaler had said.
What informed Air France's comeback, said senior vice president Frank Legré, was increased trading activities between Nairobi and Paris, with some French companies making "Kenya their regional hub".
But it is the special relationship the French have had with the current administration that might have helped ease their entry into the country.
Last year, while hosting France's President Emmanuel Macron, President Kenyatta furiously told off those who were against his directive that all State corporations buy and use locally assembled vehicles and spare parts.
"We want to ensure Kenyan tax goes first to the purchase of products made from our country by our people, and we will not relent. I'm very clear on that," he said.
"Even if they go to court 20 times, you cannot bypass someone who sells his products in Kenya and go to buy outside. They can go everywhere they want."
During the event, he commissioned a locally assembled Peugeot 3008, an SUV by the PGA Group based in Thika in partnership with Kenya Vehicle Assemblers.
In 2017, Uhuru had midwifed the return of Peugeot, which joined a constellation of French brands.
Peugeot signed a Sh1.2 billion deal at State House, Nairobi, that would see it set up the plant in Thika, Kiambu County.
Also in attendance were French Finance and Economic Minister Michel Sapin and Peugeot Executive Vice President Jean-Christophe Quemard.
Despite official data showing that car sales by Kenyan assembly plants were in a free-fall, Quemard said it would be "relatively easy" to reclaim the Kenyan market.
In the first-ever visit to Kenya by a French president, Macron is said to have touched off another round of deal signings, with reports estimating their total value at between Sh200 billion and Sh300 billion.
Vinci, a French construction company, secured a 30-year concession worth €1.6 billion (Sh181 billion) to operate a highway linking the Kenyan capital and Mau Summit in Rift Valley.
Renewables' firm Voltalia sealed a €70 million (Sh7.9 billion) contract for a solar power plant, while an Airbus-led consortium won a €200 million (Sh22.6 billion) deal for coastal and maritime surveillance. Total is finalising terms for a second solar plant.
As a fraction of total stock of foreign direct investment (FDI) in Kenya, France's share might have dropped from 9.2 per cent in 2014 – or Sh54 billion – to 7.5 per cent in 2017, but this does not translate into reduced financial inflows from Paris.
According to the French treasury, the number of businesses that have set up shop in Kenya does not necessarily translate into FDI.
"Firstly, because a good number of French companies start by establishing a representative office," said the treasury.
Secondly, it explained, the establishment in Kenya often goes through a structure outside France. Mostly Gulf countries (such as Carrefour through Dubai), South Africa, the Netherlands or the United Kingdom.
It can also be through an investment made by the local partner, like in the case of Essilor and Peugeot.
France, which by the end of June this year was the third-largest bilateral lender behind China and Japan, has also been active in public projects.
Through the French Development Agency (AFD), the French government has financed projects to the tune of Sh128 billion since it started operations in Kenya in 1997.
The projects range from funding the construction of the electric line from Kenya to Ethiopia, rehabilitation of the runway at Mombasa International Airport, upgrading roads in central Kenya, as well as water and sanitation projects in Nairobi, Mombasa and Kisumu.
However, the incursion of French companies has not been without controversy, the most dramatic being the blacklisting of Idemia Securities Ltd, previously known as Safran Morpho, from operating in Kenya for at least 10 years following the disputed presidential elections in 2017.
Idemia had supplied the Independent Electoral and Boundaries Commission (IEBC) with voter registration kits, with taxpayers forking out Sh10 billion, only for the technology to malfunction.
The company also won the Sh6 billion tender for the Huduma Namba registration, with the aim of creating and managing a central master population database, a "single source of truth" on a person's identity.
Also, the lucrative government tenders have seen French companies expose their dirty linen in public.
By mid-2019, a consortium of the Rift Valley Connect comprising Vinci Highways SAS, Meridian Infrastructure Africa Fund and Vinci Concessions SAS was locked in a fight over a Sh180 billion contract to upgrade the Nairobi-Nakuru highway.
The awarding of the contract to Rift Valley Connect was disputed by another French-led consortium made up of the African Infrastructure Investment Fund 3 Partnership (Aiim), Egis, Mota-Engil and Orascom.
However, for some French companies, the heat in the kitchen has just been too much, forcing them to bow out.
Orange failed to navigate a telecommunications market under the iron grip of Safaricom. And in July, a French fertiliser manufacturer exited Kenya after a seven-year period in which it unsuccessfully tried to crack the market.
Timac Agro Kenya, a subsidiary of Roullier Group – one of the largest suppliers of fertiliser in the world – announced that it would wind up, reflecting intense competition.
Roullier Group began operations in Africa towards the end of 2013 and opened offices in Senegal and Côte d'Ivoire.