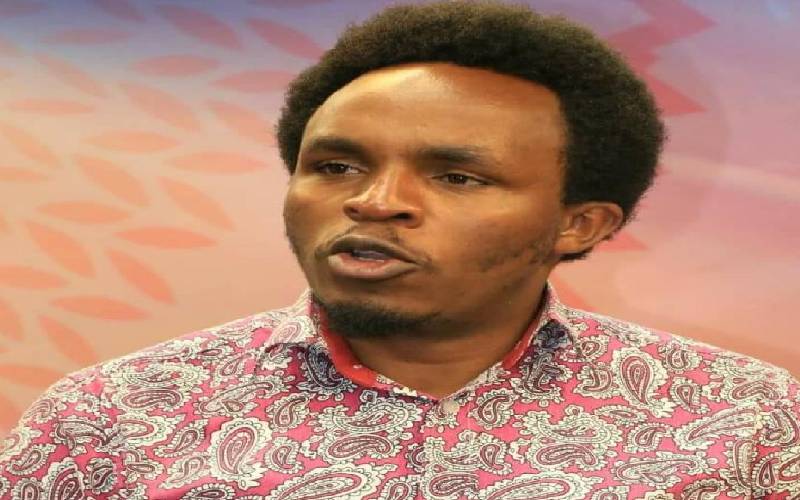 With a Cabinet Secretary and Permanent Secretary, what does the CAS do?
It was not a requirement for ministries to have all these officials. It is purely a decision of the Head of State, which in our laws, Article 132 of the Constitution, gives the President powers to create an office he deems necessary to help him fulfill his promises to the people. CAS are Assistant Ministers in the old constitution and their job is to help the Cabinet Secretary discharge duties. The CAS is the link between the Cabinet Secretary and the politics of the day by inspecting programmes, representing the Cabinet Secretary and increasing the visibility of government in the field.
You gave Prof George Magoha headache as a student leader when he was Vice-Chancellor, University of Nairobi. Now he's your boss. How is it working?
I never gave him headaches. I was the first student leader to have a change of approach for student governance. I inherited a broken system where it was the student's way or the highway. I changed the structure and even though we had many fights with the University Senate and students, we never aired our dirty linen in public. As CAS for Education, the transition was easy because I had already worked with Prof Magoha. I found him a friendly man, one I did not need to acquaint myself with. If we fought, they were friendly fires.
Read More
Was your appointment done through political affiliations?
Yes and no. I cannot stop people from thinking what they want. If a certain percentage of people believe it was out of politics, they are as right as those who say my appointment was merited on my championing for educational reforms in the country.
What new thing have you learnt about the government?
I come from the world of advocacy and now I am in implementation. I have learnt that the government acts procedurally and everything must be planned. I have learnt that the government executes and implements its projects through budgets, which are pre-planned. I have also learnt that the government is not necessarily the implementor of the economic agenda, but it is the facilitator.
As CAS Education, how is your picture of schooling post-Covid-19?
Of all the 21 ministries, the most hit by the pandemic has been the Ministry of Education because our clients are students and teachers. We have been operating without clients from March and this will go on until when we open schools. For the first time in 32 years, national examinations have been stopped and there are no transitions. I cannot speak on what the future looks like but measures are being put in place to ensure every students safety upon the reopening of schools.
Mwiki Primary School in Nairobi has 4,000 pupils. How will social distancing apply, and they need many face masks?
We have other schools like Olympic Primary that has about 5,500 students. Our schools are packed and it's not possible to achieve social distancing. We pray we will defeat this disease. If not, the plan is to mask and sanitise our children and increase vigilance under the new normal.
Piped water will be connected to each school by December. Of 43,000 schools in Kenya, 33,000 are primary and 10,000 are secondary, but we only had about 7,000 schools that didn't have water.
Why is the Ministry recalling retired teachers instead of hiring new?
There are problems in certain parts of this country where teachers have been attacked because they are not locals. This forced the government to start focusing on localisation because all local teachers did not attend school on the days of the attack, meaning they had information about the attacks.
Almost every other teacher at the moment would rather resign than be posted in these places, but we must deliver education to everyone so the teachers in those areas who had retired due to age limit are being recalled to step in as the government works to address these insecurity challenges.
It is not what it should be, but it is what it is if you want to deliver education to everyone.
The laptop project could have come in handy during zoom learning. Any plans at rebooting it?
The drive is under the digital literacy programme and is in the pilot stage and so many schools have been piloted. Once the pilot project is successful then we will roll it out in all primary schools and continue supplementing it.
If it's not possible today, it will be possible tomorrow. Every school will be getting a digital literacy laboratory and they are being constructed and some are being transformed to serve as computer rooms. We are taking advantage of this time to do remodelling and all this construction work.
Private schools have been turned into poultry farms. How will you deal with pressure of extra students flooding public schools?
Public schools run by government have a clear road map of improving infrastructure. If you check in some constituencies, up to 18 new schools have been built and other constituencies are renovating theirs. As government, we will absorb all these children.
We are employing 11,000 teachers in preparation of the high numbers we expect. We are redirecting our energy and money which is over Sh2 billion every year in constituency funds to build schools and classroom.
What has political power taught you now you're enjoying it from within?
There is no school that teaches politics and power. I studied political science but the lessons taught are different from lessons you learn. Political power is the power that drives the lives of men and women under the sun.
It is the only power that can make decisions that override the other forms of power, including the law. I have learnt that if well utilised for common good, it can transform people's lives. If misused, political power can become the worst nightmare for any country.
You threatened to fire a professor shortly after your appointment. What was the beef?
I went to one of the technical training institutes and found it in desolate state. A principal, who had been appointed and a building which had equipment worth about Sh30 million was being wasted. I was informed the professor, who was in charge, had never handed over the key and the person who was to take over had never reported to office.
That is why I called the professor and told him to hand over the keys. It was not personal, but professional. Someone was not doing their work. Were it not for Covid the college was to admit student in April. The college is ready, the building has been cleaned and teachers posted.
What do you hate about education in Kenya. Can you help change?
I would change the cramming culture we have among our students. 8-4-4 has trained many people, including myself, to be cramming machines. Students read things just to pass examinations and not to apply them in real life, which is sad.
What aspects of education will the pandemic fundamentally change?
How we interact with each other. I don't think our children will ever make peace with shaking hands and being so close to each other.
Did you factor Northern Kenya where Internet is still a rumour, and parents have no smartphones?
Yes, we did. That is why we said if the parent has the capacity to provide online learning for their children, then they should go ahead and do it. There are lessons on Edu TV, which is available on signet.
However, if one cannot afford, there are many other ways to teach your children. You can teach them life skills, and many other things. We understand everyone is not equal but there are many different teaching methods, and many lessons to be learnt.