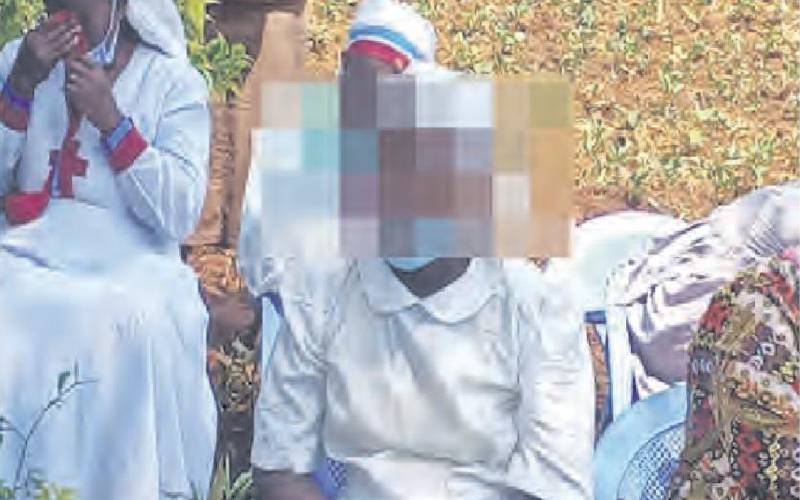 Zainabu Shiyukha, 37, is in turmoil. A victim of rape herself, she stares painfully stares at the portrait of her two daughters who were defiled last week by a gang of unknown men at their home in Luhome village, Ikolomani constituency, Kakamega County.
One of the two daughters was not only raped but was clobbered to death by the hoodlums during the horrific incident.
The 13-year-old succumbed to her injuries at Kakamega County General Hospital (CGH) last week and was laid to rest on Saturday at their home in an emotional sendoff where angry villagers demanded the arrest and prosecution of the culprits.
Read More
Her 10-year-old sister, a Class Four pupil, suffered deep cuts on her hand and head and is battling for her life at the same hospital.
The events of that fateful day have left the mother of five in pain, anguish and regret.
Staring at the fresh soil on the grave of her daughter is a reminder of the brutality and lack of humanity in the human race. Every time she stares at the grave, anger burns in her and she rues not being there to save her daughters from the ordeal.
However, what annoys the mother of five most is that her daughter's dream of becoming a doctor will not be realised after her life was snuffed out by the criminals.
As she tries to compose herself to field questions during the interview, she sobs, the pain in her heart palpable as she struggles to speak in a small, faltering voice.
"Sometimes I wonder why all this happened to me. It breaks my heart that people can be so cruel to the extent of harming and killing innocent children because of their selfish desires. I'm only a widow, struggling to make ends meets, why mete such wickedness on my children?'' she wonders.
On the fateful day on September 6, everything was going on well and there was nothing out of the ordinary. As usual, Mrs Shiyukha left her home in the morning hours to brew chang'aa at a local centre.
Since the death of her husband, who was the family breadwinner 10 years ago, Shiyukha has been brewing and selling alcohol to keep her children from the pangs of hunger.
"I sold (brew) until so late in the night that I could not make it home. I spent the night at my friend's place before going home. But there was an unusual silence in the house,'' said Shiyukha.
As she walked in, she noticed the door was wide open with utensils scattered all over. Immediately, she knew all was not well. She called out the children but there was no response.
"I walked into my home and bloodstains led me to where one of my daughters was lying naked, bleeding on the left hand but still breathing. A few meters away, I spotted my other child in a similar state but with deep cuts on her head. I could not tell whether she was alive,'' she narrates as she breaks down in tears again.
She let out a loud cry to alert neighbours, who trooped to her homestead before police officers from Malaika station arrived.
The two girls were rushed to Kakamega County General Hospital. Machetu was placed on oxygen but was later declared dead, with doctors citing heavy loss of blood occasioned by the deep cuts on her head.
"I keep asking myself why. The rapes continue to puzzle me. These are experiences I can never wish on my worst enemy," she said.
The mystery surrounding her rape and the defilement of her daughters is not only a puzzle to her but the entire village as well.
On January 10, 2019, Sheyuka then aged 36, was in her mud-walled house telling stories to her children after having super when something strange happened.
"I heard a bang on my door and six men walked in the house saying they were police officers sent from Kakamega on a mission to arrest me for conducting an illegal business.
Worst encounter
"I thought they were joking until one of them drove me from the house to an unknown destination where he proceeded to rape me. I screamed and his colleagues came to the scene pulling him out before they walked away,'' she says.
The incident was booked at Malaika Police station. Days after the ordeal, she got depressed. Whenever she looked at the mirrors in her mud-walled house, it reminded her of the rape ordeal. She covered them with clothes as she could not bear to catch her reflection. Each day, she regretted and pitied herself and at some point, Shiyukha contemplated suicide.
"Once you go through it, your self-worth as a woman fades, your esteem gets low, at some point I wanted to end my life but I retracted after thinking of my children,'' she adds.
She braved her way through the hurdles and through guidance and counselling, the widow got over the nightmare giving herself a fresh start. She beamed with joy when her case was taken to Kakamega law courts.
"They told me I will get justice. By arraigning my tormentors, at least people started to acknowledge what happened to me,'' she says.
However, her hopes slowly began to fade as days turned to months as her quest to seek the elusive justice proved to be nothing but a pipe dream. For one reason or another, the hearing of her case failed to start.
"From April last year, neither the police nor the court contacted me concerning my case. I have left everything to God,'' she narrates.
Barely a year into the incidence, lightning struck her homestead and on May 21 this year, the poor woman was raped by another gang under mysterious circumstances in the presence of her children.
Her second rape ordeal left her firstborn daughter traumatised and she left their home for fear of being preyed on by rapists.
Shiyukha's painful ordeal has left the villagers in rage, many calling for the arrest of the culprits.
Kakamega women representative Elsie Muhanda is among leaders, who have condemned the act, urging the police to expedite their investigations.
Muhanda has also called on the court not to be lenient with those linked to the defilement of minors. She observed with dismay the rising cases of rape and defilement during the coronavirus period.
Kakamega South Sub-County police commander Joseph Chesire stated the matter is complicated since witnesses in are unwilling to write statements.
Chesire said no suspects have been arrested but assured that they are pursuing crucial leads that will help unravel the mystery.
"There are many unanswered questions. She has not opened up to us where she was that night, though reports indicate she spent the night at her friend's place,'' said Chesire.