Badi, graft cases spoiling party for once flashy Sonko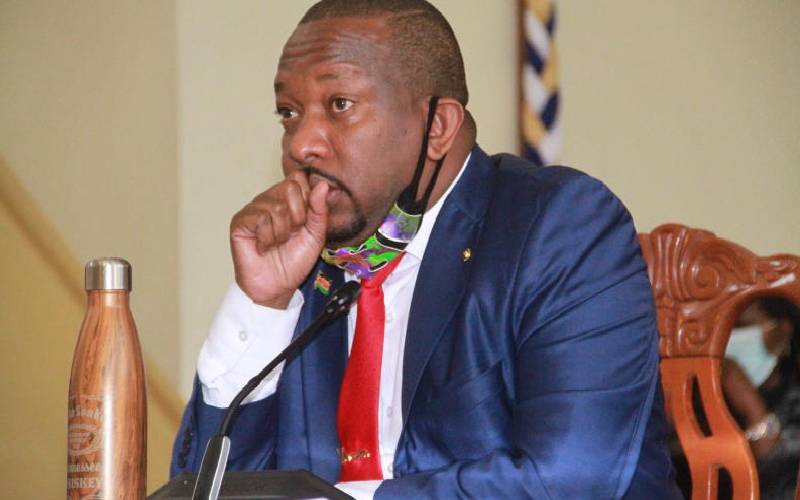 Nairobi Governor Mike Sonko's political career has been built on flamboyance that often puts him at the centre of attention.
He is known for his eye-catching hairstyles such as the one he spotted when he travelled to the International Criminal Court to show his support for President Uhuru Kenyatta and Deputy President William Ruto as they faced charges of crimes against humanity with "Uhuruto Not Guilty" dyed into his hair. He also loves flashy fashion, including ripped jeans and chunky bling.
But today, there is an emptiness and broodinessabout him. In the pictures of him eating in matching Louis Vuittons, sitting or working out, Sonko seems to be carrying around a weariness, like a man approaching the end of a journey sooner than he expected.
He has been arrested and charged with corruption and faced impeachment threats at the county assembly. And with the Nairobi Metropolitan Services (NMS) handling several key county functions, his grip on power at City Hall is slackening.
On Monday, the governor appeared before the anti-corruption court over abuse of office charges.
Prosecutors levelled new abuse of office charges against the governor where Sonko was accused of improperly conferring a benefit to himself by demanding Sh10 million from Web Tribe Ltd through ROG Security Ltd. He is charged alongside ROG Security Ltd director Antony Otieno Ombok.
That is just the most recent corruption cases Sonko is facing. He is also charged with the loss of Sh357 million.
His Upper Hill office has become the venue for meetings with artists from Nairobi, the most recent being a group from Umoja whose message in one of their songs - Kanairo govana ni mjamo – there's only one governor in Nairobi, resonates with Sonko.
Locked out of City Hall, the governor's messages on social media have been uncharacteristically tinged with regret.
On September 11, Sonko said joining politics was the worst decision he made. In an apparent reference to ceding some of his authority to the NMS and ignorance had led him to abandon his people in the wilderness.
"I swear! Haki ya Mungu tena! I regret joining politics. It was one of the worst decisions I have ever made. As I retire to bed, I pray that God forgives me of my ignorance that led me to abandon his people in the wilderness after being forced by circumstances (sic)," Sonko tweeted.
That post featured an eight-year-old video of an angry President Kenyatta, then Gatundu MP, saying the ICC was not then Prime Minister Raila Odinga's mother's home.
Today's Sonko is a far cry from the one that once viewed himself, in jest, as the third in command, thus in charge, when President Uhuru was in Togo and DP Ruto in France.
Yet as Sonko's woes continue, the star of Major General Mohammed Badi – the man President Kenyatta appointed to lead the Nairobi Metropolitan Services – is rising.
President Kenyatta last week issued Executive Order No. 3 of 2020 that permitted Maj-Gen Badi to attend Cabinet meetings.
But that order is being challenged by Kandara MP Alice Wahome who yesterday filed a petition against the inclusion of Maj-Gen Badi into the cabinet.
Badi has been an almost ubiquitous person working besides President Kenyatta since March when the Deed of Transfer of Functions that saw four key functions transferred from Sonko's administration to the newly established NMS, was signed.
Mr Kenyatta has taken a hands-on approach in running affairs of the capital, even stepping out in the middle of the night to inspect pace of NMS projects.
Sonko's change of fortunes and the rising prominence of Badi and the centrality of the NMS to President Kenyatta's tenure are on cue with proposals presented to the Building Bridges Initiative taskforce to have Nairobi designated a special county.
Should that proposal be adopted, it will question the position of governor in running the affairs of Nairobi.
But are Kenyans witnessing the end of Sonko politically?
Sonko's spokesperson Ben Mulwa insists that the governor's predicament is a ploy orchestrated by his enemies.
"It is now becoming evident that there are people who schemed a plot to derail him to cut his political wings but it is clearly not working," Mulwa said.
"What is happening to Sonko has nothing to do with Nairobi, it is all about 2022. They are hoping he will run out of favour with the public because in the public domain, his standing is very high," said Mulwa.
Makadara MP George Aladwa says there is still life left in Sonko's political career.
"He is still in court and he has not been proven guilty. He should be given time to sort out his legal issues. Even then, he is still the governor," Aladwa, a former Nairobi mayor said.
While Aladwa took a middle ground on the issue, insisting there was no one losing in the goings-on at City Hall, he says while voters have the right to demand services from Sonko, the governor should be given a free hand to run the county.
"After five years, the public will hold Sonko accountable over the running of the city, not Badi. Badi will go back to the military," he said.
But Kilimani MCA Moses Ogeto believes Sonko's career as a politician is over.
"He is done, especially if he is found guilty in court," Ogeto said. "He is a bad leader. He should have started questioning himself when his deputy Polycarp Igathe resigned. He has no leadership skills and doesn't understand how to work with people."