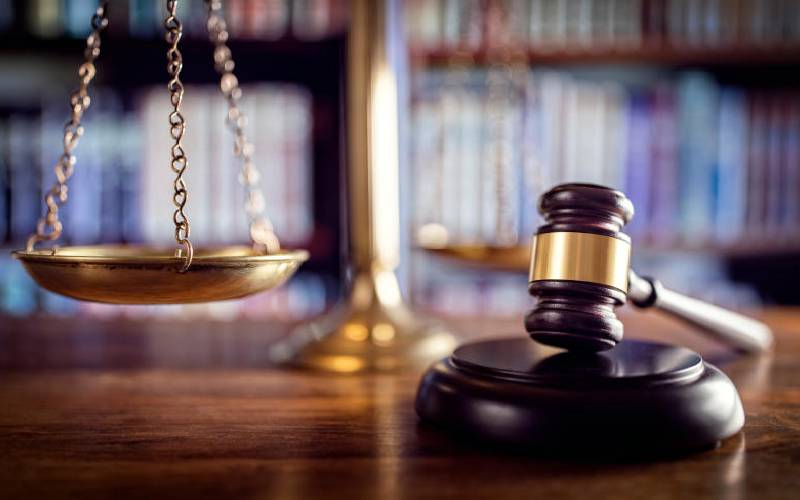 There are many Kenyans who still remember days when the criminal justice system operated on the basis of an eye for an eye.
Convicted murderers were sentenced to die by hanging while those found guilty of armed robbery who escaped the hangman's noose had to endure lengthy jail terms, State-sanctioned caning, and hard labour.
Take Juma Mzuri Chovu, for example, who is a poster child of the changing face of punishing crime. He was convicted of stabbing his wife, Mariam Kitsesho, to death in Miritini, Mombasa, in 1999.
Chomvu, who accused his wife of having extra-marital affairs, was on the run for five years before he was arrested in Kaloleni in 2004. His fate appeared to have been sealed by the Court of Appeal in 2009 owing to the fact that he had no alibi when Mariam was killed.
Although no execution had been carried out in Kenya in over 20 years, prisoners on death row could never rest easy. Chomvu was resigned to swinging from the gallows or dying in jail. This was before he was thrown an unexpected lifeline.
On December 14, 2017, the Supreme Court outlawed mandatory death sentences in the landmark Francis Muruatetu case.
Chomvu returned to the courts seeking a review of his sentence. His record as a model prisoner who was also a team leader as well as the best in his tailoring class bolstered his case and in May this year, Justice Erick Ogolla granted him his freedom.
From waiting for a date with the hangman, Chomvu is now serving a five-year suspended sentence. His liberty is pegged on not committing any offence and reporting to the Officer Commanding Station of Changamwe Police Station on June 1 and December 28 of every year.
Muruatetu and six others had been convicted of the murder of businessman Lawrence Magondu in 2000 and sentenced to death. Following the abolition of the death penalty, Justice Ngenye Macharia reduced Muruatetu's sentence to 30 years.
His sister, Rose Njoki, got 35 years, Wilson Thirimbu and his sister Anna Ngonyo had their sentence commuted to 50 years in jail, David Njuguna and Stephen Njoki got 40 and 30 years, respectively, while Stephen Wambua was handed a 20-year sentence.
In the nearly three years since the Supreme Court verdict, judges' interpretations have varied leading them to hand down different sentences.
Muruatetu's case also opened the door for robbery with violence convicts to get some respite. In a landmark judgement issued on August 27 last year, Justice David Odunga declared that the convicts are entitled to a remission of their sentences by one-third.
This after a case filed by Sammy Musembi, Nicholas Ndetei, Sammy Kitonga, John Muoki, and Peter Mumo who had been jailed for between 14 and 40 years.
Probation
An analysis conducted by The Standard of cases determined by different courts between 2017 and this year indicates that courts are on average handing down anything from probation to 25-year jail sentences for non-aggravated murder.
Data from the Office of the Director of Public Prosecutions and verdicts posted on the Kenya Law Report website show striking similarities in outcomes: setting aside of death sentences and substituting them with sentences ranging from life imprisonment, reduced years in jail, time served, or probation.
Among the factors that judges are considering include whether a suspect has made peace with the victim's kin, is remorseful for the crime, and if one is a first offender and is willing to admit to the offence committed.
Take the case of Peter Omondi and a teenager identified only as BOA who readily admitted to killing Samuel Ondoo in 2017. At the time of committing the crime, Omondi was a 17-year-old Form 3 student.
In 2018, Justice James Makau handed them three years' probation each after finding that their confession, remorse and young age were reason enough not to send them to jail.
But judges are still handing out the death penalty to suspects convicted of particularly egregious murders.
The last executions carried out in Kenya were in 1987 when Hezekiah Ochuka and Pancras Oteyo Okumu were hanged for treason five years after an aborted coup.
The country had borrowed the practice of hanging as a punishment from its colonial master, Britain, in the belief that those who were sent to the gallows were too dangerous to co-exist with their fellow humans.
The penal code provided a mandatory death penalty for murder, treason, and armed robbery. Kenya extended the crimes to include gang robbery and female genital mutilation.
Our analysis of 453 cases revealed that Muruatetu's case opened a Pandora's box. The resultant ripple effect threatened to create an unending cycle of lawsuits that would test the principle that all cases must come to an end.
It emerged that there is lack of proper procedures to be followed by courts on sentence rehearing, thus resulting in different sentences.
Another predicament is whether cases that are being referred back to courts that initially tried the offenders should be handled by the same judges or magistrates. Some of the officers have since left the Judiciary.
DPP Noordin Haji noted that there are convicts facing life in jail who had filed appeals but were now withdrawing their cases and filing to be re-sentenced.
In 32 cases, courts handed a revised sentence of 25 years. In 25 cases, the sentence was reduced to 20 years while in 22 of the cases, judges lowered life sentences to 30 years.
Judges also ordered 54 cases to be taken back to lower courts for re-sentencing while in five cases, they upheld the death sentence.
From the data, a convict who had been imprisoned for four years was re-sentenced to probation. In at least eight cases, the convicts were released after courts found that the time they had served was enough. In seven other cases, the life sentence was substituted with time already served.
Courts have also been re-sentencing convicts in jail for crimes such as defilement and rape, although there has been a split on whether the mandatory sentences set to deter sexual crimes against minors and women should change.
The Sexual Offences Act provides that a person convicted of defiling a minor aged between 12 and 15 should be jailed for more than 20 years, those nabbed for having sex with minors aged between 16 and 18 should get 15 years minimum, while those who defile children aged below 11 get a mandatory life sentence.
Supreme Court Judge Njoki Ndung'u, in a paper presented before her colleagues at a conference in Mombasa last year, argued that the Muruatetu case was on the death penalty hence it could not be applied in other criminal cases like defilement and rape.
Sexual offender
Justice Njoki opined that the Act does not give judicial officers an opportunity to vary the sentence meted on a sexual offender "hence anyone caught in it should not get anything lower than the prescribed jail term".
"There is need to uphold mandatory minimums where they have not been challenged and declared unconstitutional. Where there is specific and reasoned provision for minimum sentences, the courts ought to uphold them. To do otherwise means that judges are in essence imposing a lesser penalty than what is required by law without actually striking down the offending provision," she said.
In March last year, three judges – Roselyn Nambuye, Daniel Musinga and Patrick Kiage – said time was ripe for the country to consider changing the Act, citing lengthy jail terms imposed on young men convicted of defilement.
They made the observation in a case where they put aside a 15-year sentence handed to a man who had impregnated a 17-year-old girl.
"We need to add as we dispose of this appeal that the Sexual Offences Act does cry out for a serious re-examination in a sober, pragmatic manner. Many other jurisdictions criminalise only sexual conduct with children of a younger age than 16 years. We think it is rather unrealistic to assume that teenagers and mature adults in the sense do not engage in, and often seek, sexual activity with their eyes fully open," the judges said.
Chief Justice David Maraga also waded into a debate on consent where he proposed that judges and magistrates should be left to deal with the minors who engage in consensual sex instead of lowering the consensual age to 16 or continuing to jail offenders.
"This is one of the areas I have had serious difficulties with. The boys and girls are our children. I have no problem when a perpetrator is an old man, but when it comes to boys and girls between the age of say 17 and 20," he said.