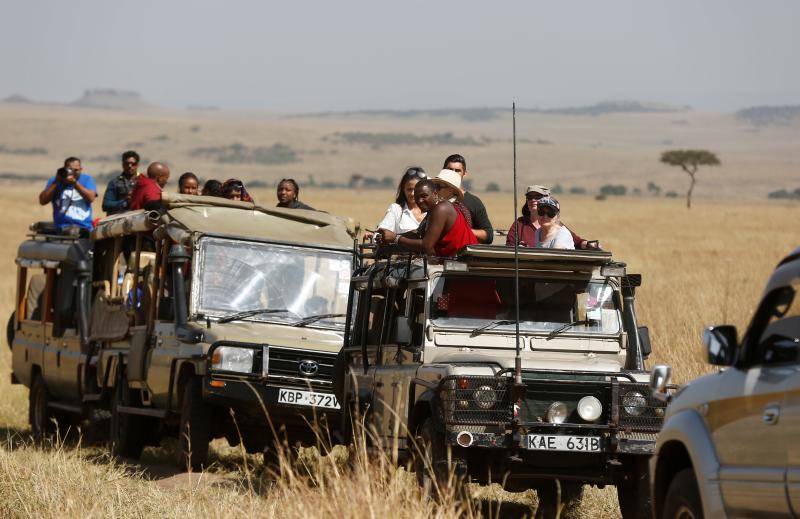 Kenyans can be a patriotic lot but may need some nudging when it comes to enjoying the vast beauty of their country. There is the common misnomer that one has to break the bank to enjoy the natural sights that Kenya has to offer.
Tourism is for foreigners, many say.
This need not be the case, at least not if one is willing to make their own memories rather than try to match the high spenders. The best vacations could very well be the cheapest.
Look at it this way. A mother asked her daughter to name some of the gifts she had received on her birthdays. The girl could not count past four items. However, when asked about her favourite holiday locations, she could not keep quiet. In the words of her mother who relayed this story: "Travel is refreshing, rejuvenating and works magic on people of all ages."
Read More
As the country's travel industry slowly wakes up after months of a pandemic-induced coma, various players have come up with competitive offers meant to give Kenyans a chance to tour their country. You may have seen the many fliers coming your way through your friends' WhatsApp updates. Well, many just 'flew' by after a quick glance. To others, these messages were a godsend as they hopped from one local destination to another.
Naomi Kamau, a cultural and conservation enthusiast likes to tour on the cheap. So far, she has visited nearly all national parks in Kenya. She has also bagged all the wildlife conservancies within Masai Mara. Most of these travels were achieved during Covid-19. Her resolve is to visit every conceivable corner of the country before venturing overseas.
"It is our country but Kenyans don't think visiting it is within their reach. Part of this reasoning is because most tourism developments were made to cater for foreign visitors. There are few government-owned facilities where locals can be accommodated," says Kamau.
However, she says, Kenyan investors have started to develop budget facilities affordable to Kenyans visiting wildlife conservation areas. Besides, Kamau argues that one does not have to stay in a name-brand facility to enjoy a holiday.
"The Kenya Wildlife Service can intensify marketing of their guesthouses within national parks for more Kenyans to visit. One can also try home-based tourism where locals can arrange for camping sites and share the cost of meals. Such an arrangement could end up costing you about Sh1,000 a day per person," she says.
David Macharia, a professional photographer, likes to spend time away from the studio touring wildlife conservation areas. He is at peace in the Chalbi Desert in Marsabit and the Central Island in Lake Turkana. Holiday costs, he says, have to do with a person's preferences.
"Travelling can be expensive depending on what you are looking for. There is luxury travel with corresponding lodges and tented camps for high-income earners. Nevertheless, in Masai Mara, you can still get all the services with at least Sh14,000 for three days. The game viewing experience is the same for those who spent the night in top-of-the-range accommodation and those who camped under the stars," says Macharia.
Travel against the tide
Anne Murungi, a career hotelier and lead consultant at Hospitality Consult, says touring the country on a budget has to do with planning, budgeting and ensuring one gets value for their money. Murungi, who has put down Rusinga Island, Arabuko Sokoke Forest, Chalbi Desert, Lamu and Marsabit on her bucket list, says in addition to planning, it is good to understand the seasons when travel is cheapest.
"I would, for instance, avoid going to Masai Mara between July and October, the park's peak season, if I have previously witnessed the wildebeest migration. I also try to avoid the Coast after December 15 until January 3 or thereabouts. I also shop around for hotel properties and tour operators with special offers, as well as online promotions," she says.
However, Murungi cautions that one should never confuse 'cheap' with a good deal, but rather the value for money one gets in such a deal. If one plans to use a tour operator, for example, she says it is better to check if they belong to an association, meaning they fall under some form of a legal agency.
"It is good to research the destination to see what else you can enjoy or see other than what the tour operator suggests. Sometimes you can also build your own excursions at the destination depending on your interests," she says.
Transport and accommodation rank as the top concerns for anyone intending to tour the country. However, some Kenyans are known to spend thousands of shillings on a weekend binge than they would have spent had they chosen to travel out of the city on vacation. In addition, there is the notion that 'travel' connotes heading to a far-off getaway. Again, the best holiday experiences might just be at your doorstep.
Naivasha, for example, offers one of the most accessible holiday destinations. The destination does not require special utility vehicles (4WDs).