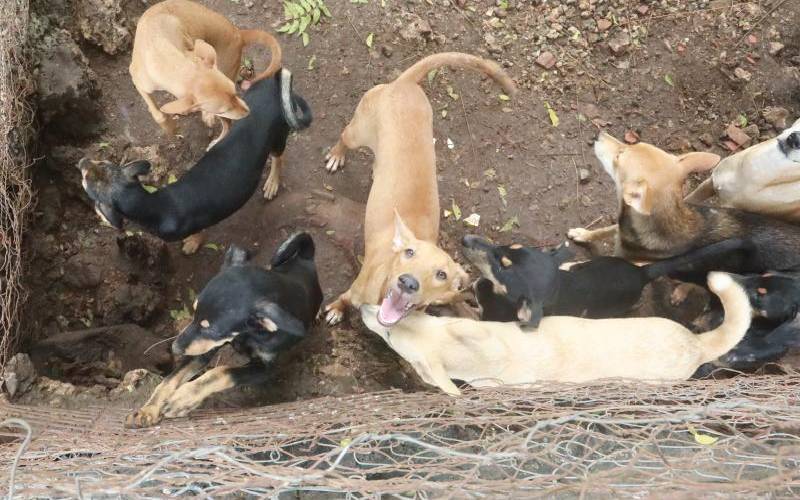 Naomi Mutua keeps several cats but does not have children. She has heard people calling her "the crazy cat lady" but it has never stopped her from passionately talking about her favourite pets.
She calls them her spirit animals. The furry ball of softness as they cuddle close to her when she goes from work makes the money she invests in their food and health worth every coin.
"Culture and movies have made it look like a woman who chooses to stay alone with her cats has either been rejected, is barren or has some fault that makes her loveable only by cats," says Naomi, an ailurophile who prowls the Twitter streets under @AKenyanGirl.
"People regard us as rejects with bad hearts."
Read More
It is her love for cats that made her set up a Facebook group for fellow ailurophiles called "Cats lovers of Kenya" that has more than 12,000 members.
"I wanted a platform to talk about my love for cats without judgment," she says.
In no time, the group had attracted cat lovers in Kenya and beyond. They have thousands of posts about their 'fur babies'.
Memes, serious emergency cases of cats that need to be rescued and photo shoots with their cats are among the things discussed in the group.
Support system
It has become a support system for people who are looking for advice on how to care for their pets, and how to re-home lost cats found loitering in the streets.
Naomi says they have noticed something strange in the last few months.
People are abandoning their pets. The group has been receiving many heartbreaking stories of pets either left by people relocating due to job losses, or those who can no longer afford to care for the pets.
Mercy Barasa, a veterinarian at Petville Clinic in Nairobi, details several cases of people letting go of their pets because of the myth that they are carriers of the coronavirus.
"Animals have always had coronavirus, but it is a different strain. It cannot easily transfer to humans," Barasa says.
She tells of how she finds animals abandoned at her doorstep, and some clients trick her by saying they need a place for their animals to board for a few days, only for them to disappear.
"They leave their pets with me and stop answering calls. There is hysteria borne out of from ignorance. People should know that cats and dogs do not cause coronavirus," she says.
Amy Rapp, animal rights activist and founder of TNR Animal Welfare Group in Nairobi, says there are animals that depended on hotels, butcher shops and markets, but since these establishments were closed due to the virus, they were left without food and shelter.
"We have taken in or rescued 52 animals this year," says Rapp, who advises pet owners to spay and neuter their pets.
"It is unhealthy for your pet to have litter after litter and it's difficult, stressful and expensive to have to feed and care for too many animals," she says, adding that scheduling veterinary visits is important when you keep pets.
Mistreatment
Gordon Torto says he has been forced to put a mask on his dog anytime they are going out for walks, to shield it from the virus.
The plight of companion animals is not restricted to Kenya. Globally, animal rights activists have raised concerns over mistreatment of pets by linking them to coronavirus.
From the moment it emerged that dogs and cats were being starved and killed in Wuhan when the first cases of the coronavirus were reported, to the widely reported case of a dog that was said to have died of Covid-19, many pet owners admit to being anxious about keeping pets.
The World Organisation for Animal Health noted that vets from across the world were reporting many people taking their pets for mercy killing due to fear that they would spread the virus.
Chris Njogu, a teacher, admits that he has contemplated re-homing his dog to protect his three-year-old asthmatic daughter.
"I saw news of a dog that had Covid-19. Knowing that this disease came from a bat makes you scared. You do not want to take chances even with your pets," he says.
Research suggests humans can occasionally pass the coronavirus to cats, but felines are unlikely to be a source of transmission back to humans.
There have been reports of thousands of minks being killed in the Netherlands and Spain after they contracted the coronavirus but there was no proof that they transmitted the virus to humans.
A cat in Belgium and two dogs in Hong Kong also tested positive and researchers in different parts of the world are still exploring possibilities of other species of animals carrying the virus.
"Cats and dogs are in close contact with humans, and it is important to understand their susceptibility to the disease for effective control," reads a report done by researchers in Hong Kong.
The cases of animals getting coronavirus has been linked to their likelihood to snuggle more with their owners due to lockdowns.