My art pieces give me so much joy and peace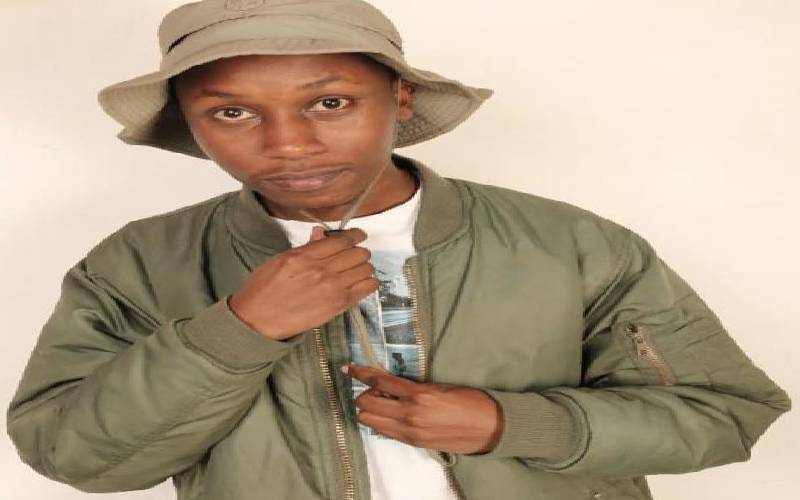 Looking at your art pieces, it is clear you are a colour lover. Anything special about it?
I have been doing this for a very long time. Growing up, I was fascinated by colour. I prefer exploring with different colours since it brings out more details and makes the pieces attractive. Colours bring life to the art pieces.
You mostly focus on face portraits. Any special reason?
I believe the face captures peoples' attention. It highlights so many details at a go. Further, the face gives me a wide scope of choices to pick from. I am able to bring out a happy face, a sad face and a confused one, as well as other expressions on the same character. The freedom to play with emotions got me hooked on face art. However, I do other types or art, including paintings.
Would you say your job is tedious?
Nope. It is easy because it is something I have practised and mastered. I start with sketches or tracing to get the portrait outline to achieve the shading shape.
Describe your creative process. How does an idea evolve into a finished artwork?
It is not a very long process. I do the sketches, I lay them out on paper or a sketch pad or sketchbook to get the idea. I then envision how the art will pop up. If it seems like it will be something great, I start making the outlines, then draw.
Your portraits are mostly of celebrities. Do you pick other kawaida guys?
That is not the case. If you check my social media pages, you will notice I have portraits of ordinary Kenyans. There are people who want to be drawn but do not want to be exposed online.
You are still a student. How do you balance the two?
The course I am taking is not very demanding, hence I can balance the two.
What do you love most about ink?
I love the beauty in details brought about by ink and the appreciation I get from people about the realism of a finished portrait.
How do you determine your fees?
It depends more on the size and details put in the art. For an A4 portrait, the price is Sh4,000 and above. The colour also determines my charges. I have clients who want a black and white with pure pencils and graphite. Others prefer coloured pencil and some bring photos of reference with many details. So, all this determines my charges.
Who or what are you currently drawing?
I am working on something that incorporates all legendary music artists. I can't give specifics until I have the final product. It will be a great piece.
How exactly did you start this journey? Did you see something somewhere that influenced you?
Not exactly. I started drawing myself, then my family. I didn't see someone else doing it. It was more like a hobby.
What runs through your mind when creating a piece of art?
A lot of things. Most of the time, I am normally in a zone of absolute joy and as I progress, I keep thinking about how the end product should look like. I think about the reaction I want from the clients. This moment gives me the motivation to do better for client satisfaction.
How is the environment you live in essential for your creativity?
Friends are important. My circle of friends is full of creatives - from photographers to artistes. They see things and give me ideas of what to draw sometimes. Things around me, like matatus, also influence my creativity. For me, art is everything around me.
How often do you have a moment of happiness about your art, how do you live it?
The appreciation I get from people is my ultimate joy. Delivering an art piece and seeing a happy makes me happy, too.
What is the first thing you do after making your portraits?
Normally, I frame the piece. I also celebrate and live in the shadow of that joy, joy of fulfilment. I also thank God every time I put the ink down and admire my work.
What is your idea of what a client should feel when they see your art?
Everyone has expectations and my expectations when I put out my artwork is appreciation. I envision appreciation from people who view it, appreciation of the time and effort put in the art. A single face portrait with major details takes not less than five hours. I normally hope that people will see the hard work put in a piece of art.
What is that one mistake you may have seen or think most stencil artists make?
There is nothing like a mistake in art. If an artist decides to make something, then he has an image in his head. No matter how it turns out, that's exactly what they wanted to bring out. That is an artist's idea and creation and it is perfect in their own imagination. However, artists undergo a phase of disappointments when the image they visualise or expect do not come out as they had envisioned.
Which message do you want passed through your art?
My art speaks one language, just beauty. I tend to add or spice up things to make them appealing, drawing to bring out the beauty of everything that touches my soul. There is no element of conflict or social injustice in my art. I bring out pure beauty, love and caution.
How was the period when you started out, how fulfilling was it?
It felt great to finally finish my first piece of a realistic portrait. I can say it was fulfilling to just see that after so many trials I had mastered ink art. That's fulfilling enough!
What creative ideas do you intend to put in place as you go deeper into art? Have you considered using glass light shadows?
Right now, I am trying to incorporate art and IT. And yes, I am trying to create more art in different ways, including double exposure of shadows of light.
What is the most challenging part of stencil art?
The materials we use, like the pencil, are not always easily accessible. They are not found in just any bookshop or store. You have to go to specific places to get them. They are also very expensive. Though there is a market for art, its value is always underestimated.
What is your take on the curriculum and art?
First of all, Kenyans should appreciate art. And art is not just music. Art is broad. For instance, right now, the coronavirus pandemic has destabilised everything and education has been put on hold. I feel like people would have done more if art was fully included. It is something that only needs a pen and paper and at this time of a pandemic, it would have been healthy for most learners to stay engaged.
How is the Kenyan market for you as an ink artist?
People have not fully appreciated art yet, and there are so many artists in the market. The market is still too small, maybe because art has not been showcased well enough for it to gain the kind of appreciation it deserves. There are foreign artists thriving here, I don't know how. But in my case, I feel like I have not received enough exposure to put me on the map. For people to appreciate art, a lot of exposure and marketing is needed.