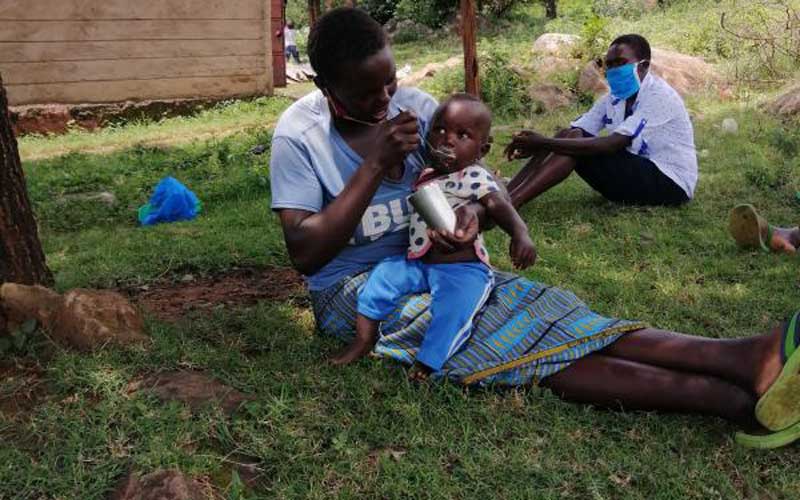 They gathered under acacia trees to shield themselves from the searing heat as the children clung to their laps, crying for breast milk.
One of the mothers, demonstrated how porridge is made by mixing edible insect enriched flour with water to make an even paste before bringing it to boil while stirring.
These are the scenes one is confronted with every Monday in several Kerio valley villages as hundreds of mothers congregate to receive enriched food.
The area has reported severe cases of malnourishment of children under five years, a situation that has led to high infant mortality.
Read More
A baseline survey commissioned in August last year by the World Vision Kenya found that over 30 per cent of children under five years in Kerio valley are suffering from stunted growth occasioned by severe malnutrition leading to high morbidity and mortality rates.
However, since they started enriching porridge with the edible insects six months ago, the situation has now changed with the region recording nearly no death.
And now the new feeding craze is changing the livelihoods of the toddlers in the region as more nursing mothers are eager to receive the insect porridge.
Irene Kosgei, one of the beneficiaries said that before they accepted to feed their children with the enriched porridge, cases of underweight among the toddlers, high morbidity and stunted growth was rampant.
"Many children have died as a result of diseases occasioned by malnourishment but since we began using the insect porridge, the scenario has tremendously changed. As you can see our children are healthy courtesy of the porridge," she beams.
She notes that due to high poverty rates, the children looked pale, had discoloured hair and failed to gain weight as expected but that was not anymore.
"Visits to hospitals were frequent because we understand that when a child lacks a balanced diet, the immunity is suppressed thus they become susceptible to various diseases," she notes.
Millet and maize
Agnes Mutai, another mother, said they entirely relied on millet and maize flour to make porridge for their children resulting in malnourishment as they lacked the essential nutrients.
"Just like other well-nourished children, we are now proud of our own too because they are developing normally. Impaired feeding impacts the child growth including their mental ability," she stated.
Due to the high poverty levels and erratic rainfall patterns forcing residents to rely on semi-pastoralism, affording a decent meal among the locals is challenging.
"If you look around, most children lack proper food due to the poverty levels. But the World Vision model has filled a big void in the region," Judith Jeptoo told The Standard at their Kamugul upper village after receiving the enriched porridge.
This sad reality forced Dr Caroline Kipkoech, an entomologist from Jomo Kenyatta University of Agriculture and Technology to come up with a greenhouse model through World Vision to rear and breed edible insects to be used in enriching porridge.
"After doing a lot of research on insects and appreciating the effects of severe malnutrition in the region, we came up with the greenhouse to rear the insects to enrich the plain porridge the children are fed," she said as she took The Standard through the process of rearing the insects at Cheptebo rural development centre.
She said they wanted a sustainable and an effective way of alleviating malnutrition in the region.
"Edible insects have been eaten since time immemorial, and we conducted sensitisation programs on the region to ensure locals accept to go traditional and feed their children with the insects, they only wanted insects sourced from the region," she disclosed.
And within a week, she noted, locals had collected the insects ready to be bred.
At the green houses mealworms, crickets and grasshoppers are specifically reared in cages under their ideal conditions to ensure they multiply rapidly as required.
"After they mature, the insects are fed on vegetables before placed on a drier to clean the gut. They are then dipped in hot water to clean their bodies and then returned to the drier to ensure they are completely dried. They are then mixed with millet or other food item and ground to powder to make porridge," she explains.
She says the insects are extremely rich in essential nutrients and Omega 3, 6 and 9 that boosts the immunity and mental health of a child.
Dr Kipkoech added they want to use scientific gains in addressing the malnutrition menace in the region.
Edna Lagat, the nurse at Cheptebo dispensary, said children and mothers in the region were iron deficient because of consuming non-nutritious foods.
"The insects have addressed the macro-nutrients challenge we were experiencing and at the moment there are no deaths among children related to improper food. The population initially wondered how they could consume the insects but it has changed their health," she said.
World Vision Elgeyo Marakwet Area Program Manager Moses Kiptugen said the most affected region was the semi-arid Kerio valley where the numbers showed malnutrition had surpassed the national rate of 19 per cent.
"It is affecting over 6,000 children under five years in the county. The number could even be higher because the study is conducted after every two years," Mr Kiptugen told The Standard.
He said areas experiencing alarming rates of stunted growth include Chegilet, Rimoi, Kapkayo, Arror, Kocholwo, Mogil, Chesongoch, Tot, Sangach spread across the semi-arid region.
"Stunted growth impacts the physical, mental and psychological well-being of a child for their lifetime and can only be remedied through balanced nutrition," he observed.
He said they have distributed 30 tons of high iron rich beans and orange fleshed sweet potatoes vines to the families as one way of supplementing their diets.