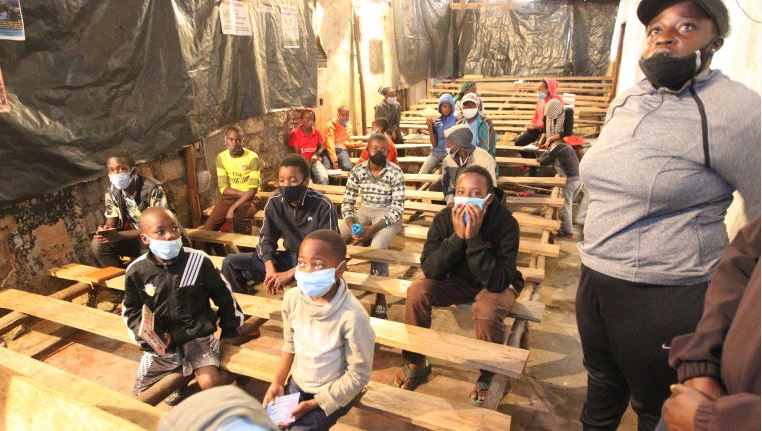 Sierra Leone is a country that has been ravaged by war for many years. It is slowly but steadily rebuilding.
Covid-19 disrupted learning in that country after schools closed on March 31, the day it confirmed its first virus case.
The closure affected 2.6 million young Sierra Leoneans. At the beginning of July, the government in Freetown opened schools. Those instructed to return were pupils in Class 6, JSS 3 and SSS 3, all of whom were preparing for their examinations.
The Sierra Leone government was hands-on in ensuring all prerequisite health measures are put in place. Class 6 pupils have now finished writing their examinations.
Following the Sierra Leone example, schools in West African countries started opening in phases. How? Observing social distance in class, dining halls, dormitories (maximum 30 pupils), no groupings, no breaks, four-hour lessons a day, mandatory face masks and sanitisers supplied by the government.
Also set aside were quarantine rooms in schools, daily temperature checks and the mapping of schools to nearby health facilities.
It is imperative that President Uhuru Kenyatta allocates a budget that will help in the implementation of health measures in schools so that they can re-open in September.
Unprecedented risk
The closure of learning institutions in response to the coronavirus pandemic presents an unprecedented risk to children's education and well-being, particularly for the most marginalised children who rely on schools for their education, health, safety and nutrition.
The longer children stay out of school, the less likely they are to ever return. Unless we prioritise the re-opening of schools, the country will see a devastating reversal in educational gains. Rising inequality, poor health outcomes, violence, child labour and early marriages are just some of the long-term threats children who miss school face.
Children biologically contain SARS-CoV-2 better than adults, are less likely to get sick if infected, are unlikely to die from Covid-19, and are probably less infectious than adults.
Although children are at a higher risk of being infected while in school, this additional risk to themselves and others is outweighed by the benefits of them returning to school.
The ability of children to transmit SARS-CoV-2 is dependent on their susceptibility, symptoms, viral load, social contact patterns and behaviour. Children with severe immuno-suppression, uncorrected significant congenital heart conditions, chronic organ failure, chronic severe respiratory disease and severe neuro-developmental disability should stay at home.
There is no data on the relative contribution of school closures to transmission control. Covid-19 modeling studies predict that school closures alone would prevent only 2 to 4 per cent of deaths, much fewer than other social distancing interventions.
School opening in many highly-resourced countries has not resulted in any major Covid- 19 outbreaks. The government should immediately provide a supplementary budget to fund health measures in schools to enable gradual schools re-opening as per recommendations of the Senate.
The adverse effects of school closures on children's safety and learning are well-documented. Gains made in increasing access to children's education in recent decades risk being lost and, in worse cases, reversed,
The Senate recommendations are supported by the United Nations Children's Fund (Unicef) position that children should return to schools as soon as possible since "evidence points to harm being done to children by not being in school".
There is an increased risk of child abuse, mental health breakdowns with rising rates of depression and anxiety. Children are at high risk of being left home alone when their caregivers go to work. Children from poor families are at a greater disadvantage than those who are not, since those in better developed schools have access to online learning.
The painful consequences of government's failure to provide schools with adequate infrastructure and basic services such as clean water will see almost a third of children never return to schools.
Schools do much more than teach children how to read, write and count. They also provide nutrition, health and hygiene services; mental health and psycho-social support; and dramatically reduce the risk of violence and early pregnancies. Interrupting education services also has serious, long-term consequences for economies and societies such as increased inequality, poorer health outcomes and reduced social cohesion.
Nigeria, Ghana, South Africa and Senegal are Kenya's peers in Africa. South Africa, Nigeria and Ghana are among the countries with the highest Covid-19 cases with South Africa leading in testing.
Already, South Africa, Senegal, Ghana and Nigeria have started re-opening their economies, though under strict conditions while Kenya is still in a dilemma. Kenya has adopted and retained a blanket 'one-size-fits all' policy across the country. So far, the government has responded to Covid-19 poorly.
Train teachers
Nigeria is set to start re-opening schools and its guidelines for re-opening require schools to adopt the use of distant learning centres and temporary built shelters.
It advocates disinfection and fumigation of facilities including hostel accommodation, with particular attention on those used as temporary isolation and treatment centres.
It also wants schools to sensitise, train and build the capacity of teachers, administrators and other education personnel to effectively use and comply with the School Covid-19 Referral System and protocols for safe distancing and hygiene.
This is what Kenya should emulate. According to data from the Unesco, of all the 189 countries, Nigeria is among four nations with the highest number of overcrowded classrooms in its secondary schools.
Unesco's actual number of students recommended for a single classroom is between 30 and 35. Any classroom that has an extra student is considered to be overcrowded.
A critical consideration for re-opening schools is the epidemiology of Covid-19 in children. There is evidence that, compared to adults, children are three times less susceptible to infection. While rare reports of pediatric multi-inflammatory syndrome need to be monitored, its association with Covid-19 is extremely low.
Health officials must begin working with teachers, parents, schools' administrators and local government officials to create protocols for the re-opening of schools.
To begin with, a child-friendly schools' infrastructure to support widespread rapid testing is needed. There is need to prioritise testing of symptomatic and exposed children.
Secondly, getting children safely to and from schools is critical. Private transportation should be used whenever possible. Otherwise, precautionary measures have to include increasing the number of bus routes and diversifying pick-up and drop-off locations.
Limit movement
Thirdly, health and safety precautions within schools must be formulated in a way to limit movement. Attendance could be alternated between coming to class and learning remotely.
Most countries are encouraging students to wear masks while in school, although this may hamper certain learning efforts, it is crucial. Schools should temporarily close shared spaces.
If a phased approach to re-opening is used, schools must decide the number of children that should be allowed to report first. Despite taking adequate precautions, schools need to have a contingency plan to address and manage Covid-19 cases.
Opening schools require more than separating desks or placing pieces of tape on the floor, a robust system of Covid-19 testing and contact tracing will need to be put in place before considering the re-opening of schools.
County health authorities, not school districts, have to lead the way in ensuring existence of effective testing and surveillance tracing.
National government must bite the bullet and provide adequate funding within the shortest time possible. Covid-19 is a viral disease. It requires massive investment in public health systems, not clinical medical treatment.
The government again has to mobilise and invest financial and human capacity in initiatives like Kazi Mtaani, which are labour exercise for rehabilitating and refurbishing public schools. This will have a real impact and will provide long-term solutions to dilapidated public schools.
Best practices and successful implementation strategies from countries that have opened schools should be adapted. Closing schools for Covid-19 does lifelong harm to children and widens social inequality.
The writer is the Executive Director, International Centre for Policy and Conflict, @NdunguWainaina