Virus that takes not just lives but also our culture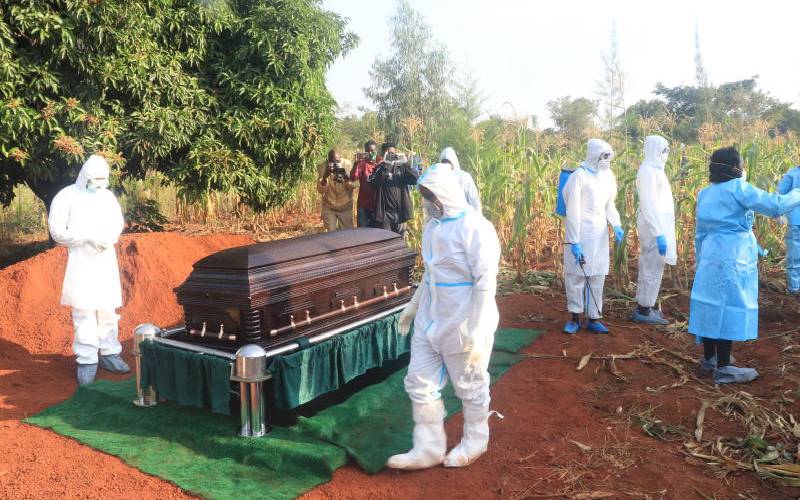 The controversial burial of Ohangla musician Bernard Onyango, alias Abeny Jachiga, and that of former Kenya Ports Authority employee James Oyugi exposed how the Covid-19 pandemic has disrupted the cultural balance and turned culture on its head.
Onyango was buried at 2am on June 13 at his Chiga home in Kisumu East under tight police watch and in the absence of his wife, children and parents.
Oyugi was also buried on the night of April 12, without a coffin, under the watch of health officials, following reports that he had died of coronavirus.
A number of other burials have been handled in ways that do not reflect norms associated with mourning, celebration, feasting and attracting crowds of family, friends and relatives.
These events are however a small bubble in the cultural changes brought about by the government's health guidelines to curb the spread of Covid-19.
Also affected by measures on social distancing are circumcision ceremonies, marriages and weddings that lack the pomp and colour of days gone past.
In Bungoma, a dispute over whether a circumcision ceremony should go on has divided elders and other residents down the middle.
Early this month, the chairman of the region's circumcisers, Sinino Omukholongolo, led his counterparts in a goat slaughtering ritual before declaring that gods had allowed for the ceremony proceed. He said the conclusion was reached after observing the goat's intestines.
But elders have warned against the circumcision ceremonies, saying this year is "jinxed".
With the raging confusion, many parents are now taking their children to hospital or doing the circumcision secretly, a further indication of how things have changed in the community.
In Trans-Nzoia County, the initiates will be forced to skip some critical stages of the traditional ceremony to curb risks of the virus infection.
Normal drills subjected to the initiates ahead of the cut and feasting will not take place, according to Bukusu cultural affairs chairman in Trans-Nzoia, Peter Masinde.
"The Covid-19 measures have greatly affected the ceremony. We have been forced to skip some cultural practices in the current circumcision calendar," Masinde told The Standard.
There will be no fats and the usual dances and parties.
Some parents who have paraded their sons for the crucial rite said it is unfortunate that they will not be allowed to fete them.
"It is a worse session for our community. We will not be allowed to celebrate the transformation ceremony of our sons," said John Barasa in Kapretwa village.
Among the Luhya, communities would slaughter bulls, goats and chicken during funerals as a way of giving the dead a good send-off. Now, the funerals are brief and only family members are allowed.
Peter Biketi Mafura, a brother-in-law to late Maurice Namiinda, the first reported Covid-19 patient to succumb to the disease, said it is against their customs to bury an elderly person at 11.45 am as they did to Namiinda.
"We could not even get time to slaughter a bull in his honour and feed mourners during his burial as the police were on our neck to ensure we comply with the order. We were not able to make speeches and this is a taboo in our tradition," said Mafura.
This was the same case during the burial of Antony Waswa, the younger brother of Bungoma Senator Moses Wetang'ula.
Being from a political family, 60 people instead of 20 were allowed into the compound in his Mukhweya village home, Kabuchai Constituency, with seats placed 2.5 metres apart.
In normal days, the funeral would have attracted over 2,000 people who would have been fed on roasted meat, chicken and ugali, with highly charged political speeches, and the burial would have taken place in the evening.
According to Luo Council of Elders Secretary-General Adera Osawa, only the family of the deceased can be trusted in identifying the dead, and the practice of having "strangers" bury the dead is wrong.
"A people without culture is not people. When one is dead and is set to be buried, only close family members can positively identify the body, and confirm that they are burying the right person," said Mzee Osawa.
"Burial remains a key aspect rite of passage in the Luo community, with the family of the deceased expected to play key roles. If this is not taken seriously, then we are headed in the wrong direction."
Bishop Emeritus Simon Oketch of the Anglican Church of Kenya (ACK) Maseno North Diocese said he is in full support of the directive but once the pandemic is contained, Luhyas should be allowed to continue observing their culture of giving a befitting send-off to the deceased.
"We will not continue burying the dead within 24 hours as is happening now. This is being enforced for the safety of preachers, pastors and the public. If we hold a large mass service and people get infected, we shall lose many to the virus," said Bishop Oketch.
Lembus Council of Elders Chairman Joseph Leboo said with Covid-19 most rituals have been set aside.
The Tugen, for example, bury a respected old man with milk in a calabash and a little tobacco, but with Covid-19 things have changed. Leboo said there is no longer time to plan adequately for such a ceremony.
"The impact of Covid-19 is taking us back to the old traditions of few people burying the body. It is very abnormal and I'm sure each community is upset with the handling of the body. Bodies should be buried in a respectable manner," he said.