Canoes of death: Deadly river that has become synonymous with death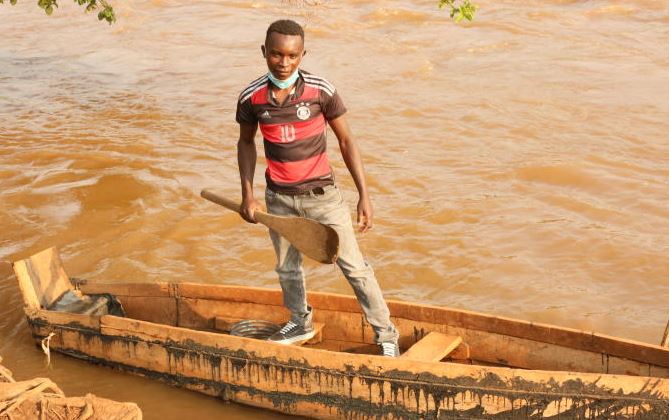 When a boat capsized in Sagana River on Tuesday last week, killing all its three occupants, Francis Mwangi volunteered to do what he has done for seven years: retrieving bodies from the deadly waters.
In seven years, Mr Mwangi, a professional diver, has retrieved 13 bodies from the river. The victims comprise young people and adults who die in expeditions or while sailing from one ridge to the other in Kirinyaga and Murang'a counties.
Last week, Mwangi was tasked with retrieving the bodies of a deputy school principal and his two sons who drowned after their boat capsized at Riandira crossing point in Mwea, Kirinyaga County.
"I volunteered to retrieve the bodies and luckily they were all found," said Mwangi. "Bodies of some victims have never been recovered to date."
Sagana River, which snakes through several counties, providing water to millions, has also killed hundreds of residents and livestock in drowning incidents, while others have been attacked and devoured by deadly crocodiles or trampled up by hippos.
The latest incident last week involved school principal Stephen Weru, 45, and his two sons Collins and Elvis. Weru, who was going to his farm located on the Murang'a side, opted to take a shorter route through Sagana to the river then row his canoe to the farm from the Kirinyaga side.
Upon reaching the crossing point, he parked his car near the river and the three got into the canoe.
They were crossing from Riandira village in Kirinyaga to Thangathi village in Murang'a.
Collins, 17, was a Form Three student at Kianyaga Boys High School while Elvis was in Standard Six at Technology Primary School in Murang'a town.
After sailing for a few metres, the wooden vessel was destabilised by strong waves and Weru's elder son jumped out.
Weru's worker, who witnessed the accident as he was waiting the other side, said Weru tried to stabilise the canoe but the raging waters overpowered him and the canoe capsized.
"The elder son had managed to get to other side but when he saw what happened, he jumped into the river to save them but no one made it out," said Peter Muriuki, Weru's uncle.
Mr Muriuki said Weru was wearing gumboots, which made it hard for him to swim. He left behind a widow and a four-year-old daughter.
Weru, who was a teacher at Karima-ini Secondary School, and his two sons, were the latest victims of a costly omission by two counties, which have failed to take up the responsibility of putting up a bridge across the river.
There are two bridges: at Sagana town and near Kwa Samaki centre. But they are too far for many residents in the middle area.
"My only appeal to the two county governments - Murang'a and Kirinyaga - is to find a way of enabling movement of people from both sides without risking their lives. If a bridge is built to connect the two ridges, my nephew's and grandson's wish will have been accomplished," said Muriuki.
He also suggested that motorised boats would be helpful before a bridge is erected.
Even as the family plans to inter the three bodies on Wednesday, several other homes of families who have lost their loved ones in the crocodile-infested Sagana River tell tales of sorrow and tears of young promising men and women who have died as they try to eke out a living.
At Kayuyu village in Mirira, Kiharu Sub-county, Peter Mwangi has been grieving for three months after his 29-year-old wife died in the same river while crossing to Makutano market in Kirinyaga County.
Elizabeth Wanjiru was a regular trader selling socks in Makutano and she would use the canoes to sail the river.
The mother of one was among five occupants of a canoe which capsized on May 6 at Kayuyu crossing point.
All the occupants except Ms Wanjiru, who was seven months pregnant, were rescued. Her body was retrieved after three days.
"My life changed completely after her death. I consider it double loss because she was two months to delivery," Mr Mwangi said.
He said the incident haunts him so much that he doesn't use the route where his wife lost her life whenever he is going to Makutano.
"My wife died because no one cares about us. We've asked for a bridge and 57 years after independence, we still use canoes to cross over such a mighty and deadly river," he said, adding that he has been unable to explain to his six-year-old son that his mother will never come back.
He added: "He would wake up and head to her mother's grave... That breaks my heart."
Mwangi said some families have never had closure on the deaths of their relatives whose bodies have never been recovered.
He cited a 1998 incident where eight people drowned and two bodies have never been recovered.
According to Mirira senior assistant chief Benard Kagoto, eight people have died in the river in the past four months.
"There are hippopotamus and crocodiles which are not only dangerous to the people but also to the livestock because they swim across the river," said Mr Kagoto.
Although the assistant chief claimed that procurement process to construct a bridge has commenced, materials purchased about five years ago for the project are rotting at Kayuyu chief's camp owing to political differences.
He blamed overloading of canoes for some deaths, adding that the operators also lack life saver jackets.
Kagoto said villagers opt for canoes to save time and spend less money than they would using longer matatu routes.
Going to Makutano from Marira through the "river shortcut" takes about 15 minutes while using public vehicles takes about an hour for the 12-kilometre journey.
[Additional reporting by Boniface Gikandi]