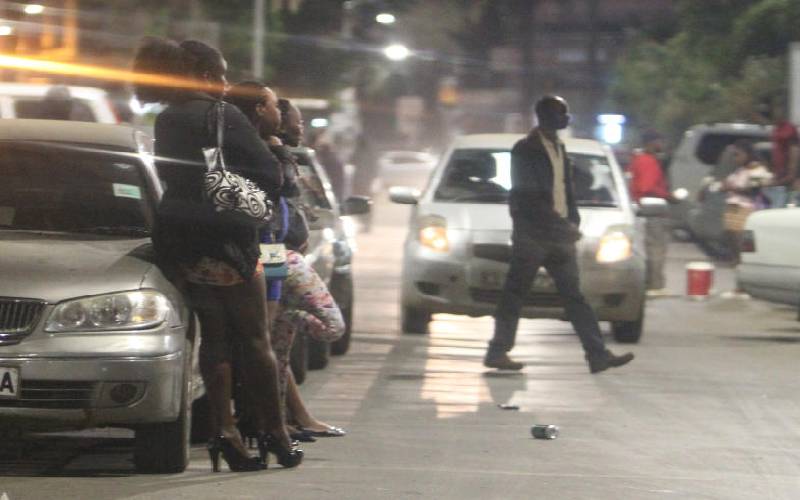 Kisumu sex workers are among the hundreds of youth who have been enrolled for Phase 2 of the Kazi Mtaani Programme.
The stimulus package seeks to cushion the youth from the effects of the coronavirus pandemic.
The national government set aside Sh10 billion for the National Hygiene Programme as the country navigates its way out the Covid-19 pandemic. The programme that is in its second phase is targeting 270,000 youth, and sex workers from the city are not being left behind. Up to 100 members of the oldest trade have enlisted for the programme.
"We are looking at everybody. We don't discriminate." Kisumu County Commissioner Susan Waweru said.
Read More
More than 24,150 youth from the larger Nyanza region have been enlisted in the programme.
Among the beneficiaries are Daisy and her friend Angy, two sex workers who operate in Kondele. The duo admitted that the 'sex industry' has been hit hardest by the pandemic.
"I've been in the business for the last two years and that's how I provide for my two daughters. Right now though, things are tough, so it only makes sense that we supplement our source of income if we have an opportunity like this," Daisy who hails from Busia told, The Nairobian.
For Daisy, 21, business is so bad that she's not been able to settle her rent for the last two months.
Before corona, she would comfortably settle her bills by working only six hours a day.
"These are abnormal times indeed. I've never seen anything like this before, a virus that keeps men away from women. Kitambo I could make up to Sh3,000 on a good day but right now, you must hustle to make even a quarter of that."
"Before corona, I could afford to do my hair, pay my rent comfortably and take care of my mother back in the village. But right now, I must be smart and get out of my comfort zone."
Daisy's friend Angy says she enrolled in the programme after she was convinced by a neighbour that the money is a "sure bet".
"Unlike my daily hustle where you can render service but still don't get paid, this is a government project and I don't think they can con me," she said, adding, "I wish to thank President of Uhuru for us."
Waweru advised the youth to ensure they log into the system every morning and evening for all the data to be captured.
"We must also talk about drug and substance abuse, gender-based violence and teenage pregnancy," said the Commissioner.
According to Dotty Ogolla, who works closely with Kisumu Sex Workers, Kisumu, has approximately 7500 sex workers.