Why Tuskys shelves are going empty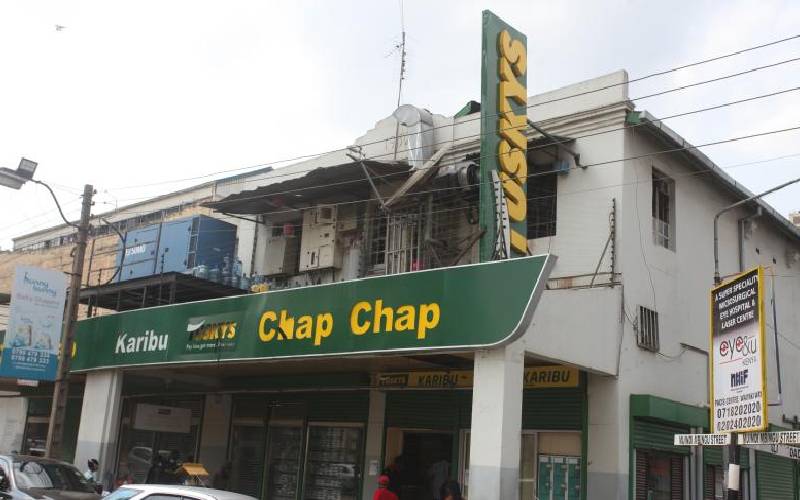 Tuskys might have finally run out of luck. In several of its retail branches, the shelves are empty. And where they are not, behind the neat row of immaculately arranged products where you would usually see additional goods, there is only hollow space.
Just recently, the supermarket chain closed four branches – Digo Road in Mombasa, Kitale Mega, Tom Mboya in Nairobi and Mtwapa Chap Chap. Close to 100 jobs were lost as a result.
Tuskys, which only last year joined the Nairobi Securities Exchange (NSE) incubator programme for firms intending to list in the stock market, is now bedevilled by numerous troubles, including debts to suppliers amounting to Sh1.2 billion.
The Competition Authority of Kenya (CAK) has for a while had the beleaguered retailer in its radar as each passing day seems to take it closer to its possible deathbed.
Tuskys has attributed most of its problems to the Covid-19 pandemic, but an informed insider told The Standard the disease is a timely excuse.
The source said the real bug has been pilferage by top management, alongside mishandling of suppliers and staff.
"Covid-19 has uncovered the unfriendly business management by the top executives," said the source.
Tuskys Chief Executive Daniel Githua could not be reached for comment as he did not respond to calls or texts.
Financial position
Sagaci Research, a provider of African market data and analysis, noted that Tuskys appeared to be in the weakest financial position of any supermarket chain in Kenya.
And now, it can no longer hide its distress. Its Karasha branch on Kenyatta Avenue, Nairobi, for example, has shelves that are usually packed with detergents running almost empty.
Face towels have instead been tossed about in a desperate bid to put a display of colour on otherwise drab spaces.
Bottles of shampoo stand in painful loneliness paces away from one another as they try to occupy as much space as they possibly can.
The refrigerators are a far cry from what they were; food-packed areas where people would crowd to pick yoghurt, bacon, sausages, slices of brawn and other cold cuts.
The pastries section at the retailer's Muindi Mbingu Street branch is dismal. In Komarock's K-Mall, the electronics section of the supermarket is all but a ghost town.
In February, Tuskys gave notice to the secretary general of Kenya Union of Commercial, Food and Allied Workers (KUCFAW) that it would lay off some employees.
This was blamed on a drop in sales and customer numbers as the retailer's woes began to bite.
KUCFAW went to court seeking orders to restrain the retailer from making workers redundant. The union wanted the supermarket to consider unpaid leave instead.
"The respondent cannot be allowed to declare redundancies when at the same time retaining a large number of outsourced labour as this means that regular employees who are union members are not wanted," said KUCFAW Secretary General Boniface Kavuvi.
In court papers, Tuskys said its struggles reflected the difficult economic environment that retail stores are operating in, adding that Covid-19 has only exacerbated industry woes.
Family wrangles
But Tuskys has long been dogged by family wrangles in the running of the business. Further, the opening of fast-expanding Quickmart supermarkets in Eastlands and Nairobi's CBD have taken some customers away from neighbouring Tuskys shops.
In court papers, the struggling retailer says it is renegotiating wages and other overheads, including rent, to remain in business.
It remains to be seen if this will be enough to reverse its fortunes. Meanwhile, hawk-eyed customers have taken note of Tuskys' empty shelves and contrasted the situation to what befell Nakumatt and Uchumi. The two former retail giants spread out the little stock they had across shelves in the hopes of staying alive long enough to turn the financial corner.
On social media, Kenyans are expressing their fears: "Anyone with an employment opportunity, please help me. My job at Tuskys supermarket is swinging (sic). To get a salary has become a problem. Help me please," a Twitter user wrote on Monday.
"To shop at Tuskys Greenspan is depressing. Empty shelves. Brings back Uchumi memories. I feel for the staff," one Nyanderu tweeted.
The signs
Tuskys has been known for pursuing expansion. Peter Kahi, the administrator of Nakumatt, said this was a major weakness in the retail sector.
"Due to this, they have to do volumes. They go opening branches all over the country in a bid to recoup the costs," said the partner at the advisory firm, PKF Kenya in a past interview.
"By doing this, they borrow heavily or end up using suppliers' money to fund the expansion. They end up owing a lot of money to lenders and suppliers."
Sagaci Research agrees: "Having expanded rapidly over the past five years, the suspicion is that, like Nakumatt, debt-fuelled growth has left Tuskys vulnerable to external shocks," it said in a report.
"Moreover, allegations of internal fraud have dogged the retailer for almost a decade as members of its founding family fight for control of the business, while its market share has come under pressure, particularly in Nairobi, as rivals like Carrefour and Naivas have opened new stores."
John Momanyi, a former supervisor at Tuskys, said he resigned in 2015 after having worked with the supermarket for 14 years.
"I submitted a letter of resignation on medical grounds as the law requires. I was not paid any money and yet they paid others who we were in the same job group selectively. I was discriminated against," he told The Standard.
He said the retailer has had financial misappropriation issues but has never been exposed.
Sources say widespread fraud, favouritism in approval of supplier contracts and long-standing family feuds have escalated to seismic levels. According to them, it will take a mammoth effort to resuscitate the retailer.
Retail Association of Kenya Chief Executive Wambui Mbarire said Tuskys is working with CAK to ensure all contractual agreements are met.