I struck gold after 15 failed businesses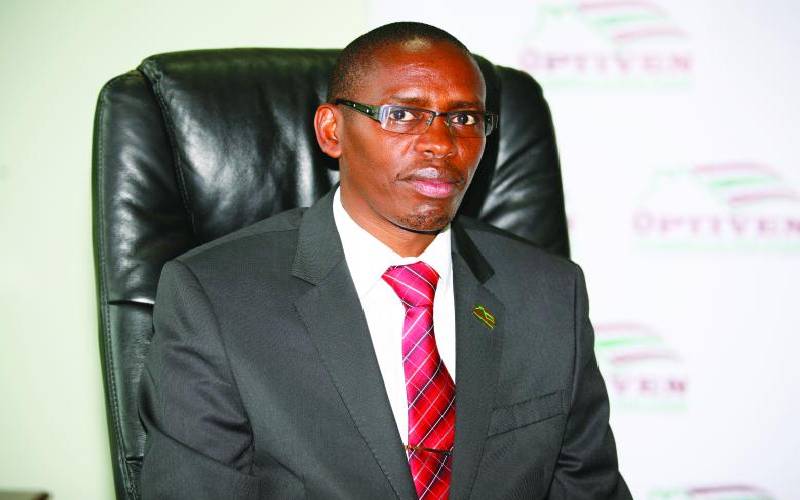 Businesses start and fail, and for George Wachiuri, he failed 15 times before he finally made it in the world of business. His lucky break was with Optiven Limited, a firm that not only oversees real estate projects but also runs three high-end restaurants in the city. He shares his tumultuous business journey that lays bare the fact that entrepreneurship is not a game for the fainthearted.
Tell us a little bit about the failed businesses
I tried so many things. The question is, what haven't I tried? I was in photography, laundry business, hotel business, a barber and beauty shop, manufacture of cleaning detergents, trading in farm produce, onion farming, mitumba business in Gikomba, stationery business along River Road, importing cars from Japan and Dubai, car hire, real estate brokerage, tours and travel and water packaging.
Looking back now, where do you think you went wrong?
It was a basic lack of vision, little mentorship and poor research. I made poor decisions and hired the wrong people. I followed an innate desire to make quick success fueled by desperation to run away from poverty. I just followed what everyone was doing instead of charting my own business path.
What of the financial loss?
I have lost money several times. I still lose. The worst case was in 2008 when I lost Sh5 million, or 10 years' worth of savings on a land transaction. I was down for a whole year. I had no job, no business and lost all my friends – except God, my wife Mary, and my pastor!
Didn't you think it was time to quit?
No. I turned to prayer, Bible reading and fasting. I was convinced that quitting was not the answer and that God could level all mountains. I went back. In any case, I had tried looking for a job but got no answers to my applications; not even regret letters. The hunt for a job was a life-changing experience. I had good qualifications including an MBA in strategic management, a certified public accountant and the requisite experience, yet all doors were shut. That one year of stress and desperation gave birth to my foundation that seeks to create 30,000 jobs by 2030.
So I made a last-ditch attempt with Optiven. I only had Sh80,000.
What was that like, getting back into real estate when it had just burnt you?
I started with buying one plot in Katani for Sh70,000 and later selling it at Sh130,000. This was my main key to real estate. It was a real inspiration and energiser as it came one year after losing the Sh5 million in a land deal in the same area. Start small, think big and start now. You can invest more on your own energy by doing some things yourself. Then invest more on social capital (people) and connecting with those who can support your small beginnings. Build this relationship by keeping your work honest and making yourself visible. Real estate for example, is a business built by trust. The more you build trust, the more financial institutions, friends, landowners will entrust you with their resources to grow the small amount you began with.
You have been busy launching projects during Covid-19 pandemic when the industry seems to have slowed down. How is this possible?
The Covid-19 pandemic presented enormous opportunities for us to provide services that will make our homes livable. For example, we championed and implemented the use of green energy in projects such as Amani Ridge, Victory Gardens, Garden of Joy and Luxurious Superhighway properties. Rather than join in moaning, we decided to be a source of hope to the society by keeping our projects going when things seemed to slow down.
Is this then, the right time to invest in real estate?
Yes, and for four reasons. First, many people are home and able to walk or drive around to see real estate options in the market. We have had 30 people visit our properties every day. Most of our properties are within Nairobi Metropolitan Area and were not affected by the just lifted travel restrictions. Second, the banks have given a moratorium on loans giving Kenyans a good chance to use loan installments to buy residential plots, finish a house, or start building one. Third, new opportunities provided by Covid-19 such as the supply of PPE, food and ICT means there is some cash to invest in real estate from emerging sources. Fourth, it is a good time to negotiate the best deal as cash buyers are getting discounts ranging from 3 to 6 per cent. In fact, our company has waived interest for six months since we believe Covid-19 is a temporary bump that should not dampen the investor spirit.
You talk of having an achiever's mindset. Please explain?
First, one has to think like an entrepreneur. A real entrepreneur thinks the opposite of everyone else, he does things abnormally. A person who wants to lead must not follow the thinking of the 95 per cent, but the five per cent that controls the world. It means you separate yourself from the crowd. When others sit, you stand. When they stand, you stand out. When they stand out, be outstanding. And if they are outstanding, you become the standard. Having an achiever's mindset is about having their power and energy to win in any endeavour. You can only achieve this mindset by associating with go-getters, people who add value to you, read the right books and say no to negative thoughts.
What determines how much risk one can take in business?
Every business endeavour is a risk, you either get returns or you lose. How much risk you take depends on your level of risk appetite. The world is controlled by the risk takers who must be ready to share the benefits and losses. These are those who want to dare and explore what is in the darkness. Risk takers do it to make the world a better place for others. Nelson Mandela took a big risk and was jailed for 27 years. I failed 15 times, took risks in order to create 30,000 jobs. We now have 400 direct employees, 4,000 indirectly and 1,000 casual workers. Over 5,000 people have homes just because of that day I took a risk, lost money and came back. In contrast, those who fear risks remain in the comfort zone. They join the 95 per cent of the population who watch things happen and wonder how and why things are happening. Do not be a spectator. Make things happen.