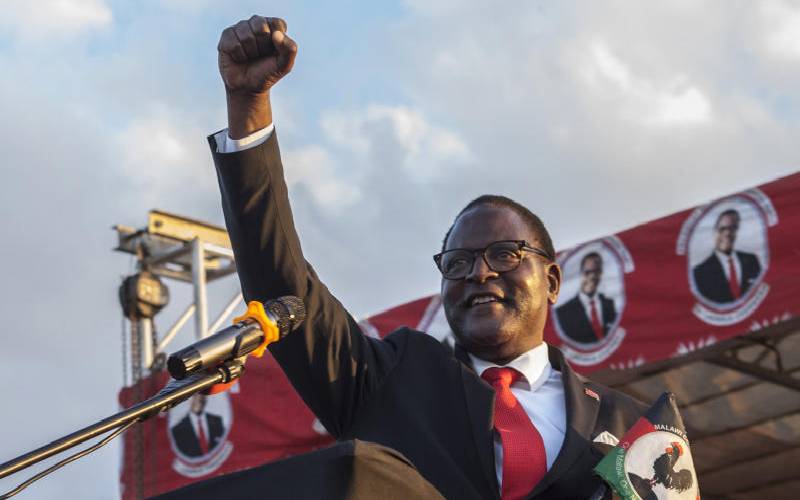 The new Malawian President Lazarus Chakwera, Ugandan President Yoweri Museveni, Liberian former President Sirleaf Johnson and other crop of middle-level leaders are among those we "exported" from Kenya.
They once lived, worked or schooled in Kenya.
I am sure the list is long if we focus on lower-level leaders. Why are we exporting leaders? Should we celebrate that?
Our hyper-competitive politics, economics and freedom are good breeding grounds for leaders. The future leaders read our newspapers and watch our TV stations.
They understudy our leaders, hopefully for good deeds only.
If you spend enough time studying politics, you will see some science in politics with trends and patterns.
Our "exports" possibly ride on these trends to get power. The exported leaders easily learnt what matters in politics, what drives politics beyond money. In Kenya, we breathe, eat and sleep politics.
Advice from seasoned Kenyan politicians can't be ruled out as these leaders get into power. Remember DR Congo's new President Felix Tshisekedi? Who are his friends in Kenya?
Our faceless and often heartless capitalism can teach you how to navigate any other socio-political system.
That is why those who go through the tough 8-4-4 system of education excel wherever they go after graduation, including Harvard or Oxbridge.
I hope the Competency-based Curriculum (CBC) will not water down that rigour. The export of leaders may pass as inconsequential, but it is a clear indicator that Kenya has come of age.
Sponsor airlift
Western countries have always been "exporting" leaders to less developed countries.
That is why Jomo Kenyatta and Mwai Kibaki schooled in London. Uhuru Kenyatta schooled in the US.
They came back imbued with British or American way of life; political, economic and at times social. It's this export that drove Americans to sponsor airlifts in 1959, just before independence.
They imported lots of East European and former Soviet Republics scholars to "export" them back after the cold war.
Kenya can now export leaders schooled in our system to the region. Such leaders could have developed a liking for our products and services.
Their countries could make great markets for our goods and services. Why else do we love American products and services from their movies and more recently, cars?
We seem to have had a lukewarm reception to their fast foods. Is that why McDonalds is yet to come ashore?
You are more likely to buy what you are familiar with. By the way, American cars are just making a comeback.
In some parts of Central Kenya, a car is called "mbiuki" - a corruption of an American model Buick, which was common during the colonial period.
We need to have concerted efforts to increase the new export. One simple way is to have more regional students in our schools.
I just can't understand why our universities are complaining about the shortage of students.
Students from neighbouring countries would die to join our universities; just assure them of security and accommodation.
We should even offer them scholarships. Why is China offering scholarships to so many African students?
I once had 33 Liberian students in my MBA class.
Our classes should be mini African Unions. We should be teaching major regional languages like Amharic in our schools.
Check the American exports data. They have a surplus in services. This is a low-hanging fruit for Kenya's economy, which is big on services.
That is why oil never excited us, our economy was already diversified with services now contributing to over 50 per cent of the Gross Domestic Product.
Services might save us from the worst of Covid-19.
They are more domiciled at home and less prone to disruptions in supply chains. Maybe we should take this new export seriously to complement our tea, coffee and flowers.
The returns can be very high if we play our diplomacy well.
We could see more tourists visiting us and shopping here.
Don't we show off our shopping from London, New York or Paris? Why don't we offer free rides to passengers on transit to shop in our malls from JKIA?
Remember the Dubai shopping experience? As we shift to services, we shall not be alone.
Nigeria and South Africa are ahead of us. Seen their insurance companies and banks?
They would have done better had they buttressed their services on a critical mass of Kenyans or Africans educated in their countries. I see lots of car stickers bearing western universities in Nairobi's parking yards.
Not Nigerian, Kenyan or South African universities. What happened to Nigerian universities like Ibadan mentioned in 'Things Fall Apart'? The West and now the East will not watch and let their markets slip away.
Remember Brexit means more focus on the Commonwealth, read former colonies. China, despite Covid-19, will not cancel the One Belt, One Road Initiative.
We shall compete with other countries for the market and influence in the neighbouring countries, or near abroad to quote Russians. But we have the advantage of closeness both geographically and culturally - if we can take advantage of that.
-The writer is an associate professor at the University of Nairobi