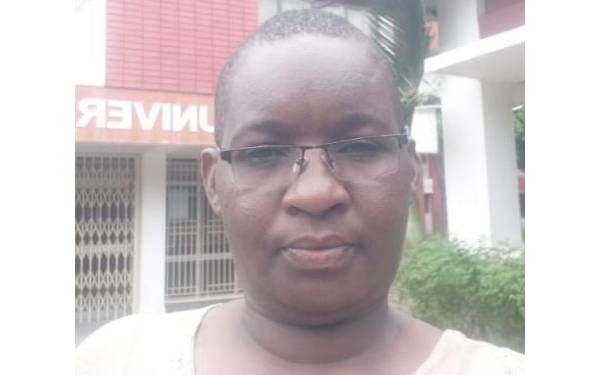 You can feel the joy in her voice as she speaks. Joyce Makokha
(pictured above)
is elated by news that international flights will resume next month. It means she can finally travel home to be with her daughters whom she has not seen in a long time. Ms Makokha is among Kenyan students who got stranded in India following a ban on international flights put in place to curb spread of coronavirus. President Kenyatta during his address on Monday said international flights would resume on August 1, under strict adherence to Covid-19 prevention guidelines.
SEE ALSO: High-end clubs lose bid to reopen doors
The lifting of the ban, three months later, has excited Kenyans living in India who have been yearning to travel home to reunite with their families. Makokha, who lives in Coimbatore City, said she couldn't wait to see her two daughters. She has been stranded since March when India closed its borders and suspended international flights. Makhoka, a student at Tamil Agricultural University and who hails from Bungoma County, said she was to travel back home in May, but could not following the cancellation of flights to Nairobi. "I won't miss the August flights; I have missed my two daughters. The government should pay for quarantine for students returning home. It should also have designated facilities for each of the countries students are returning from," she said.
SEE ALSO: Pandemic: Why some people don't play by the rules
Law student Felix Makori asked the State to subsidise travel costs to enable Kenyans return home. Mr Makori, who hails from Nyamira County, said most students may not afford the air tickets. "Most students are on private sponsorship and our guardians have exhausted all the resources to sustain our living during the Covid-19 period. We kindly request the government to offer subsidised rates once exams are over so that we can travel back," the Karnatak University doctorate student said. Mercy Penina from Mombasa said she has been stranded in India since March and hopes to return in August when flights resume. Ms Penina is a Pharmaceutical Science student at K L University Hyderabad in Telangana. "The president's announcement is great. I am looking forward to returning home anytime from August," she said.
SEE ALSO: Coast hotels resume operation, use 'digital order' to beat Covid-19
Another student, Onsare Anyona from Nairobi, said he has been idle after the Indian government declared a lockdown in March and would have hoped to return to Kenya. Aurangabad-based Kenyan doctorate communications student Joshua Boit welcomed the president's move, saying many Kenyans had been caught up by the travel restrictions. Mr Boit, who is from Kitale, appealed to the State to prioritise the evacuation of Kenyans who were caught up by the travel restrictions when they went to India for treatment and sporting events. "Kenya Airways should take the lead in flying home Kenyans from abroad. This is the time it should bring ticket prices down, its prices should not be higher than other international airlines. Many of us cannot wait to be back home," Boit said.