Family reveals why Raila will not be coming home soon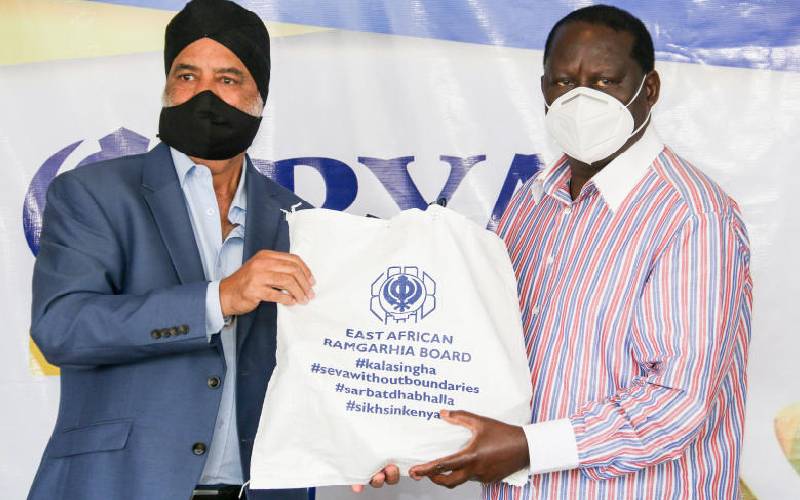 Opposition leader Raila Odinga's family has opened up on the medical condition afflicting the Orange Democratic Movement leader who is recuperating in far away Middle East.
His wife Ida Odinga, elder brother Oburu Odinga and younger sister Ruth Odinga spoke to The Standard separately, and confirmed that he is now out of danger, but would not be coming back so soon.
Ida said her husband was successfully treated of a nerve disorder affecting one leg, but needed more time to rest. Accordingly, he will stay in the United Arab Emirates (UAE) for some time until he is fit to resume his heavy political activities.
The family is pained by rumours on social media to the effect that the former Prime Minister was suffering from other forms of ailments, terming them utterly outrageous.
"Treat such rumours with utmost contempt and abhorrence. It's not right to speculate on someone's health," Ida told The Standard in a candid interview.
She said during this period of recovery, Kenyans of goodwill should treat him kindly in thought, prayer and wishes.
"He is in the United Arab Emirates-Dubai based International Hospital run by Germans. He has been successfully treated of a mild nerve disorder affecting one leg and not what has been alleged," she clarified.
This was the first time Ida was opening up to speak about her husband's condition. She said she speaks to him," almost every hour or two" and that he was fine "and cheerful."
More rest
When we spoke to her, Ida sounded strong, composed, calm and grateful. She exclaimed that God has seen her through and was thankful.
"God loves my family. I have been through tough times. My daughter was sick and got healed in Jesus name. I submit God loves me a lot, the ill talks in some social media discourses notwithstanding," Ida said.
Oburu also confirmed that the surgery was successful and that the former PM will have to stay in Dubai for a little more time.
"We are grateful as a family that he was able to get through this. After consulting his doctors, we decided that he stays there to recuperate. He is admitted in a top-grade medical facility where he is being monitored after the surgery," Oburu said.
He said Raila's busy schedule necessitated his longer stay so that when he returns, he can go on with his tasks normally.
"He is a busy person given his position in the country's political space and the African Union assignment that involves a lot of travelling. I don't want to speculate on which day he will return, but it is not likely this week," Oburu said.
Ida also told The Standard that this was also the recommendation of the doctors who are treating him. He said they recommended that he be isolated from interruptions by guest and family members.
"Had he been here, many people would be flocking the home to see him. Each visitor always wants at least to talk to him thus eating away into his recovery time," she said.
The family, however, remained non-committal as to when he is likely to come back to Kenya.
"You know that currently there are no commercial flights. This means that if he is to come back, we have to charter a plane. But that process will be kicked off once he fully recovers," Ida said.
Last week, Oburu revealed that his brother had left the country for the UAE. This followed speculation on his whereabouts with the former PM's communication team denying it.
"Odinga is out of the country for a minor surgical operation on his back. It is not a serious health issue. So, he's okay," he said.
Like Oburu, Ida, too, would not confirm or deny reports that the politician had left the country in an air ambulance, or say who accompanied him. Yesterday, Ida talked of him having nerve problems in the foot as contrasted to Oburu's backache, although the two could be medically related.
Odinga's sister Ruth only confirmed that "Jakom is in good health."
"That's all I can say for now," she added.
A medical specialist we spoke to, however, tried to explain that nerve pain can disrupt one's life at home and at work.
"It can limit your ability to get around and if not treated can ground someone. Studies show that people with nerve pain have higher rates of sleep problems, anxiety and depression hence should be treated."
Good news
Likely causes include repetitive stress, vitamin deficiencies, hormone imbalances, chronic inflammatory, Lyme disease and alcoholism. In some cases, nerve pain develops for no apparent reason, the medic revealed. But the good news is that it can be treated and there are a lot of good options available even if one is struggling with pain caused by diabetes or another condition. Countless nerves in the body convey sensations to the brain, including pain and prevent injury.
"For instance, when your foot begins to step on a nail, it's the pain sensation that alerts your brain to the danger," the medic explained.
In 2010, Raila underwent an operation after he accidentally slammed his head on the car door. After the successful surgery, he hit the road again and successfully delivered the referendum victory for the grand coalition government.
Prior to his leaving the country, Raila's last public engagement was on June 19 when he received a donation of foodstuffs from officials of the East African Ramgarhia Board's Youth Association at their offices in Pangani for onward distribution to families affected by the Covid-19 pandemic.
Four days earlier, he publicly received his COVID-19 test results from Kemri and informed Kenyans that he was negative.
Yesterday, he took to Twitter to congratulate the people of Malawi for electing President Lazarus Chakwera.