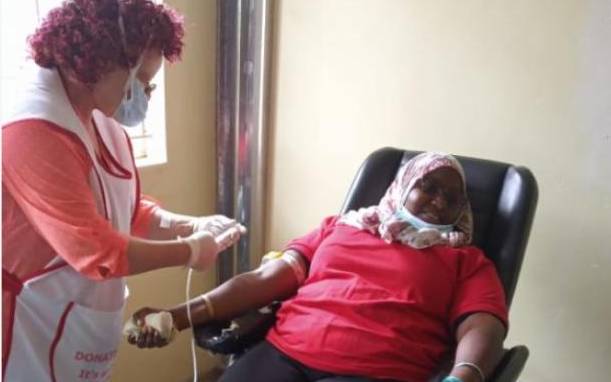 Ben Sawe has been spending sleepless nights trying to secure blood for his 26-year-old wife, who is scheduled to deliver their fourth child today.
Viola Cheruiyot has been booked for a caesarean section at the Rift Valley Provincial General Hospital, but because she has low blood levels the doctors have advised that she will need a blood transfusion after delivery.
The Kenya National Blood Transfusion Service (KNBTS), however, has no supplies thus forcing Mr Sawe to turn to relatives or even people who are willing to give blood for cash.
"For the past one week, I have been approaching friends and relatives, and using social media platforms to appeal for blood to save my wife's life," said Sawe, who hails from Belbur area in Rongai.
The despondent father told The Standard that despite his efforts it had proven almost impossible to get a donor with Cheruiyot's blood type, which is B-positive.
He said a woman had contacted him and said she was prepared to donate, but she would not say if she would ask for money.
"I am planning to meet the donor prior to my wife's delivery so that we agree on the modalities of the donation," said Sawe.
The situation is dire at the hospital, which requires at least 60 pints of blood every day. By yesterday afternoon there were only 40 pints in stock.
"When somebody needs blood for surgery right now, they have to find their own blood," said hospital superintendent Joseph Mburu.
To try and mitigate the situation, Dr Mburu said they have set up a blood donation centre.
"We opened the unit because we were not receiving enough blood from KNBTS. For instance, we only used to receive about 40 per cent of what we need and even then it was not guaranteed."
The doctor said staff at the blood centre regularly conduct sensitisation drives to attract donors. "We also ask church leaders to help us mobilise donors. When all else fails, relatives have to donate to help save lives."
Kevin Odhiambo, a patient at the hospital, has been forced to postpone surgery for the last three weeks due to lack of blood.
The 26-year-old boda boda rider was hit by a vehicle on April 26 and lost a lot of blood. Relatives and friends gave blood and saved his life, but it has not been enough.
Develop complications
His elder brother, Fredrick Odhiambo, claimed that at least 10 relatives had donated blood. "It has taken us three weeks to source blood for my brother. I am worried he might end up developing other complications."
Another patient, Linet Otieno, said she had to wait nearly 10 hours for a transfusion after giving birth.
Ms Otieno had delivered at the Lanet health centre in Bahati on June 3 before she was referred to the Level 5 facility due to excessive bleeding.
According to medical records, the mother of two arrived at the hospital at around 2 pm but only received blood at 3 am the next day.
"A doctor who received me said there was no blood. I was getting weaker and weaker, but I am grateful they saved my life," she said.
A Health Ministry report has identified post-partum bleeding as one of the leading cause of maternal deaths.
Chief Administrative Secretary (CAS) Rashid Aman admitted that the country is experiencing an acute shortage of blood.
Dr Aman, who spoke during a telephone interview, attributed the current crisis to the Covid-19 pandemic, saying that donors feared to visit the donation centres for fear of contracting the coronavirus disease.
The CAS also said that leadership wrangles at KNBTS had affected the blood donation drive, adding that the ministry was keen to address the issue.
"We do not want anyone to die due to lack of blood. The ministry is, therefore, strengthening the ability to run blood transfusion drives," the CAS said.
He continued: "It is clear that Kenya has been dependent on donors. But after they pulled out, we are working on proper measures to ensure patients in need of blood receive it so we can save lives.
According to the ministry, the country requires 1,275 pints of blood daily. It used to collect 450 pints but the volume has since dropped to 250 pints.
Last week, Aman spearheaded a three-day blood drive at the Kenyatta International Convention Centre. The initiative was organised by Damu Sasa System Ltd and aimed at creating awareness on the importance of blood donations as well as increase stock in the country's blood bank.
A report by Bloodlink Foundation Executive Director Joe Wang'endo indicated that the cost of producing one unit of blood is estimated at Sh7,000.
World Health Organisation guidelines dictate that for a country to be blood secure, one per cent of its population should donate blood.