Railway brings old memories and businesses to life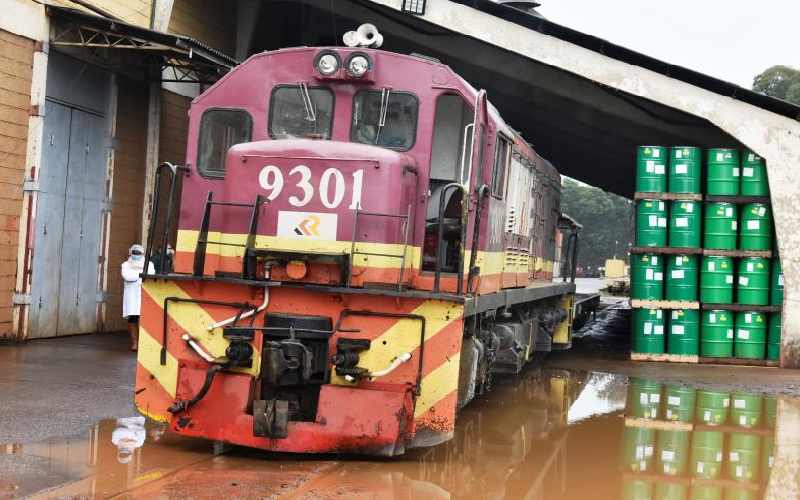 At least 12 firms have signed up to use the revived railway between Nairobi and Mount Kenya region.
Already traders and industrialists in Thika have started cashing in on the revival of the old railway line.
Cargo train services between Thika and Nairobi's Internal Container Deport have since resumed.
The services were terminated more than 10 years ago following widespread derailment incidences on the Thika-Ruiru section of the old metre-gauge line.
Thika, and by extension, Kiambu is home to major industries like Del Monte, Bidco, Thika Cloth Mill, Devki and other medium and small industries have been previously relying on road transport to ferry products to Nairobi's internal container deport.
The resumption of train services is also expected to be a major boost for the government's push to ease transport in Nairobi and its environs.
Del Monte's production director Wayne Cook described the return of cargo train services as a major boost to timely arrival and departure of the company's products.
According to Cook, the fruit processor has been transporting 2,400 tonnes of canned pineapples on revived railway line every week.
"I thank the government for reviving this dependable means of transport. It has cut transport costs compared to using road transport. In addition, our products arrive at their destination on time," he said.
The revival of the cargo train service between Thika and Nairobi comes at a time the government is encouraging industrialists to ditch heavy trucks when hauling heavy cargo, which it blames for destroying roads.
Another firm that has signed up to use the revived line is Thika's juice and energy drink manufacturer, Kevian Kenya.
The firm's managing director Kimani Rugendo described the rehabilitation of the line as long overdue. "This is a service that we required by yesterday," he said.
The return
In the early 70s and 80s, the railway line linking Thika, in Kiambu County, to Nanyuki in Laikipia County through Narumoru, Chaka, Karatina, Sagana and Maragua, was a major corridor for transportation of farm and industrial goods.
In its heyday, major industries in the larger Mt Kenya region, from Thika to Nanyuki and other neighbouring counties, used the line to ferry their goods before it fell to disuse.
The ongoing Sh5 billion rehabilitation of the line, which is 80 per cent complete, will see four cargo trains dedicated to the route.
According to Kenya Railways (KR) manager in charge of operations James Siele, at least 12 firms that deal in agricultural, fuel, steel and vegetable oils trade have already expressed interest in using the revived railway.
Speaking separately, Kenya Railways member of the board of directors James Mithika announced that railway stations at Nanyuki, Narumoru, Chaka, Karatina, Sagana, Maragua and Thika will be revived.
"The dividends will be immeasurable, with tea and coffee farmers as some of the main beneficiaries," he said.
Siele said KR had embarked on intensive marketing of the revived line, offering promotion rates and volume discounts as incentives to get on board as many companies as possible.
Not everyone is excited by the return of the old railway, with road transporters who are likely to lose lucrative transport contracts already complaining.
"The railway can never match the number of employment opportunities we offer," said one transporter who did not want to be named.
However, industrialists say there is still space for road transport. "Not everyone has a rail side, so they will still get business," said Rugendo.
Thika Town MP Patrick Wainaina said there would still be jobs for truckers ferrying goods between various termini in the region.