Keroche heiress' lover to face murder charge, says police as families disagree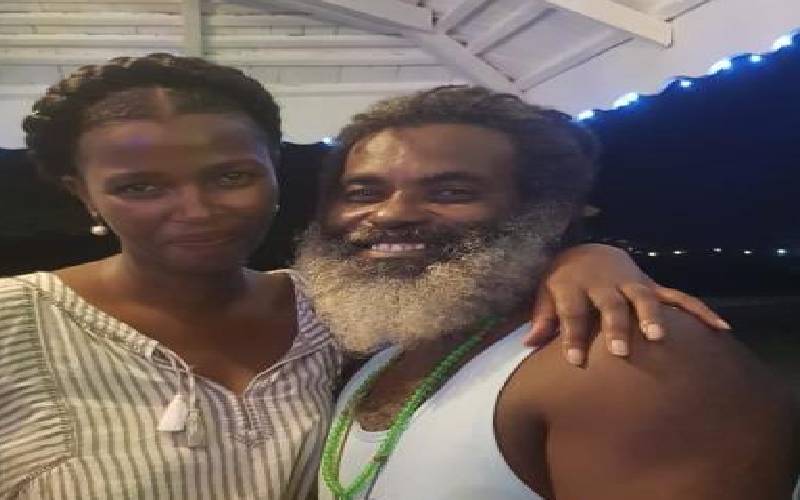 Omar Lali Omar, the man now accused of killing the daughter of billionaire Tabitha Karanja, is not angry with those behind his woes even as police confirmed they will press murder charges against him.
He says while in remand, his love for Tecra Muigai and the memories they shared together kept him going.
"Although it hurts that I was not there to send her to heaven, I know she is well and she knows I miss her," Omar told The Standard in an exclusive interview from his home in the island's Shela village.
He was arrested on May 2 and released on May 29, 13 days after the burial of Tecra in Naivasha. This is what Omar -- a 51-year-old fisherman, father of five girls and a boy, three-time divorcee -- says of the events of the night of April 23.
He got to the luxury rental house he was sharing with Tecra at around 6pm, had dinner, took some vodka, ate some more and then slept at a couch stretched out on the second floor.
The last thing he remembers about the moments before he fell asleep were the plans they had been brooding of a future together. He is not sure if any dreams visited him that night.
But he is sure of a few facts -- the loud thud that woke him up, the discovery of her at the bottom of the stairs, a mad dash to a dispensary and later a referral hospital to get Tecra medical attention.
However, law enforcement say Omar -- a nearly illiterate school drop-out, beach boy, mysterious boat operator with no known stable source of income -- has a case to answer.
After a night of drinking and merry making, an argument ensued between him and his lover Tecra. The argument later turned physical and he hit her so hard she fell down a flight of stairs, badly injuring the left side of her face.
"We have enough evidence to prove that it was murder," DCI boss George Kinoti told The Standard yesterday.
According to the post-mortem, the actual cause of her death was not just inconclusive: Omar and Tecra's families would not agree on the report.
While they agreed on a cause of death -- trauma to the left side of the face as a result of a fall down a flight of stairs -- they could not agree on what caused the fall. Was it accidental or intentional?
Named the only suspect in the death of Tecra going on two months, Omar is yet to be charged with murder but spent 27 days behind prison bars.
On the day of his release, all indications were that he would spend another night behind bars. His mother had all but given up. Tecra's family, led by lawyer James Orengo, and the prosecution were intent on getting another seven days to continue with their investigations, but the magistrate issued a bond order that shone a light on Omar's wish to spend the night with his family.
More evidence
The bond was set at Sh300,000 by the courts. The family didn't have the money so they put up collateral. Title deeds to two pieces of land were submitted. One, for the house that Omar grew up in, the other belonging to his mother's family. And the surrender of Omar's passport.
At around 5:30pm, the doors opened and Omar stepped out into the narrow corridor of the cell block. Dreadlocks held back by a colourful hairband, a tri-colour vest and a kikoy trouser, he faced east, knelt down and murmured a prayer to Allah.
A speedboat waited at the main Lamu jetty to take him to the other side of the Island. "Lakini sina amani bado moyoni (I have no peace)," he says. "I know they are missing their daughter too."
The prosecution indicated that the state was still gathering evidence that would help them piece together events that led to the death. Investigators have made multiple visits to Jaha House, where the two spent most of their times. Multiple statements have been taken from the doctors who attended to her. Omar has been questioned many times.
He had no alibi. He admitted to being in the company of Tecra. To taking her to Shela Dispensary first for first aid, then to King Fahd Referral Hospital for further checks. To calling Tecra's mother who was away in Nairobi and informing her of her daughter's deteriorating situation. He admitted being among those who flew with Tecra to Nairobi aboard an air rescue ambulance.
By every account, Tecra was a rare person. Born in May of 1990 in Naivasha, she was the fourth and last born child of Joseph and Tabitha Karanja.
On the day she was buried she was eulogised as someone who had created a distinct identity that set her apart from her peers. As an enthusiastic individual full of curiosity. A curiosity that perhaps led her to Omar's path on June 6, 2019 when the two met.
Now, from the breeze kissed shores of Shela, Omar awaits the wheels of justice to turn. He says he only hopes for two things.
Private burial
"That the wheels turn in my favour and that I never stop seeing her face or hearing her voice every time I close my eyes to dive into the ocean."
For now, both the Karanjas and the Lalis have only the memories of someone who was central in their lives. Someone who was the glue in their relationship.
"She has left indelible footprints in the hearts of those who knew her," read her eulogy at the private burial.
[Additional reporting by Kamore Maina]