Questions as county projects lie idle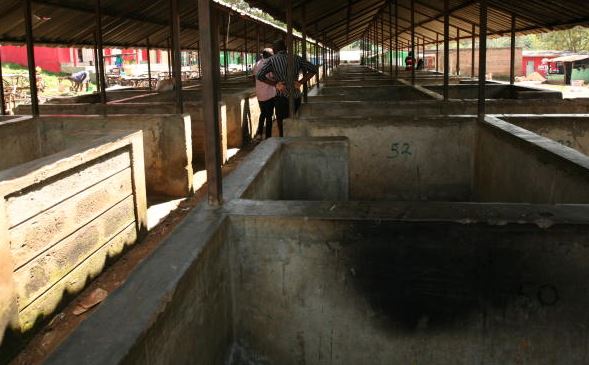 Taxpayers risk losing millions of shillings in projects that have been abandoned by contractors in county governments within Nyanza.
Some of the projects date back to the 2014/2015 financial year.
With focus having shifted to battling Covid-19, residents fear that the projects will become white elephants and turn into campaign issues for politicians every election.
The projects include dispensaries, early childhood education centres, roads, resource centres, colleges and Huduma centres.
A spot check by the Saturday Standard across the region established that some of the projects that have stalled have been vandalised.
Yesterday, a section of ward representatives blamed their predecessors, accusing them of initiating projects that were never a priority to residents.
In Kisumu, despite attempts by the county government to improve infrastructure, several projects inherited from the former regime have stalled.
At Kajulu, construction of a market where Sh10 million has so far been spent by the county government was abandoned in 2018.
Take a quick survey and help us improve our website!
Take a survey
The site is now a playground for children while women sell their wares in the open.
Area MCA Roy Samu described the market as an eyesore, saying attempts to push the Executive to complete it had been futile.
Disagreement
"It is a shame that a market that should be serving our people is lying in ruins. There are several projects that have stalled and it is very unfortunate," said Mr Samo.
At Kindu Primary School, construction of a Sh4.5 million ECD classroom has also stalled.
Residents complained that some stalled resource centres and village polytechnics had become hideouts for criminals.
In Central Nyakach ward, the construction of a Huduma Centre stalled following disagreement between the national and county government over the ownership of the land.
The project has been at the centre of controversy after it was allocated millions of shillings by the county government while critics argued that it was a national government function.
In the same ward, the construction of Sh10 million theatre at Pap-Onditi hospital has stalled.
"There are a lot of pending bills and that is why we are having stalled projects," said area MCA Philemon Ojuok.
He noted that lack of proper contract management had seen contractors abandon projects after being paid some money.
Other projects that have stalled include the Sh6 million Gombe Kokulo Resource Centre in Kisumu West, which kicked off in 2016.
Yesterday, County Director of Communication Aloyce Ager defended Governor Anyang' Nyong'o's administration and faulted his predecessor for "poor project allocation.
Measures in place
Ager assured that the administration was fast-tracking completion of the projects. "We found out that the projects were funded in stages, but we are working on their completion," said the County Director of Communication.
In Homa Bay, several multi-million shilling projects have stalled.
The projects include a Sh160 million maize milling plant at Kigoto village in Suba South Constituency.
Construction of the maize miller started in July 2015.
In August 2015 the county government launched construction of a Sh500 million factory for manufacturing animal feeds in Arujo village, Homa Bay Town Constituency. The project has since been abandoned.
Locals were optimistic the factories would create employment opportunities.
"Our youths had hope in these projects. They should be completed soon to enable residents to benefit from them," said Walter Opiyo, a resident.
Antipas Ng'ete, the Chief Officer for Trade, said the county government was putting measures in place to complete the projects. "We are re-advertising the tender for construction of the roof in the animal feeds project," said Mr Ng'ete.
In Siaya, construction of markets, health facilities and water projects has stalled – some since 2014. In Bondo Sub-county, the construction of Migwena sports complex and a modern slaughter house has stalled despite millions of shillings being allocated them every financial year.
According to the financial year 2019/20 budget, Sh10 million was set aside for the sports complex, with an additional Sh20 million in the proposed budget for 2020/21 fiscal year.
In Usenge market in West Yimbo ward, traders were forced to demolish their temporary structures to create room for construction of a Sh5 million modern market in 2015, but it is yet to be completed.
Allocated funds
The modern facility was expected to benefit at least 200 traders.
At Got Agulu hospital, weeds and bats have taken over a mortuary that has stalled for more than five years.
Area MCA Willis Ochieng' assured that Environmental Impact Assessment (EIA) of the project had been completed and that the facility would soon be completed and equipped.
In Siaya town, a modern toilet that was allocated Sh300,000 for completion in the fiscal year 2017/18 is not in use.
Construction of Sh3.4 million ECDE centre at Central Primary School has also stalled even after it was allocated funds in the 2017/18 financial year budget.
Pressure is mounting on the counties' leadership to complete the projects.
[By Harold Odhiambo, Olivia Odhiambo, Isaiah Gwengi and James Omoro]
Karua mourns death of watchdog
Narc-Kenya leader Martha Karua has said the handshake between President Uhuru Kenyatta and ODM leader Raila Odinga killed the public watchdog.