Where are the ill? Riddle of deserted hospital and beds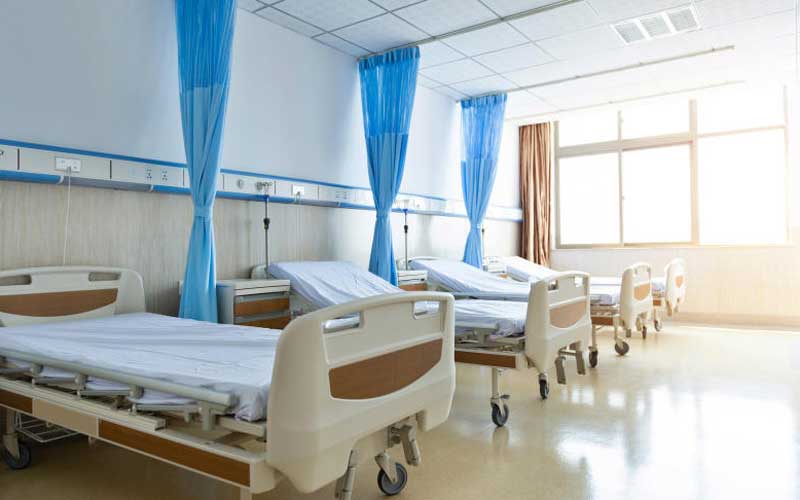 Patients are reluctant to seek medical attention until their conditions have significantly worsened, explaining higher mortality and empty hospitals. At the country's largest facility – Kenyatta National Hospital, a quarter of the beds were vacant by mid-yesterday in a rather unusual turn of events.
That level of occupancy is still an improvement from last week, where there were only 1,200 admitted patients against a bed capacity of 2,000, KNH Chief Executive Evans Kamuri said.
"Numbers are still low but we are seeing some improvements as people are getting used to the Covid-19 situation," Kamuri said, adding that the poor health-seeking behaviour was replicated countrywide.
Ordinarily, KNH's wards, including the Intensive Care Unit, are full on account of being significantly cheaper than most of the comparable private healthcare facilities.
"A major problem with this behaviour is that patients would ignore a chest or back pain and only seek medication when their condition becomes way too critical," Dr Kamuria said.
Movement restrictions imposed to help contain the spread of the virus also means reduced access to hospitals, he said, adding "including that a patient might be worried about being locked in Nairobi even after making a recovery in hospital".
One of the likely reasons for the dip in patient numbers is the fear among patients of contracting the coronavirus, as hospitals are associated with a higher risk.
Besides, there have been concerns of getting tested for the virus, especially when exhibiting symptoms similar to the dreaded Covid-19.
Faiz Ahmed Mohammed, who is based in Mombasa, shared the fears of an asthmatic mother who refused to take her ill baby to hospital. In her observation, the baby might have contracted the coronavirus given the symptoms presented.
Genetically passed
Asthma can be genetically passed from parent to their baby, a possibility in this distraught mother's case. "We have heard of many cases of patients with asthma dying in their homes…the symptoms for asthma are similar to those of Covid-19," Dr Mohammed said in a post that was shared by the World Health Organisation.
Government officials have already cited the danger of people dying at home after refusing to seek treatment in hospitals for whatever reasons.
"We are aware many sick people may be keeping away from hospitals but we encourage them to visit our facilities," said Health Director General Patrick Amoth last week. Dwindling patient numbers to private facilities is already informing new developments, including rationalisation of medical staff and proposals for sending some employees on leave.
Consequently, fresh questions are emerging on the connection between Covid-19 and morbidity rates in a country where healthcare costs are unjustifiably elevated when compared to income levels.
A single outpatient visit costs an average of Sh6,000 among the private hospitals, data from the respective medical insurers indicates.
Without these patients visiting, the private hospitals are exposed to low business and potential losses. Respiratory diseases including coughs are most prevalent of all illnesses reported in Kenya.
Data published last month by the Kenya National Bureau of Statistics in the 2020 Economic Survey and collected from hospitals showed cases of pneumonia have been rising every consecutive year. In 2019, respiratory system diseases was the leading cause of morbidity at 25 per cent or a quarter of all disease incidences
The number of pneumonia hospital visits rose from 1.5 million in 2015 to almost 2 million last year, while the disruptions of Covid-19 could mean fewer cases are reported in 2020. "Pneumonia remained the leading cause of infants and children under-five admissions to health facilities for the period 2017 to 2019," the survey reads.
Previous surveys have also shown pneumonia as persistently being the major cause of death in children despite a vaccine introduced in 2011.
Closure of educational and social places, including places of worship and bars has also translated to minimal interactions, which while averting the spread of coronavirus has also inadvertently helped contain cross-infection of other conditions.
Other possibilities linked to the reduced visitations is self-medication among patients, many having stocked up on essential drugs, to managing common ailments, including flu, when travel restrictions were imposed in March.
Limiting movements in Nairobi and Mombasa also means fewer road crashes, a fact that has already been captured in National Transport Safety Authority statistics.