Creative Kenyans develop ideas to combat pandemic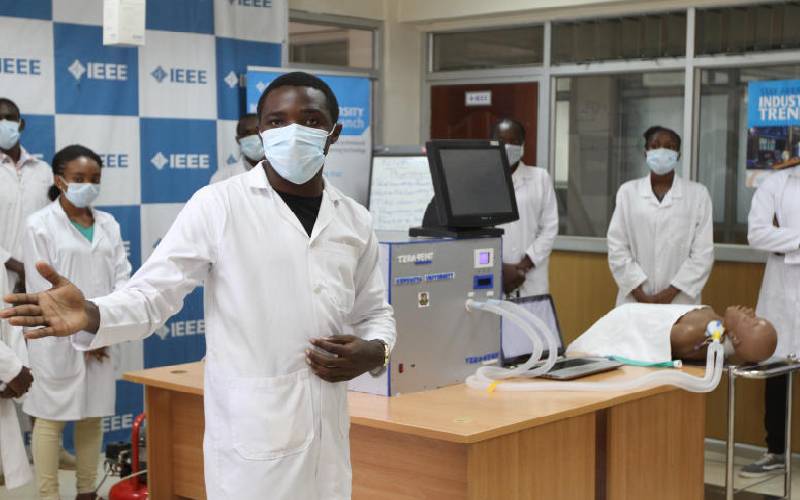 Ventilators and contact tracing applications are among innovations that Kenyans have submitted to government agencies for certification to fight the Covid-19 pandemic.
At least six manufacturers have so far submitted prototype ventilators to the Kenya Bureau of Standards (Kebs), even as the body released specifications for these and personal protective equipment (PPEs) being manufactured locally.
This is as the body seeks to standardise other medical devices, locally manufactured and imported, to aid in the fight against the coronavirus. They include thermo-guns, which are stationed in almost every public space to take body temperatures.
Those that have submitted prototypes include learning institutions like Dedan Kimathi University of Technology and Kenyatta University. Others are TotoSci Ltd, Mutsimoto Motor Company Ltd, NJA Technologies Ltd, and Metal Equipment Company Ltd.
"Yes, for ventilators we have (received for standardisation), a standard on the same has been developed and it was gazetted," said Kebs Managing Director Lt Col Rtd Bernard Njiraini.
The specifications are meant to guide the initial user evaluation of the prototypes and further development before the final certification.
It is until this final certification has been done that mass production can start for eventual consumer use.
"This crisis has been one of those moments that as a nation, we have come to realise it is important to have local industries," said Phyllis Wakiaga, Kenya Association of Manufacturers CEO, during the presentation of a prototype ventilator made by the automotive industry to the Industrialisation Cabinet Secretary.
She said while the market price for a ventilator is about Sh2 million, one assembled locally will be Sh500,000.
The push for innovation has been informed by the anticipation of a stretched health sector - both human resource and equipment - and shortages globally.
Industrialisation CS Betty Main said hopefully after the pandemic, the ideas developed during this period should be expanded.
"We hope we will not forget our innovativeness and that some of our ideas will go into full commercial production and explore new areas of business," said Ms Maina.
While it has been possible to produce masks and protective gear locally, ventilators and nasal and oral swabs have been a challenge.
Command centre
The swabs are used to collect samples from the nose and throat, which are then tested for Covid-19.
Speaking to The Standard, ICT CS Joe Mucheru said for instance, they have been approached with 50 contact tracing apps.
"We have a command centre that has already been doing the contact tracing using apps, nothing foreign, all built by Kenyans. So whereas people have come up with innovations, we have been doing that internally," said Mr Mucheru.
He said the ministry had also set up an advisory committee to handle the new innovations being brought to them.
"The ICT Covid-19 advisory committee, led by the Communications Authority, was gazetted. They are receiving these innovations and seeing how best to either commercialise them or provide whatever support is needed, and not just on contact tracing," he said.
For innovations that are not Covid-19 related, innovators can submit them at whitebox.go.ke. Mucheru said the government's main role is policy, and funding is dependent on the individual innovation and how far it has gone.
Patenting
John Onyango, the Managing Director of Kenya Industrial Property Institute (KIPI) said it is important for innovators to register for patent rights before disclosing and letting people know what they have come up with.
"We have realised that some of them don't know that they need to protect their ideas from being stolen. We are engaging with them so that when they come up with something they come to us for that protection," said Mr Onyango.
He said KIPI is working closely with SMEs, the juakali sector and individuals involved in production of PPEs and are processing patent for various innovators.
"We are also working with Kenya Industrial Estates to provide funding. Testing and certification is being done by Kebs to ensure international and local standards," Onyango said.
Carole Kariuki, Kenya Private Sector Alliance (Kepsa) CEO, said the private sector supports local innovators in producing own masks and scrubs.
The Kenya Assocation of Manufacturers has also invented a ventilator dubbed 'PUMUAISHI 2.0'.
"75 per cent of the material needed to manufacture this ventilator is locally available, therefore more capacity to produce this ventilator on a large scale of about 3,000-5,000 per month," said KAM's Phylis Wakiaga.