Fearless unionist Kimani Wa Nyoike takes final bow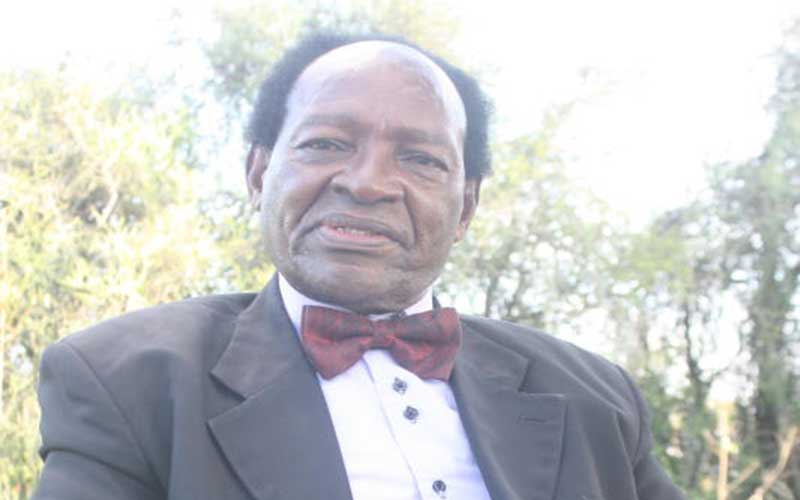 Whenever Kimani Wa Nyoike (pictured) took the microphone, his mastery of Kikuyu, English and Swahili captivated the people. He relished politics and outwitted his rivals, at times making them the laughing stock during campaign rallies.
And he lived true to his words that once salt has lost taste, it ought to be cast away. This is a dictum he adopted after he lost the Kipipiri by-election in 1995. He vanished from Nyandarua politics, but left his followers with fond memories of his golden days.
According to those who worked closely with him, the veteran politician who breathed his last yesterday at Nairobi Hospital aged 85 was a unionist per excellence. He learnt politics from a relative, Eliud Wambu Mathu, a pioneer lawmaker and freedom fighter.
Apart from serving at the helm of the Kenya Union of Civil Servants, Nyoike, who was yesterday described by President Uhuru Kenyatta as "vibrant and fearless leader," also served as an MP and assistant minister in the 1980s.
But it was in Nyandarua, where he had the knack of tearing apart Cabinet minister Kabingu Muregi every time they met. Stories are told of how he could make a competitor's parents and relatives disown them in public.
During his time in Parliament and as an assistant minister, Nyoike drew the ire of the powers that be when he was accused of disrespecting the President after he allowed school children to sing Tawala Kenya Tawala as he listened.
In his condolence message, President Kenyatta said the late politician was never afraid of speaking his mind.
Suicidal decision
"Kimani was a brilliant and steadfast politician who never shied away from expressing his views on issues of national importance. He was a firm believer in social justice," read the President's statement.
Uhuru said Nyoike distinguished himself as a fierce defender of multi-party democracy and the rule of law having participated in the clamour for multipartyism in the late 1980s and early 1990s.
"We will forever remember him as a progressive politician who helped shepherd multi-party democracy," the President said. Former Nakuru North MP Koigi wa Wamwere described Nyoike as a "comrade in the struggle whose efforts cannot be erased from the history of the country."
Mr Koigi, who was a political detainee, recalled how Nyoike turned from a firebrand unionist to an MP before his political career was interrupted by a jail term as the struggle for multipartism gained traction. He said their paths crossed when the unionist reacted to a story he had written in the Sunday Post about the plight of forest rangers who whose pay was low.
"He was older than me, but Nyoike was truly a fighter of oppression and for the down trodden in society. We met later in Parliament when he was the MP for Nyandarua South and supported any Motion that was fighting for the welfare of workers," said Koigi.
The Union of Civil Servants that Nyoike led was a big force in the fight for workers' rights and rubbed the Kanu government the wrong way. Koigi recalled how the maverick courted trouble with the government when he did the 'unthinkable.'
He said that during the one party regime, Nyoike who had travelled to the US for personal business decided to pass by Oslo in Norway where he (Koigi) was in exile and Stockholm in Sweden to check on Kimani Ngumba, also regarded as a renegade.
"The MP had gone for the graduation of his daughter in the US but later made what I would call a suicidal decision. He decided to check on me in Norway and Ngumba in Sweden at a time when no one wanted to associate himself with exiled politicians," he said. In one of his books, I refuse to die, he remembers Kimani as one of the leading lights that kept the second liberation flame alight with their "selfless acts."
"In the 1970s and early 1980s, many had been detained without trial by the government. Then there was a lull until 1988 when the jailing of Kimani wa Nyoike for his association with exiled politicians ignited a new wave against the perceived dissidents," Koigi said.
In the advent of multipartyism, Nyoike joined hands with Ford but later moved to Ford Asili when Kenneth Matiba parted ways with Jaramogi Oginga Odinga who formed Ford Kenya. Nyoike later applied for the registration of Ford People. He exited parliamentary politics in 1995 when he lost the Kipipiriri by-election after the death of Lavan Muchemi.