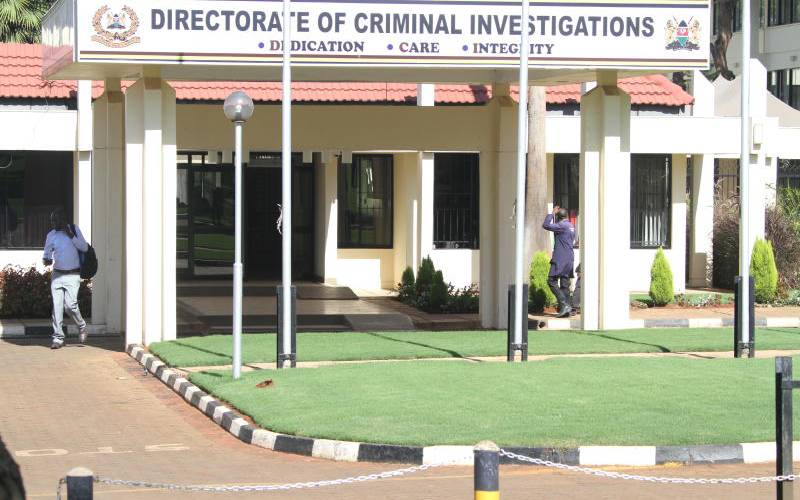 Police are waiting to charge Peter Wangai, the founder of Goldenscape Greenhouses, with conning thousands of investors millions of shillings through a pyramid scheme.
Investigators say Mr Wangai will also be required to answer to charges of obtaining money through false pretense.
Wangai is suspected of conning more than 1,000 investors into buying into his investment scheme.
He was released on a police bond after his arrest last month, and has since been reporting at the Directorate of Criminal Investigations (DCI) everyday between Monday and Friday.
Read More
With the courts closed owing to the raging coronavirus pandemic, however, the DCI has its hands tied on when the suspect will be arraigned.
Reconciliations of claims indicate that Wangai's victims might have lost more than Sh900 million to Goldenscape Holdings and 16 subsidiaries.
At least 1,300 victims have joined a civil petition against Wangai in an attempt to recover some of the lost monies.
Money trail
Detectives say they are following the paper trail of the lost cash.
"We have managed to trace some of the properties which we want preserved so that their ownership status is not interfered with," said John Kariuki, the director of investigations bureau last week.
According to Kariuki, the pending criminal case against Wangai would run alongside the civil petition as investigators have collected sufficient evidence to back both.
"Investors can only recover their money if they succeed in their civil petition against the suspect," he said.
Police say that thousands of investors trusted Wangai with their money, which is likely to run into billions as more claimants come up, including one who lost Sh1.9 million.
They said most initial investors were paid handsome returns as a bait to lure more people before the business collapsed.
Discussions in a social media group formed by the investors indicate that many of those paid decided to reinvest the returns, buying into more plots of land and greenhouses.
A complete package of greenhouse, the irrigation equipment and farming cost Sh320,000. Investors were promised Sh550,000 in returns within one year.
Police say that Wangai promised investors super returns through some 16 businesses he operated, including the massively-marketed fresh produce retailer called Verdura Groceries.
The suspect promised that through the retail outlet, produce from the investors' greenhouses would find a ready market.
Goldenscape Group had interests in property business before branching out to other areas such as selling liquor, tree growing, timber treatment and processing and real estate.
Investors in the company were also offered a platform to save their money in Goldenscape Sacco.
Wangai was first arrested late last month after going into hiding for days following complaints by several people who recorded statements with the DCI.
Reports indicate that in December last year, the suspect made payments to some complainants in cheques that later bounced as the firm's bank accounts did not have sufficient funds.
A representative of the victims told The Standard that a team of officials had been selected to spearhead the petition to recover their lost funds.
Police say that Goldenscape Group has interests in hospitality through Merkel Eco Resort, in agriculture through Goldenscape Nurseries, Tunda Farmstead and Goldenscape Tree Africa.
It is also into construction through Goldenscape Architects, Silverstone Properties, Goldenscape Technical, Actualize Interiors and in commerce through Orion Online Mall, Verdura Gorceries and Vinepack Wines and Spirits.
In logistics, the group has been linked to Baldev Merkel and Oriuon Brice Technologies.