Farewell Ken, the man who inspired many to take up journalism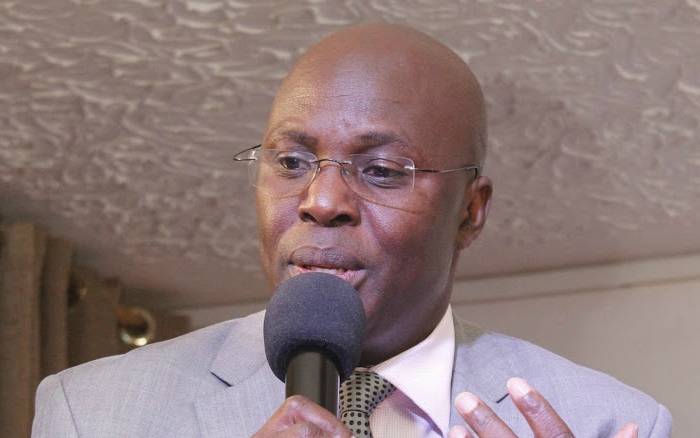 It weighs heavily on me to think and write about Ken Walibora as a person who is gone forever.
It weighs on me because he played a critical role in my career journey. I met Prof Walibora (above) in 2001 when I travelled to Mombasa to attend a Kiswahili conference.
At that time, I was a master of arts student at Kenyatta University studying Kiswahili and linguistics.
Travelling to Mombasa was proving a tough assignment. Whereas I had my paper ready for presentation and had submitted my abstract to the conference organisers, I did not make it to the list of presenters. Being picked as a presenter at the conference would have eased my burden as I would have at least been allowed university transport.
Still, I was determined. I approached my lecturer, Prof Kimani Njogu, for help. He tried to secure me a place in the university van but failed. Seeing how determined and desperate I was, he offered to pay for a one-way bus trip to Mombasa.
My heart jumped in excitement. I had just collected and cashed a Sh800 payment voucher for two articles I had contributed the previous month.
Surprise arrival
For accommodation and my way around Mombasa, my newfound friend, the late Ahmed Juma Dharwesh, who I had met during a Kenyatta University Culture Week event and later worked with at KTN until his demise in 2015, had assured me all would be well as long as I got myself to Mombasa.
On the day of the conference, my lecturers who had already travelled to Mombasa were surprised when they saw me arrive for the event is full Swahili regalia – a kanzu, complete with a cap, thanks to Dharwesh who picked me up from the bus station and hosted me at his house in Mtopanga.
There was one other person who was pleasantly surprised to meet me, and that was Ken Walibora.
At that time, he was working at NTV as a news anchor. While he had been reading my stories and other articles published in the Daily Nation, he had never met me in person.
He was, therefore, trying to reconcile the young man he was seeing donned in coastal regalia and speaking fluent Kiswahili to the Kizito Namulanda who wrote creative pieces and book reviews in the newspaper – in English.
When we took the first break, Ken approached me with his trademark beaming smile saying: "Kizito Namulanda, ni wewe ambaye huandika makala ya watoto katika Young Nation?" (Kizito Namulanda, are you the one who writes children's articles in the Young Nation?)
That is how our conversation started, and it went on and on. Ken wondered why I never wrote in Kiswahili as well. We struck a chord, shared a lot about the Kiswahili language and even exchanged numbers.
I thought that was all, perhaps until the following year's conference, but was surprised when a few weeks later, my mobile phone rang and when I picked the call, I heard Ken's voice on the other end: "Kizito Namulanda, uhali gani?" (Kizito Namulanda, how are you?)
For some reason, Ken always called me by my two names. He said he had called to interest me in some assignment at NTV.
He explained that he needed a part-time translator to translate news scripts from English to Kiswahili for a period of two weeks. He explained that while he had no doubt I could do the translation well given his assessment of me during the conference, he did not know anything about my typing skills.
He was right. My typing skills were wanting, but I was not ready to let him down. So, I quickly thought to myself, what can I do to upscale my speed? I asked him for one week, giving the excuse that I needed to complete my college assignment.
Loud welcome
Ken laughed softly and asked me whether news would wait for that long. My one week was then reduced to two days. My path to a journalism career was set.
Two days later, when I arrived at Nation Centre, Ken Walibora welcomed me with a broad smile, calling out my name loudly – "Kizito Namulanda!" This became the norm and most of my colleagues at NTV at that time were soon calling out my name loudly.
After a few months of working with Ken, knowing my academic background, he started referring to me as msomi (scholar).
He always liked the fact that I had a master's degree in Kiswahili, and even more, that I chose to write my dissertation in Kiswahili and not English. Those days, most dissertations, including those on Kiswahili, were done in English.
We had long discussions with Ken. I kept stressing to him that my holding a master's in Kiswahili was not a big deal, and that anyone could do it.
It was these discussions that encouraged and challenged Ken to go back to school. He enrolled for his bachelor's degree at the University of Nairobi. He was determined to stand before Kiswahili scholars in his own right as a scholar too, not only as a writer.
Ken also believed that he could contribute better to the growth of Kiswahili as a scholar. He never looked back, and went on to earn his master's and PhD degrees in the US.
It was very exciting talking to Ken after he came back with his PhD. He always reminded me how grateful he was that I had encouraged him to take up the challenge and go back to school in his late 30s. That made me proud, knowing that I, too, did something that changed the life of someone who opened the door to my career.
Buriani, Prof Ken Walibora.
The writer is the Newsroom Convergence Manager at the Standard Group.