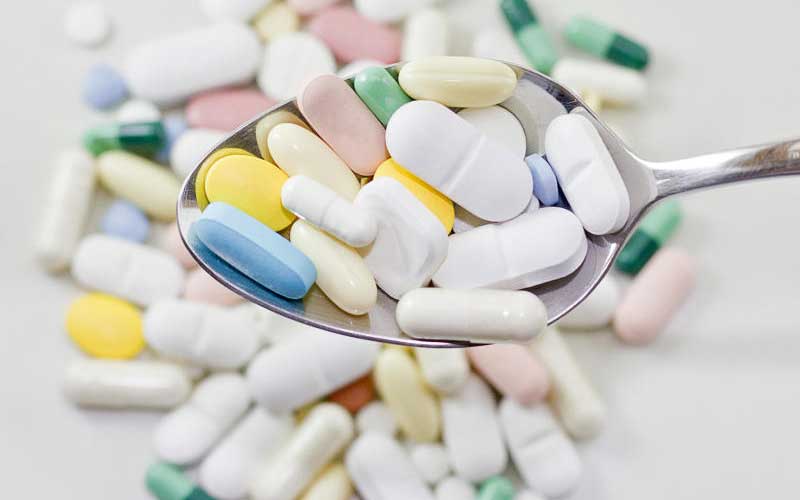 Most patients are still being prescribed too many medicines; above what is safely recommended by the Ministry of Health.
A new investigation shows patients are taking away up to eight medicines per prescription against the recommended maximum of two.
This means patients may be over-consuming medicines, risking serious side effects and increasing the cost of health care.
"I can't go back to a doctor who gives me one or two medicines," said Jane Mwabia in a small WhatsApp group conversation My Health instigated last week.
Read More
Majority of the 'Nyumba Kumi' groups in Umoja estate, Nairobi said three to four medicines would be a reasonable number, but fewer would be a bit too thin.
Over prescription of medicines, has been a chronic problem in Kenya, blamed on incompetent and greedy medics and patients like Mwabia who equate more drugs with better treatment.
A report published last month by Dr Aggrey Nyabuti of the Ministry of Health, Kisii County, and Prof Faith Okalebo and Dr Eric Guantai of the University of Nairobi, tell of massive wastage of medicines through over prescriptions and poor patient care.
The team had investigated the prescription of medicines in lower level public facilities in Kisii County and unearthed massive misuse and wastage of drugs.
While on average patients got about three drugs (2.9) in a single encounter with a clinician, this would go up to eight medicines.
"No facility prescribed within the WHO recommended optimal range of 1.6-1.8," says the study.
However, the Ministry of Health, says the over-prescription of medicines, called polypharmacy or irrational drug use, is widespread throughout the country.
Patients expect it
"Irrational dispensing was demonstrated – in 70 per cent of public health facilities," said the ministry in the current Pharmaceutical Sector Baseline Survey.
Emerging evidence, however, shows patients and their guardians are partially responsible for pressurising doctors to give them many drugs; or else they do not come back.
Mwabia, a member of the mobile phone-based M-TIBA programme said without a significant load of medicines she does not feel adequately treated.
A study on prescription trends in M-TIBA affiliated clinics last year found high rates of over-prescription of antibiotics some linked to patient' demands.
"Apart from the disappointment, some patients will insist or become violent, yes, they would insist, especially the old ones, they would insist you give drugs even where not required," said a clinical officer.
But while many clinicians were quick to overprescribe, the Kisii investigation shows most are not listening to or assessing their patients long enough.
On average, the doctors were found to spend about four minutes and sometimes just about one minute with the patient against the recommended 10 minutes.
"Insufficient consultation time can lead to an incomplete examination of patients and subsequently irrational therapy," says the authors, all of them accomplished medical doctors.
James Mundia, in the WhatsApp conversation, which we had used so as to observe social distancing, described his experience at a leading eye hospital 'like being in a conveyor belt."
"From the cashier to half a dozen tests to theater and cashier again, you hardly ever talk to a doctor," said Mundia.
Mundia who was paying, from his pockets after his NHIF card failed, says was happy to take away a heap of antibiotics he was prescribed. "But on reaching home I realised their use was not clear."
Only 22 per cent, of the 900 sampled prescriptions to 300 patients in the Kisii County study was found to have been adequately labeled.
Further, only 11 per cent of the patients were aware of the side effects of the drugs issued to them.
The researchers warn that the omission of patient name, storage conditions and any other special precaution concerns on the drug label can lead to serious consequences.
The Kenya Health System Assessment 2019 says Kenya has the fourth highest adverse drug reactions reporting rate in Africa. This, pharmacists say is worsened by high rates of substandard medicines in the supply chain.
Other dangers
Overprescribing, the researcher say contributes to drug wastage and makes health care expensive for both individuals and the country.
Medicines are the second most expensive component of health care in Kenya after medical workers' fee.
For example, 70 per cent of the Sh3.97 billion allocated to the Universal Health Coverage (UHC) piloting last year went into the purchase of medicines.
With roughly six out of eight of these medicines being improperly prescribed then it points to possible huge losses to the country.
Also contributing to the high cost of medicines, the report says is failure by clinicians to prescribe generics as recommended by WHO.
Only about 28 per cent of the medicines were prescribed by the generic names against the recommended 100 per cent.
"This may be partly attributed to extensive promotional activities by drug companies to the prescribers," suggested the study.
Other reasons why the clinicians are overprescribing the researchers say could be incompetency, lack of continuous education or lack of good drugs in the health facilities.