Gen Mwathethe likely to continue as boss as Coronavirus stops meetings on military succession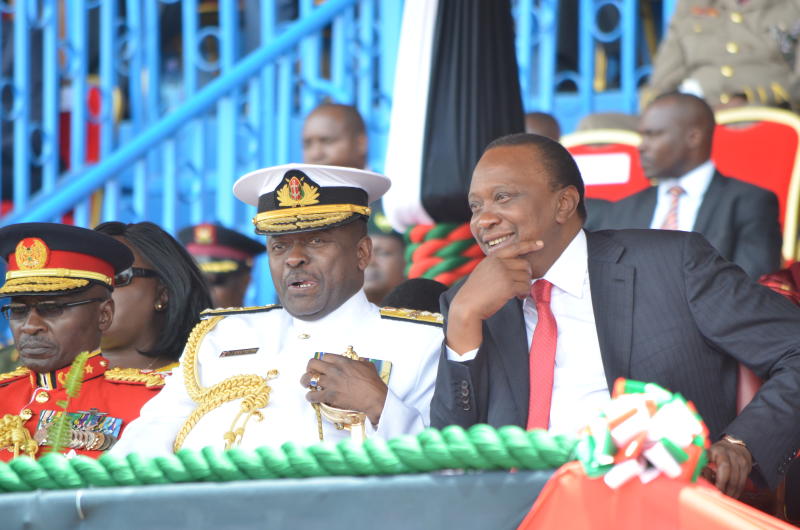 Chief of Defence Forces (CDF) Samson Mwathethe is likely to have his term extended by a year.
If it happens, it would be the second time Gen Mwathethe's stay in office would be extended. The first time was in May last year.
He was to officially leave office next month, but sources say there are no signs of ceremonies associated with the imminent departure of a KDF chief.
"If he was leaving, he would already have started visiting service command stations to bid them farewell. We would be seeing activities here and there but as of now, it is quiet. We are just waiting," the source said.
There is speculation President Uhuru Kenyatta, who is the Commander-in-Chief of the armed forces, may extend Gen Mwathethe's term by a year.
Mwathethe's predecessor Gen Julius Karangi also got two extensions.
Meetings for the military succession plans have been disrupted by the outbreak of coronavirus. Military chiefs are said to be planning to hold virtual meetings to plan the succession.
The Number One Board, the organ that decides appointment and promotion of senior military officers and retirement or extension of contracts of Kenya Army, Kenya Navy and Kenya Air Force bosses, is expected to meet this month.
The KDF Act says a CDF, his deputy and service commanders shall serve a single term of four years, or retire upon attaining the mandatory retirement age.
But the Act also says the president may, on the recommendation of the National Defence Council, extend the CDF's term for a period not exceeding one year in times of war or emergencies such as political uncertainty.
Mwathethe, a naval officer, was named CDF on April 17, 2015, replacing Gen Karangi of Kenya Air Force. This now means the seat will automatically go to Kenya Army, going by tradition.
Top on the list of those to succeed Mwathethe are his deputy Lt Gen Robert Kibochi, Army Commander Lt Gen Walter ole Raria and Lt Gen Leonard Ngondi, the force commander of the AU-UN Hybrid operation in Darfur, Sudan.
The other high-ranking officer who has a chance of being promoted to full General is National Defence College Commandant Lt-Gen Adan Mulata. He is, however, disadvantaged by the fact that he is from Kenya Air Force.
Whatever happens will depend on the outcome of the National Defence Council meeting where a decision on the way forward will be taken and the president advised accordingly.
Under the Tonje rules, the post of CDF is rotated among the three services - Kenya Army, Kenya Air Force and Kenya Navy. The rules, by Retired Chief of General Staff Gen Daudi Tonje, have guided appointments in KDF.
There has been silent lobbying by those hoping to succeed Mwathethe.
The new CDF will oversee the transition from the Kenyatta presidency in 2022. Regarding Somalia, KDF is supposed to withdraw its troops from the war-torn country by 2021, which the new CDF will also oversee.
The KDF Act also notes that in appointing the CDF, the president shall take into account the service, seniority, military and formal civil education - a degree from a university - and military and security experience.
A military general is supposed to retire at 62, a Lieutenant-General at 61, a Major-General at 59 and a Brigadier at 57 years.