Prophets of boom?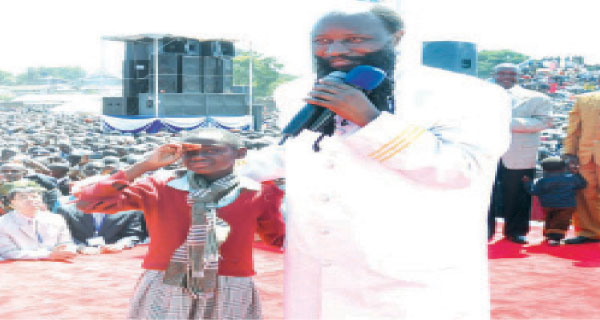 Prophet Awuor PHOTO:COURTESY
By David Odongo
A President from an East African nation will soon be kidnapped by terrorists, renowned Nigerian televangelist TB Joshua has prophesied.
The televangelist also said he saw a vision of people having a good time in a nightclub before it was blown up.
His prophecy has got many Kenyans worried even though the pastor clarified that Kenya was not the East African country he is prophesying about.
TB Joshua, whose net worth the BBC puts at between Sh850 million and Sh1.27 billion, is said to have given several prophecies in Nigeria, most of which have come true.
But Kenya is no stranger to prophecies. And one man who has stood out in Kenya when it comes to prophecies is Dr David Owuor.
Since 2005, he has been prophesying about the doom that would befall the country unless the nation heeds his call for a national repentance.
Prior to the 2007/2008 post-election violence, he constantly talked about seeing blood flowing in the country because people had refused to repent.
And when the violence happened, he said it was because God was angry at the rot in the society in general and in the Church in particular. He also claims to have prophesied about the recent Westgate terror attack.
On September 30, Prophet Owuor released a video detailing his one-year-long prophecy of the terror attack.
The video shows that on July 9, 2012, the prophet, while speaking in Austria, warned that a dark day was coming for Kenya. He then repeated the same prophecy while in Dublin, Ireland's capital, on November 25.
He talked of several explosions, Arabic-speaking terrorists, and armored army vehicles, much like what happened at Westgate in September.
Dr Owuor's other fulfilled prophecies include the Oslo terrorist attack in Norway; Israeli Embassy attack in Cairo; Australian Floods and Cyclone Yasi on East Coast and Malawi earthquake.
Kenya has experienced a slew of prophecies by other individuals, long before Dr Owuor came into the scene.
Such individuals include Morris Cerullo, Reinhard Bonnke, Bruce Wilkinson (author of Prayer of Jabez), Prophet Bartaseh and Thomas Manton.
Theological experts say that since the Tukutendereza revival that swept across eastern Africa came to an end in 1978, Kenya has never had any prophets with a national stature.
The revival left in its wake a new firebrand of evangelists and teachers who went on to form some of the most successful and vibrant ministries in Kenya such as Deliverance Church and Redeemed Gospel Church.
With the re-emergence of God's voice through people who the church considers laymen like Dr Owuor, there were bound to be mixed reactions.
That is why when it comes to prophecies, many Kenyans are skeptical. So the question is: Are prophecies real or just the figments of some preachers' imaginations? And if they are true, how do you separate chaff from the wheat?
"Most of what we call the voice of God is first evident in events around us before we hear them through the mouth of prophets," Paul Okumu, a seasoned journalist, who has been a leader of Kenya's Christian Journalists Fellowship, said in an article published in The Shepherd newspaper in August 2007.
Writing after a series of earth tremors hit Nairobi, followed by Dr Owuor's claims that the events were a fulfillment of his prophecies, Okumu said: "It is not enough to ask whether Dr Owuor or past prophets are sent by God or whether their prophecies will happen. That is a perilous approach that presupposes that all prophecies must come true just because they are from God."
Okumu then gave five cardinal rules against with which to test any prophecy for its accuracy and truthfulness.
First, every prophecy – whether of hope or perceived doom – must be tested against sound doctrine and acceptable biblical truth. "God has never, and will never, speak what is outside the scope of the written Word," he said.
Secondly, the person and character of the prophet matters. This is because prophets are conveying a message that must be accepted and acted upon by many people like happened in Nineveh.
"The prophet must of necessity exhibit the fruit of the Holy Spirit and the character that is generally expected of a true servant of God," said Okumu.
He cited an article published in a little known paper that attempted to address the character of Dr Owuor, terming it "the most sober discourse that has come out of the cacophony of voices that seem to characterise the debate on whether or not God is about to hurl fire and brimstone on Kenya for an apparent amorous behaviour..."
Theologians also propose the use of "redemption clause" to test prophecies. They say that all prophecies, except those that are directly related to end-time – and must therefore happen – must have an escape clause linked to God's redemption. In other words, the prophecy can only come to pass when we do or do not do certain things.
The timing of the prophecy also matters.
"Prophecy must agree with other known prophecies, the overall will of God and events that are
Uhuru's ICC trial date moved to February 5
President Uhuru Kenyatta will now stand trial at the ICC in February 2014 if Kenya's petition to the United Nations Security Council seeking a deferral of proceedings for a year fails.