Excited crowds greet President Uhuru Kenyatta on return from The Hague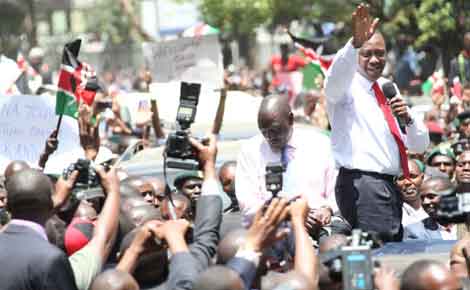 President Uhuru Kenyatta addresses Kenyans outside Harambee House.
NAIROBI, KENYA: President Uhuru Kenyatta returned to the country from The Hague to a rousing reception from massive crowds that lined city roads and with a message that Kenya would not be intimidated by powerful nations.
On arrival at the Jomo Kenyatta International Airport (JKIA) at 6.30am Thursday, President Kenyatta inspected a guard of honour and thereafter held a meeting with his deputy William Ruto who had stepped in for him.
From JKIA to his office at the city centre, his entourage made several stop-overs along Outer Ring and Jogoo roads to acknowledge cheers from crowds, waving miniature national flags. The last address was outside his Harambee House offices.
The presidential convoy stopped at City Cabanas, then Kenya Pipeline-Embakasi round-about, Tassia junction, Donholm, Makadara, City Stadium, Muthurwa and finally at Harambee House, in a show reminiscent of 2011 when Uhuru and Ruto returned from their initial appearance at The Hague.
ANTI-ICC RHETORIC
However, Thursday's display was high profile as it had all the trappings of State power like the sleek presidential limousine bedecked with a national flag with elite presidential guards attending to the Head of State.
But the common denominator with the 2011 reception was the fiery anti-ICC rhetoric and in an apparent attack on Western nations and The Hague court, the President said the move to summon him was a waste of his time but nevertheless he had chosen to attend.
Uhuru tore into the ICC saying the court expected him to defy their summons or embarrass the country by parading him in the dock as the first sitting president.
He said he had outmanoeuvred his detractors by handing over power to his deputy before departing the country on Monday so that the sovereignty of millions of Kenyans who had voted for him was not breached.
"We do not fear those people. They thought they would summon me there and then I refuse to go. We told them that we will go but if you think that the President is going there, you are mistaken since Kenya has remained with William Ruto as the leader," he told jubilant supporters gathered outside Harambee House.
Ruto, who had been acting president until 6pm on Wednesday, rode in the same navy blue limousine as Uhuru. Both greeted crowds through most of the seven-hour drive.
Uhuru further criticised the international community for what he termed as meddling in Kenya's affairs saying Kenyans would not allow foreigners to set their development agenda. He said the country is only interested in forging partnerships with those ready to partner with Kenyans but not dictating their terms.
Without mentioning names, President Kenyatta mocked the Opposition leadership for allegedly "sucking up to the West to beg for money".
TRAFFIC JAM
"Some people go abroad and claim to be speaking on behalf of Kenyans but they just go to collect money. They claim to know more about the problems facing Kenyans than others. That will not take us anywhere," he said.
He assured Kenyans the Jubilee administration is firmly in charge of the country saying no amount of intimidation would distract the Government from implementing its development programmes.
The President acknowledged that the country was faced with many challenges but insisted Kenyans were best placed to solve their own problems.
"We know our problems and we know where we come from and where we are going. We have the capacity and we will do everything possible to solve our own problems," he added.
Ruto said Kenyans have resolved to unite and forge a common development agenda for the sake of peace and development.
He said time for politics was over and it was time for leaders to focus their attention on solving the problems facing the people. "Kenyans have resolved to put aside their religious, ethnic and political affiliations and work together for the sake of peace and development," said Ruto.
The DP said the Jubilee administration was focused on implementing its development projects.
"While you were away, Mr President, Kenyans prayed for you and are firmly behind you in running the affairs of this country. Kenyans have faith in your administration and we will not disappoint them," he said.
A group of young men and women linked to Nairobi Senator Gideon Mbuvi, and identifying themselves as Sonko Rescue Team, led the procession through the near 20-kilometre journey that started at the JKIA.
Among the thousands of supporters, who walked for most of the journey, were old men and women who danced and ululated.
But the grand welcome left most Nairobi's commuters and motorists caught in traffic.
Jared, who works for a courier service provider, was among the affected. He told The Standard he left Kayole at 8am hoping to get to work along Moi Avenue in an hour. But, at 12.30pm, when Uhuru's entourage stopped at the City Stadium, he was still at Muthurwa market and, on foot.