Why I quit cane project for watermelons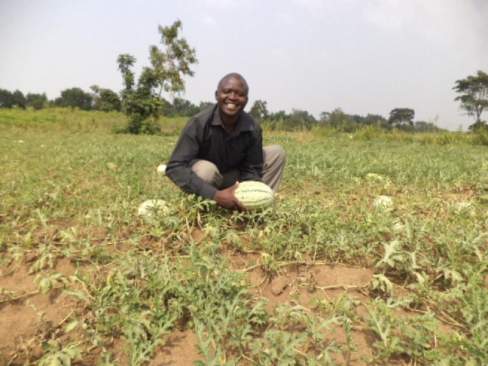 In 2007, when a cane crushing factory let down George Masai Okoiti, 39, by delivering seedlings late, he quit cane farming. His next venture was watermelon farming.
Okoiti is now a successful watermelon farmer in Busia County whose advice is sought by many in his locality. In a county dominated by sugarcane farming, Okoiti is reaping benefits from his 2.5 acres farm in Kwang'amor village, Nambale sub-county.
"I started in 2002, after being convinced by a friend," he says.
"He told me that from his a quarter an acre farm, he earned Sh125,000 within 75 days. I was impressed," recalls Okoiti, a father of two.
After going to his friend's farm and seeing the wonders for himself, he decided to give it a try.
"Before I embarked on it, he armed me with some handy tips that have played a big role in my success. He told me the weather is the main challenge. When there is a lot of sun, the crop is affected and when it is too cold, there is probability of fungal infections," says the farmer.
To start off, he took Sh40,000 from his savings and a loan of Sh80,000 and bought seeds worth Sh3,000 weighing 1kg. He used Sh50,000 for herbicides and the rest for ploughing, re-ploughing, harrowing and labour costs.
"I planted sukari F1 type of watermelons in June 2013 and harvested between September 1 to 4 the same year.The harvest was so good with some weighing as much as 10 kilos," says Okoiti.
He sold the watermelons at Sh22 per kilo and within four days, he had sold them all. He earned Sh711,000 from the harvest.
The remaining 3,000 were small and he sold them to local buyers at throw away prices.
To further boost his sales, he discovered a farmers' Facebook page — Digital Farmers Kenya — where he would post the type of watermelons, price per kilo and his phone number.
Here, he got clients from Nairobi, Kampala and Busia.
He also uses OLX to get clients who buy in large quantities.
Through farming watermelons, Okoiti has bought five plots in Nambale town where he has expanded his farming.
Okoiti says there are many types of watermelons but the one that do well is Sukari F1, which are stripped green.
For those interested in watermelon farming, he recommends that land should be tilled well.
"The land should also be flat and not hilly to prevent unnecessary loss of water," he says.
Spacing during planting should be one and a half by one metre from crop to crop and shallow planting is recommended.
DAP fertiliser works best for the fruit and mulching is done when the seeds are sprouting.
Top dressing should be done when it starts to flower that is about fourth to fifth weeks. During the dry season, irrigation should be done once after two weeks done after mulching to prevent evaporation.
"Watermelon farming needs intensive care and close supervision. You have to look for every detail like too much mist, too much sun and water affect the crop," advises Okoiti.
"Watermelon matures differently depending on weather. When it is hot, it can mature within 70 to 75 days but when the weather is cold, it can mature within 105 days," says Okoiti.
Thanks to a water pump, Okoiti is able to farm throughout the season even during dry weather hence continuous farming.
His parting shot to youth in Busia and Nambale is that watermelon is an untapped agribusiness and instead of being idle, they should try it out.