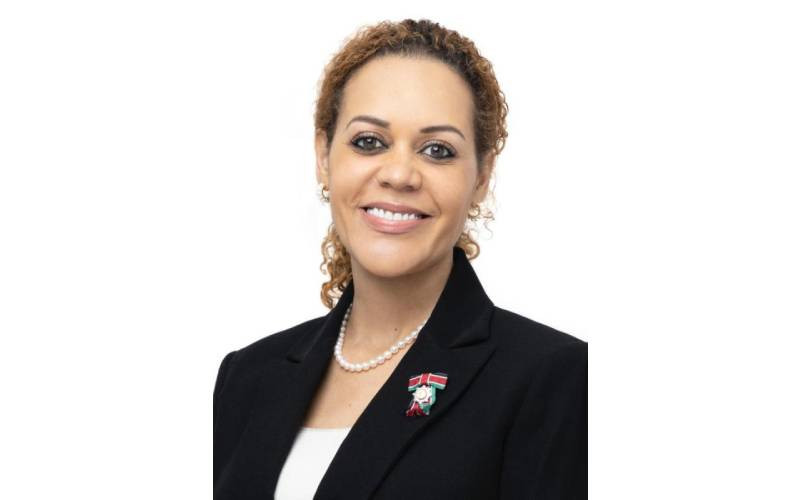 When the September 11 terror attack happened in the US, Mwende Mwinzi was a young mother of one with another on the way. She was a young professional working at the Two World Financial Centre then.
"When the buildings collapsed, I was across the street. I was buried in debris and I was pregnant with my second son," she says.
Amid the shock, she prayed and asked God that if he was to save her life, then he needed to save her unborn child's life also. When the little boy was born, safe and sound, she named him Jaden, which is derived from Hebrew and means 'God has heard'.
"When he did that, I felt I had a greater purpose than just living and it was what started my journey of service," she says.
The birth of her first son had changed who she was fundamentally and had made her think hard about the kind of world she wanted her child to grow up in. And surviving the attack along with her son cemented that resolve, paving the way for the life that she lives now.
The life-altering incident led her to start Twana Twitu, an organisation that would go on to cater for the education of over 4,000 Kenyan children, many of whom are now in various professions. She would go on to be involved in solving the country's issues on a global scale, especially regarding improving Kenya's image abroad, long before she became Kenya's ambassador to South Korea, officially designated as the Republic of Korea.
I am meeting her during the short window in which she is in the country, and although she is supposed to be on vacation, she has been working. When I was trying to get her for the interview, she was in Machakos one day and in Murang'a the next, facilitating meetings between a Korean coffee importer and farmers.
Being an ambassador is no small fete. As she settles down for what seems to me like the first time she is catching a breather, she narrates a story. She switches effortlessly between speaking English in an American accent to everyday Swahili and then fluent Kikamba when she picks a phone call.
She is 51, born in the US but grew up in Kitui. "I had a fantastic childhood. My parents were teachers. For a while, I was an only child so I had a lot of liberties. I always grew up in a school. So all the students would spoil me and buy me sweets; so as a result, my mouth was the cavity capital of the world!" she says with a laugh.
Her father was a renowned and well-loved teacher in Kitui. He would teach the likes of Makau Mutua. She studied in Kenya High for Form One to Four and then Kieni in Embu for Form Five and Six. She then graduated with a Bachelor of Science in Marketing from The University of Phoenix and got a Master of Arts in Global Security from Arizona State University.
Her career started when she got a temporary job working for Bank of America in the credit card section, before getting a job in a broadcasting and advertising company in Los Angeles. Here, she worked as an executive assistant to the director of broadcasting, and became a sales assistant at a TV station called KCOP, then moved to New York and as a pricing analyst at Interpost.
Her next stop was Namura, a Japanese securities firm, joining one of the subsidiaries as the CEO's executive assistant. Out of boredom, she would look for more work to do at the firm.
"So the people in marketing would come to me to do stuff – spreadsheets, pie charts, PowerPoint presentations, so slowly but surely, I moved to the Marketing Department. I grew through that until I became assistant vice president in the Marketing Department," she says.
Through this journey, she had gotten married to John Nnaemeka Edozie, a Nigerian who is a lawyer. They had had their first child, Uzoemezie (Mezz) and other things in the ecosystem were changing.
"The hedge funds market had just started and it was very demanding. We opened a division with hedge funds, so I would find myself in the office until 10pm and that is just not compatible with having toddlers at home," she says.
"I had started Twana Twitu by then and the little flexibility I would have during my lunch hour to do a proposal for funding or a PowerPoint presentation for marketing or a brochure, I no longer had," she says.
The Enron scandal and other things started happening, so the industry became an unfriendly place for the young mum.
"I started contemplating leaving work because the two things that meant something to me were my biological children and the children that I was helping support through Twana Twitu, and if I could not do either one, what was I doing?"
The decision she would make became clear on a night she has never forgotten.
"My younger son was awake and my older son was asleep when I got home one night. I went to their room and I kissed my older son who was asleep. I went to my younger son, and said, 'Give me a hug', and he said, 'No mummy, auntie hugged me.' So I went to kiss him and he said, 'Auntie kissed me'. That was my nanny. I felt like someone had taken a knife and stabbed me. That was it. I waited for my bonus and I quit my job," she says.
They packed their bags and moved back to Kenya, opened a Twana Twitu office in Westlands and focused on that and on raising her children. She would also consult on the side and also became a newspaper columnist.
"Along with a top-tier DC firm, we were contracted by the government of Kenya, the Kibaki administration, to try and enhance the perception of Kenya amongst the US administration, congressmen, think tanks, and all the key influencers," she says.
At that time, the perception was not good, she says. It was one of corruption, with issues like Anglo leasing having tainted Kenya's reputation.
"But the Kibaki administration had done a lot to change the economic environment and we wanted to bring our ally, the US, back into the fold of saying, 'Look, Kenya is on an upward trajectory and we need to support it.' To do that we had to raise awareness of just how ready and worthwhile we were as an investment destination," she says.
Eventually, she would be nominated by President Uhuru Kenyatta for her current role, but it was met with opposition from Parliament. The opposition was on account of her dual Kenyan and American citizenship, and she sued to stop MPs from forcing her to renounce her US citizenship and won.
"I found that all the noise, and it was very prolonged, took away from the positive discussions we could have otherwise been having on Kenya."
In 2017, Mwende ran for the Mwingi parliamentary seat and lost, and has no interest in ever trying again. Her focus is on the journey of service she is on now.
"I am by nature political, so I will always be politically inspired and engaged but I will never vie for a seat again, no. I believe there are many ways of serving the country, so I am leaving that to others and I will remain useful in the background," she says.