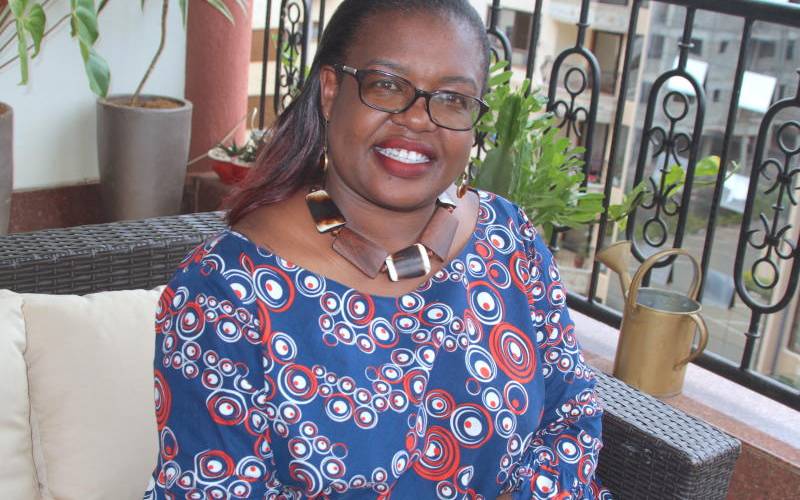 Elizabeth Adongo greets us with infectious energy as soon as she sees us as if we were old friends that she is happy to see again. Over a cup of tea at her home, she engages us in lively banter. As vivacious as she is, once we begin the interview, it is serious business.
That kind of personality works very well for the role that she plays in her career. She is currently the senior policy advisor to Public Service, Youth and Gender Cabinet Secretary (CS), Professor Margaret Kobia. It is her third stint as an advisor to a CS, the first being to Governor Ann Waiguru and Water CS, Sicily Kariuki. That was after a successful run in Tony Blair's government.
I ask her what it feels like to have such a unique career path.
"I consider myself lucky! Being an advisor is personal. There is a high level of trust and loyalty. But it is also a high-pressure job because your boss is also in a high pressured position and dealing with many issues. Our role mainly is: to get the job done. What you are essentially doing is supporting the front office of a high-level person with a lot of competing priorities that still have to deliver. You should be a flexible person. So one day, at night you could be writing a high-level speech or report, and the next day you could be arranging papers. That whole spectrum of duties. So it is about getting the job done and working with the right people to get it done," she says.
Her first job was in the United Kingdom (UK). She went there right after finishing her Bachelor of Arts in Economics and Sociology at Egerton University. She was in the UK to pursue her Masters in Agricultural Economics at the University of Reading.
"That was in 1994; 28 years ago. I was in my early 20s when we relocated there with my husband and my then seven-year-old son," she says.
They decided to settle there, and her first job was as a volunteer in community work. The new Labour Party had just come into power with Tony Blair as Prime Minister. The new government had a new vision of a society with full social inclusion, and that was where her opportunity lay.
"They were looking at issues of why certain marginalised communities were left behind in terms of skills, employment and all. So the new Labour party expanded their government," she says.
"At that point, I had the opportunity to engage with the government, working for programmes that were looking at bringing on board people who could help with such a vision, and because I was also from what they termed marginalised – a woman and black minority, I got the opportunity. That went on for over 10 years."
Her entire career in the UK involved working on issues to do with inequality, around empowering communities through programmes that made sure they were supported. After 20 years, she felt what she refers to as a call to come back to Kenya.
"Around 2012, and 2013, there was this restlessness that I felt, a call to come back home. So in 2013, my family and I packed our bags and came back to Kenya to see if there was a role for us," she says.
She goes on to add: "I was so lucky because at that time there the new administration of His Excellency Uhuru Kenyatta had also just come in. You could sense that sense of excitement in the air where there was talk about having a focus on citizens, on inclusion, on digital, a new constitution," she says.
It meant new opportunities, and the then-new Ministry of Devolution and Planning placed adverts in the papers for consultants on issues of governance.
"Now I know that it is not common to have such jobs available. I have not seen it since. But that is why I think it was a calling," she says.
All the CSs she has now worked under have had distinctly different characteristics, all of whom she says she has learnt from. During Waiguru's time, the Devolution Government being a fledgling ministry, it was mostly about ideas and establishing them.
"I came into a place where ideas were being evolved, like Huduma and Uwezo Fund. All these programmes were coming in, it was a new government, a new constitution, and devolution was in transition, and therefore I always found that I was in a highly positive, but high-pressure position. We used to work 24/7. You could be called any time," she says.
The pressure was so high she even missed her sister-in-law's wedding.
The ministry was split, and she then worked under Sicily Kariuki in the then-new Public Service, Youth and Gender Affairs Ministry.
"The challenge that madam Cecily had was to stabilise the ministry and also establish it and also to now move forward some of the programmes that had been there. She is a very strategic and deep thinker, and very hardworking. I learnt that from her, and also the power of partnerships and collaborations, and why everything should have a sound grounding," she says.
CS Kobia then came in. "With Madam Kobia it has been about leadership and management. She is the epitome of what public service is, both in theory and in practice. In values and principles. Nothing is done in vain. In everything that she has taught, by working with her what we have picked is that you cannot be doing everything. You have to work in a very focused manner. Focus on results and impact. She always says, 'You do not have to be busybodies. You pick your lane and the things you can do and do them well.' What she has also brought is sanity in terms of structure. Making the structures work," says Adongo.
With such an interesting career journey, what does her future look like? Not quite defined, but more or less the same, she says.
"I do not think about the future much, but it will be about working with people and making a difference. Maybe from a personal point of view, I want to continue enjoying myself more and growing more as a person because you never stop growing."