If you a fan of social media, you must have noticed that "adventure travel" such as camping, road trips and hiking are part of a must-do bucket list.
Social platforms such as Instagram, Tiktok, Twitter, and Facebook are awash with weekend and holiday destinations for these experiences. The craze has not left me behind.
Having indulged myself in chasing waterfalls, road trips, and hiking, I was ready for a hiking challenge to the shores of Lake Elementaita that involved conquering the Sleeping Warrior of Lake Elementaita, within Soysambu Conservancy.
I have used the Nairobi-Naivasha road that cuts across some captivating backdrops of the Rift Valley countless times, but each drive feels like a first. If you are passionate about travel there will always be something new to discover. On this particular drive, I wanted to be in touch with nature – 'lose my mind and soul' listening to music as I enjoyed the smooth drive (yes, the drive after Limuru was smooth without drama).
Two and half hours later (138.4km), I make my first stopover at Kikopey where I pick up Joseph Mochoge, my guide for the day, who proceeds to lead me to experience Kikopey's special – muteta soup. During the short break, Mochoge explains that Kikopey forms part of an ancient passage used by ivory and slave traders on their way to the coast.
He tells me that World Heritage has marked this area as part of the UNESCO Kenya Lake System Heritage Site. The area, he adds, is rich in history, making Lake Elementaita a globally recognised natural treasure deserving of protection, preservation, and appreciation.
After the break, we take a detour on a rough road, to Lake Elementaita. The fresh air, the immense calmness coupled with the descriptions given by a great storyteller complete the adventure!
Mochoge explains that the adventure I am about to indulge in would be better if taken in a group. I tell him I prefer a personal feel before indulging in-group adventure as it gives me space to explore and ask questions.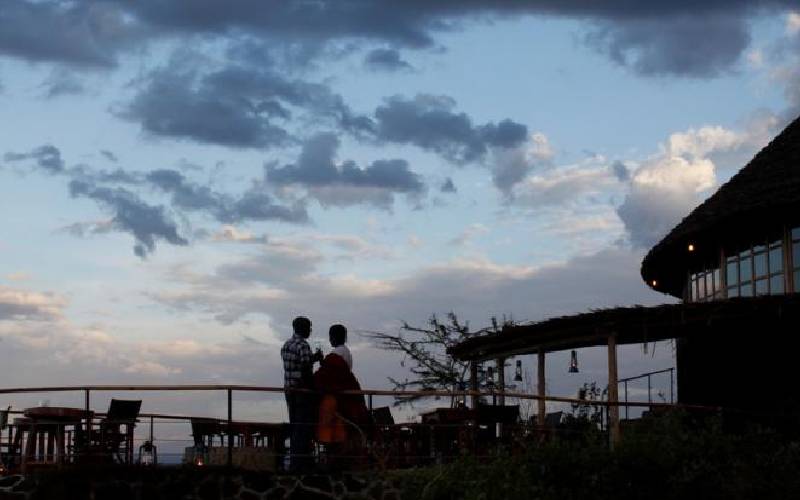 "Elementaita is home to the Maasai, who named it Muteita, meaning dusty place, a reference to the dryness and dustiness of the area, especially between January and March," explains Mochoge.
Part of my adventure is within the 48,000- acre Soysambu Conservancy. He further explains that the conservancy is not as visited as many other conservancies, giving visitors room to enjoy a serene environment and solitude in a wild landscape.
As we drive, I notice the vast plains, covered in acacia woodlands, grassy plains scattered with Euphorbia candelabra and warburgia fever trees.
I am engrossed in the accounts of the storyteller that I do not notice that our drive has suddenly come to a stop. Less than 100 metres away is Lake Elementaita, nature's own small (18 square kiometres) soda ash lake located on the eastern side of the Great Rift Valley.
The Lake is part of the Soysambu Conservancy, endowed with more than 450 bird species, out of which 350 are migratory. There are also more than 15,000 animal species, but during my visit, we got to see only zebra, giraffes gazelles, eland, and warthog.
Let the adventure begin!
As we walk, the guide explains that Elementaita's landscapes comprise craters, lava flows, and plugs that are dotted by other features of the area's rich volcanic activities that have left odd geometric patterns created by the process of erosion.
As I swirl around to take in the majestic exquisiteness, no matter where I look, beauty surrounds me. I wish I were an artist to capture Mother Nature's best works of art, the subject being the immaculate lake, mountains, ranges, and hills.
Particularly fascinating are three hills that the guide points out – the Sleeping Warrior, Ugali, and Saucer hills, which he explains are named according to what they resemble.
The Sleeping Warrior looks like the face of a human being lying down on his back, probably in deep sleep. I learn that locals believe that it is the bust of Oloibon, the great Maasai warrior, while others believe it is that of Lord Delamere.
The Ugali Hill, Mochoge explains are named so because they resemble maize flour meal, while the Saucer Hill resembles a saucer.
I am a writer, and I know that like most pieces of art, looking is not enough. I have to touch, feel, and explore every curve. The Sleeping Warrior is much like a piece of art enticing one to discover it further by getting closer, touching, exploring – even smelling, and tasting it.
Hiking the three hills, Mochoge tells me, is quite exhausting, and requires physical preparedness, though the adventure is worth the pain.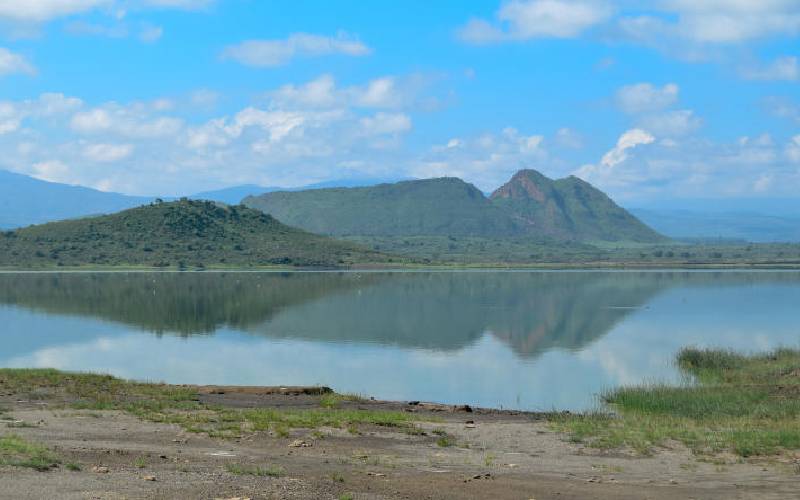 However, since we need more than a day to do so, I agree with his suggestion that we go "to awaken The Sleeping Warrior" since part of the trail can be conquered using our 4x4 vehicle.
We drive along the shores of the pink lake, taking in the sights and sounds. We come to the hot springs, where we find locals and visitors bathing in the water from the hot springs, believed to have a healing effect on ones' skin.
A young couple has travelled all the way from Maragwa, Murang'a. The young man tells me he heard of the hot springs and decided to bring his girlfriend for an adventure before their wedding.
We drive towards the base of the Sleeping Warrior, where we leave our vehicle and proceed on foot towards the base of the Hill through a well-beaten path, a rocky and thorny stretch.
The hike takes us through interspersed camphor buses, their soothing minty aroma, inspiring me to go "awake" the sleeping warrior. The path moves in a snaking trail that feels like I am "hugging" the hill as I scale the 500 metres.
A sharp ascent brings us to the nose (peak), which resembles the head of the sleeping warrior. Here, I take a moment to catch my breath before Mochoge urges me on further uphill to the "nose", the highest point of the hill.
From here, I take a moment to immerse myself in splendour of the panoramic views surrounding me – the lake, caldera, horseshoe crater, Ugali Hill, Eburru Hills, Gilgil Hills, Mau Ranges, and surrounding villages and towns paint a spectacular view.
We take our time to have our fill, but then too soon, we must start our descent to the southern end of the lake. The descent also is with its own panorama – saltpans, the pelican breeding grounds. It has taken me approximately seven hours to conquer the Sleeping Warrior.
Indeed, few experiences rival the glory of sunset over Kenya, especially when the scene is set amidst an amphitheater of a lake and mountains, and of course, a Lake Elementaita escapade is incomplete without conquering Ugali and Saucer hills.