'Proper ganda', con games of Gitegi politics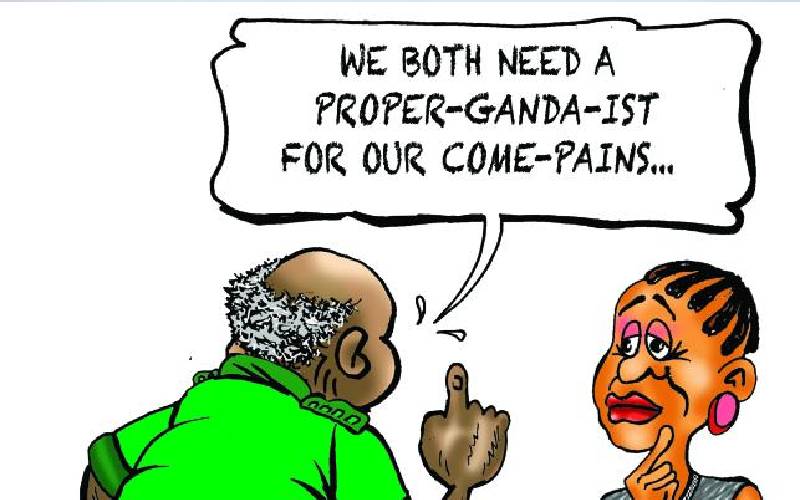 Sue has bared her fangs ahead of the 2022 elections showdown with her estranged lover Harold.
Less than a fortnight ago, she opened her church, Believers Entertainment and Enlightenment Retreat (BEER), and has the support of the tens of thirsty men and women who need to quench their spiritual, and physical, thirst.
It is also emerging that as the rift between Sue and Harold widens, they may actually be coming closer together.
Harold himself quenches his thirst at Sue's, while Sue, who supports Arsenal and gladly now has a point, has to go to Harold's church to quench her thirst for the sport.
That is not the only way the two seem to be dovetailing. Realising that 2022 is actually within touch, both contestants are now courting Gitegi's finest campaign manager and strategist. It is my time, ladies and gentlemen, to, literally, eat.
Sue has asked me to draft her manifesto, as I did Harold's in the last election. You and I know the word manifesto is a portmanteau of money and feast. I am now trying to identify which of the two mean people can fork out the higher amount of money.
Last campaign I was the chief propagandist for the Harold campaign team, a job I performed with distinction that I have spent all of four years trying to convince people I was lying.
Propaganda comes from 'proper' and 'ganda'. 'Ganda' is Kiswahili for going stale. This is how it works, for those working for their MCA, MP, Senatorial, Gubernatorial or Presidential aspirants. You craft very good lies.
These can only be done when one is very sober, and so I have to make sure that Harold is out of the house lest his drunken self misleads me. Often, I send him to Sue's.
Once you convince yourself that the lies are believable, you spread them to people before they can go stale, which is where 'ganda' comes in.
When your candidate is as controversial as Harold is, the job is easy. All you do is go around admitting the shortcomings of the candidate and promising that after the election, the candidate's character will change for good.
Also, promise whatever things you know that no candidate can deliver so that when the electorate finally come to their senses, they will not blame the candidate for not keeping a promise; they will see that such a promise was impossible to keep.
They will blame themselves for having been insane enough to press the candidate into promising what was without reach.
When the next elections come, the people will lose their senses again. It is cyclic. And then propaganda will come flying in again. I am a master of the con game.
My mastery now sees me torn between Harold and his nemesis Sue. Both are willing to pay for my services, just that they are paying using means that do not suit yours truly.
First and foremost, I must insist that even though I accept bribes, they should be bribes that make sense. Commission should be paid in dollars, or in the worst case scenario Kenya shillings, and the payer should not be someone that likes to blow money as that would cause inflation. Literally.
Sue has said that she will be paying in drinks. Beer at the Believers Entertainment and Enlightenment Retreat (BEER) church should do it, she says. But I do not drink and she knows it, which means she would be paying me through Harold.
Harold's payment mode is even worse. It is the avocado season, so you guessed it right. However, he will not force me into eating a forbidden fruit. My propaganda mill is running at full throttle but it cannot process gin or avocado as payment.