A Prof's quest to reform funeral rites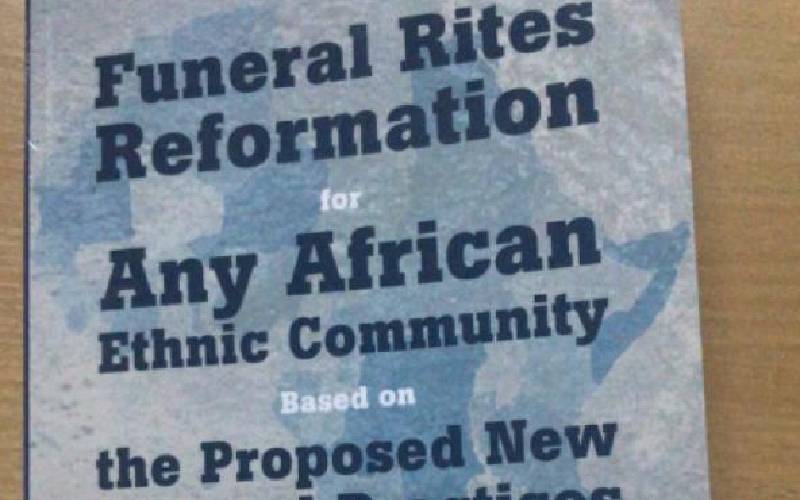 At this time of coronavirus pandemic, there is need to change how we conduct funerals and burial.
This is according to Prof Johnson Nganga Mbugua, a former Nairobi Town Clerk (1987-1990). His proposals are to be found in his book: Funeral Rites Reformation for Any African Ethnic Community Based on the Proposed New Funeral Practices for the Agikuyu.
"Current rites are complicated, time-consuming, expensive and are leaving most families and their neighbours improvised. They have been commercialised and a large number of African families simply do not have land and resources sufficient to bury the dead the 'modern' way," says Prof Mbugua in the synopsis.
The book's foreword is by Prof Mary Getui, a professor of Religious Studies Department at Catholic University of Eastern Africa, Nairobi.
Mbugua has also written other books, including a novel, Mumbi's Brideprice (1971), and Faith of the Agikuyu Christian Martyrs (2011).
The book has eight chapters, and looks at traditional funeral rites of the Agikuyu including a few other African tribes and religious faiths, present-day burial rites of the Agikuyu Christians, burial in the Biblical period, burial rites for the early Christians from 33 AD to 600 AD, and during the middle ages.
In chapter eight, the author mentions 14 events, how they are practised among the Agikuyu and the recommended model of reforms.
An immediate private burial is recommended followed at a later date, if deemed necessary, by a public memorial service in the church or residence.
To remove the numerous "customary" funeral announcements, taking the body to the mortuary, church and so on, he says if its "a must" then the announcement to be short and precise.
He also says no to feeding mourners, but where possible, provide snacks to those who travelled from far.
"Desist also from taking body to church during funeral service since there is no known theological reason for doing so."
On the place of burial, he recommends those who die far away, to be buried there including the diaspora instead of ferrying the bodies back home. For families with little land, he encourages cremation.